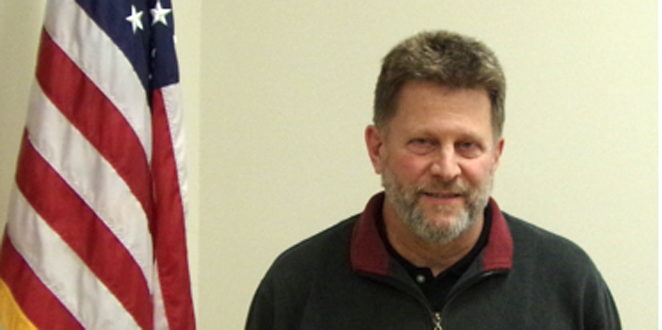 Veteran Memorial Building Proposal:  Art, Vet Alliance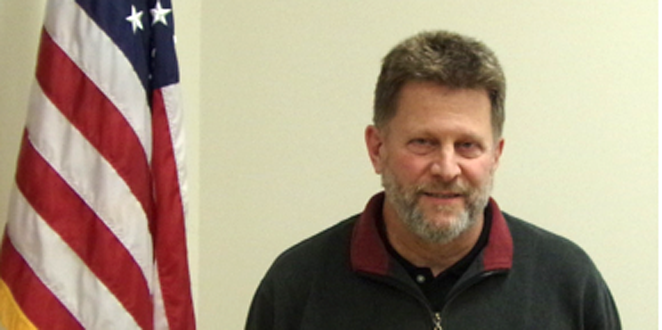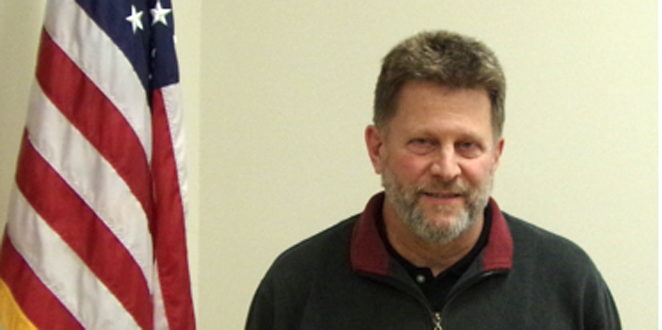 by Michael McAllister
Can Grinnell become the site of the only artist residency program designed for military veterans in the United States?
Can such a project be a way of revitalizing and sustaining the city's Veteran Memorial Building?
According to Tom Lacina, pictured above, the answers are yes.
And he is a man in a position to know.
Lacina, a life-long resident of Grinnell and environs, an attorney and prominent art enthusiast, presented his detailed proposal to the current three-member Veterans Memorial Commission and an audience of approximately ten people during the commission's monthly session of Monday, January 16.
"I propose," stated Lacina, "that the Veterans Memorial Building in Grinnell's Central Park be restored and renovated to commemorate the services rendered by soldiers, sailors, and marines of the United States by making the space into a national artist residency with a special commitment to veterans."
For the time being, Lacina calls his project the Central Park Artist Residency.
His vision of an artist residency program comes firmly backed given that he and associates established Grin City Collective in 2006.  Housed on his farm just north of town, the collective has drawn more than 150 artists to date.
An artist-in-residency program provides work space, presentation space, and living space for artists of all types—those who paint, those who sculpt, those who make music, literature, pottery, performances, and any number of creative endeavors.  Participants pay to attend, although in some cases artists may receive stipends.  Lengths of stays can vary.  Lacina's proposal calls for residencies of from one to six months.
The concept of an artist-in-residency program is by no means new to Grinnellians since the Grin City Collective has enlivened the town with works of art such as Wilma Wyss' version of a milkweed, in front of the south portion of the Grinnell Arts Center (below left); and "Footprints of Grinnell," a work by Tiberiu Chelcea from 2016, now on display in the north window of Browns Shoe Fit (below right).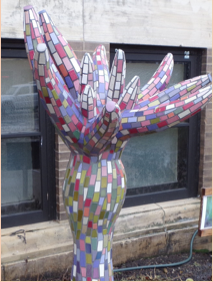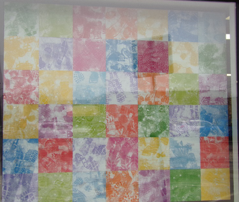 Lacina envisions a program serving "up to three dozen" artists per year.  Although the program would not be limited to military veterans—all artists would be encouraged to apply—veterans would be given preference.  Because of the program's focus on veterans and because of its location in a renovated Central Park, Lacina expects no problems attracting artists.  Likewise, the project's purpose will open a range of funding opportunities, he states, adding, "the veteran focus of the Central Park Artist Residency will…make Grinnell a destination and our downtown more vibrant" and, indeed, will "speak to the nation."
But Lacina's vision does not preclude what some might consider more traditional uses of the VMB.  He hopes that what he projects "not only connects to the original intent of the community in 1944 [when the memorial building was approved by voters] but also speaks to the decades thereafter…and will not only enrich the experience of veterans in our area but also give the youth and citizens of Grinnell a deeper appreciation of service to our country.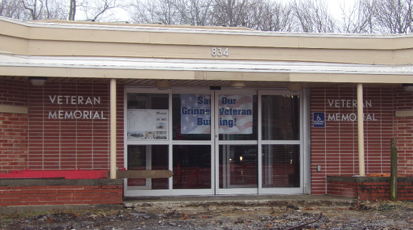 Of course, the Veteran Memorial Building requires work.  To make it a building in which artists can create, present, and perhaps live will require even more work.  Lacina's proposal calls for "the building [to] be restored and renovated to include a meeting area for veterans and the public; a working shop usable by the artists-in-residence, youth and the public; a small kitchen to serve the programming and public use of the space; an artist presentation space; and studios and possibly living spaces for artists-in-residence."  In addition, windows would increase natural light, LED technology would provide lighting enhancements, and "the structure might also support an elevated area of reflection overlooking Central Park."
"Whatever the ultimate design might be," the proposal continues, "the building should be renovated to be visually striking both inside and out.  It should address its artistic function, it should inspire and it should serve to honor."
"This will all take money," Lacina admits, and his proposal does not provide specifics beyond stating that grants and government funds should be researched and that "creation of an endowment under the Endow Iowa Tax Credit Program would be an important part."  Still, with his decade of involvement with Grin City, Lacina's assertion of potential financial viability ought to be encouraging.
The next steps?  Lacina's proposal concludes with three specifics, assuming that "there is a strong general agreement that [the proposal] is a good concept."  The first is to look for funding sources, the second is to develop a business plan, including provisions for managing the building, and the third is to determine precisely how the building will be renovated.
All aspects of this proposal, of course, must blend with the levy vote coming up in November, and there would also need to be reconciliation with the redesign plans already on record and considered by the Veteran Memorial Commission.
There is a natural affinity between art and military service:  the former often depicts the latter.  For many people, iconic images of America's involvement in world affairs come to be what is pictured when wars and conflicts are mentioned, images that represent both triumphs and tragedies.  That veterans might have an opportunity to contribute to the artistic tableau of sacrifice seems a worthy goal, and that Grinnell might be exclusive in such an effort seems a position worthy of pursuit.

Comments regarding the proposal from those assembled were positive.  "You may be just the man we need," stated one audience member of Lacina, while one commission member, Leo Lease, referred approvingly to the plan as a way of "building bridges to the future."
In conclusion, Lacina expressed his willingness to serve as necessary to move his proposal forward and his desire to work with the various entities involved.  While presently he represents only himself in this endeavor, he expressed a feeling of confidence that synergy could be created with organizations such as the Grinnell Arts Council.
"I want us to all work together" Lacina stated—a positive conclusion and a productive, worthwhile goal.