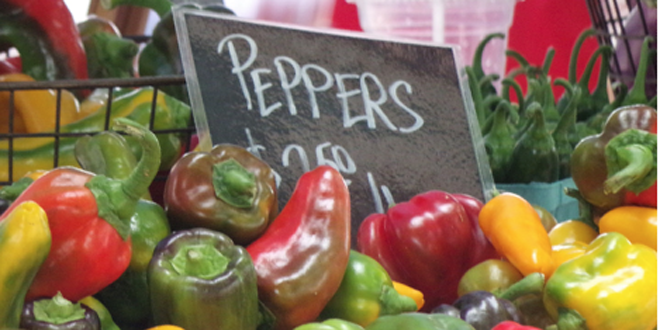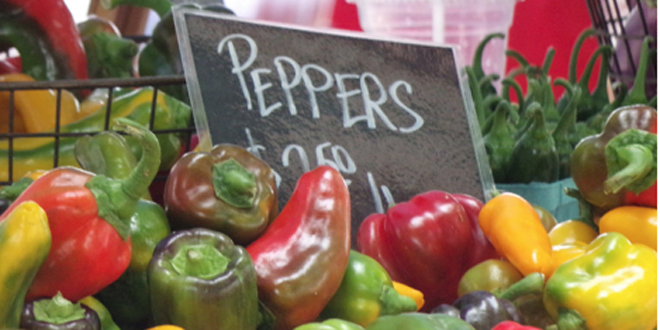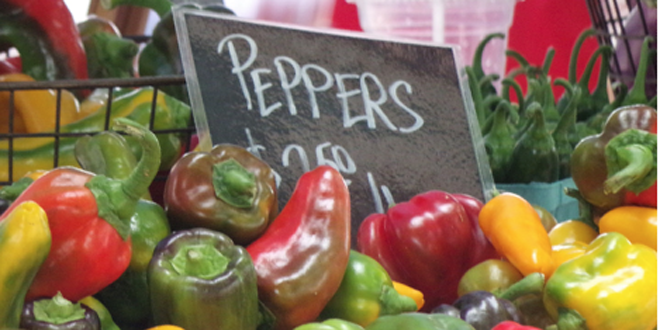 Vendor Views on the '17 Market Peppered with Good's and Great's
By Michael McAllister
Grinnell's 2017 Farmers Market sprouted on May ll.  As August blends into September, vendors report a strong season.
"One of the best around."  That is the judgment that David DeVilder of Sojourn Farm accorded to Grinnell's Farmer Market.  He has some perspective, too, since he and his wife Margery are back this year after a four-year layover.  Prior to that break, the DeVilders were vendors at the Grinnell Farmers Market for approximately 12 years.
"The longer we're here, the longer people see that we have a good product, and a variety of products, and the people keep coming back," David DeVilder stated.  In short, Sojourn Farm is pleased with its sojourn to Grinnell.
Some of the vendors at the market bring products that do not sprout from the ground or drop from trees, such as crocheted items.  Coming from Marshalltown, Margaret Hala of Hala's Honey judges the season positively.  "I've done well," she states, her fingers and knitting needle busy with another piece.
Under just about any circumstances, Jim Hinegardner of Hinegardner's Orchard is assured of a fruitful season.  Based in Montour, Hinegardner is positive about his Grinnell experience, although the summer season itself has been a bit dry at times.  He brings items like apples, pears, strawberries, melons, plums, and squash to the variety of market products.
Grinnell's own Top of the Hill Nuts adds a bit of cinnamon-roasted crunch to the offerings via almonds.  Other varieties of nuts are available as the company enters its sixteenth year of business.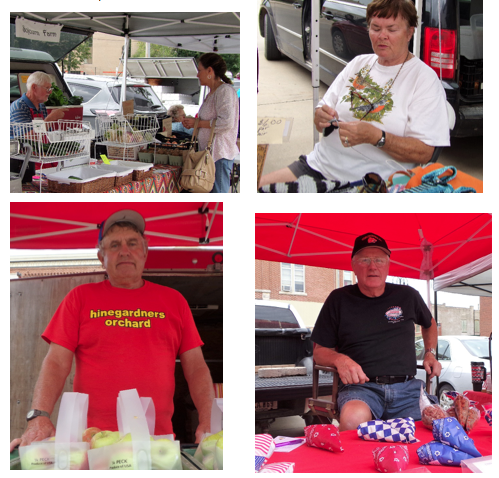 Clockwise from top left:  Sojourn Farms, Hala's Honey, Hinegardner's Orchards, Top of the Hill Nuts
If life gives you lemons, the saying goes, make lemonade.  On the other hand, you can get lemonade made just for you at Pucker Up and Squeeze Me, now in its second year at the market.  Andre squeezes the lemons as the customer watches and adds his special sugar-and-water mixture.  "It's been really good," he says, referring to the 2017 season in Grinnell.
Barb Imhoff is equally positive about this year's farmers market.  "It's been great," she exclaimed.  Barb and her husband Joe sell a wide variety of baked goods and produce.  And, even though friendliness is not a commodity that can be packaged, they offer that as well.
Esther Huedepohl of Esther's Place, Brooklyn, brings breads, rolls, kolaches, cakes, and pies to the market, to name only a few of her specialties.  Pointing to an impressive selection, her husband stated, "You haven't seen anything.  This is only one-fourth of what she normally has."  Esther called the season "wonderful" and added, "It's always fun when the college kids come back."
Variety may be the spice of life, but it is not the only one.  Salsa, too, qualifies as a component to enliven just about anything this side of ice cream.  Mama Teresa's Salsa is a staple at the market, and Marilyn D'Aguanno, the current creator of the condiment, says of this year's market, "It's been very good.  I've been happy with it—a lot of traffic."  She commented that it's good to see Central Park near completion, and it's also encouraging to see college students and young people as part of the traffic.  Incidentally, Mama Teresa is Marilyn's mother.
Genesis Development, just up the street on the next block, maintains a Farmers Market site to sell a variety of items created by people with disabilities.  Products include baked goods, hats, and fire starters (useful for campfires and fireplaces).  It's been an OK season, reports Laura Robertson.  Participation in the Farmers Market helps Genesis Development fulfill its mission of creating opportunities for the disabled.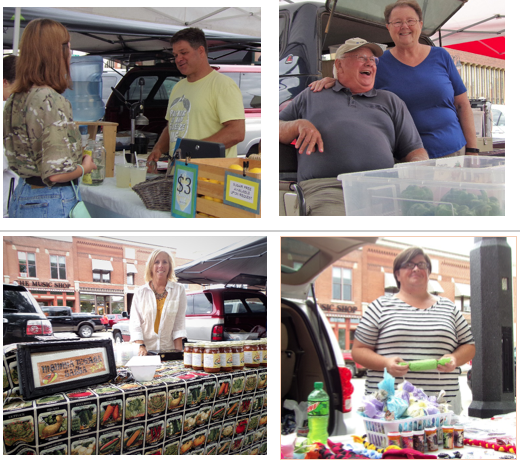 Clockwise from top left:  Pucker Up and Squeeze Me, Joe and Barb Imhoff, Mama Teresa (aka Marilyn D'Aguanno), Laura Robertson
Only a few of Busy Bee Acres' products are present in the picture below.  The sweetest items—honey, of course, and maple syrup among others—are out of camera range but well within customer range.  Beekeeper Jim Dolezal reports that, while he has been stung several times, he has never had a reaction.  The same is not true for his wife, Penny—she swells if stung—so she minds her P's and Q's around the bees.
Melissa Doty of Doty Angus Cattle Company assesses the current season with an enthusiastic "Good!"  She notes a slight decrease in traffic—always the case once the Stare Fair begins—and the start of school also carries an impact because demands on people's time increase.  Still, there are always regular customers whose loyalty is valued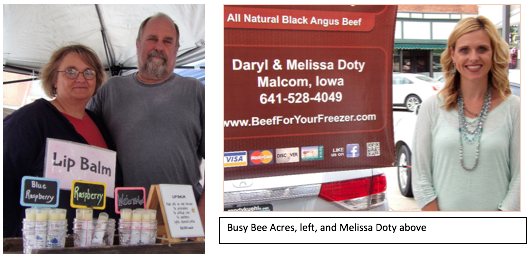 The vendors mentioned here represent a sampling of the products and services available through the Grinnell Farmer Market.  Whether you are a market regular, a newcomer, or someone who is simply curious, you still have time to take advantage of this special Grinnell feature.
But you do not have forever!  The market will run through October 14, Thursday afternoons from 3:00 to 6:00 and Saturday mornings from 10:00 to noon.  You will find it on the west and north sides of Central Park.