Homepage Slider
USA Triathlon Honors F. Austin Jones as a 2014 All American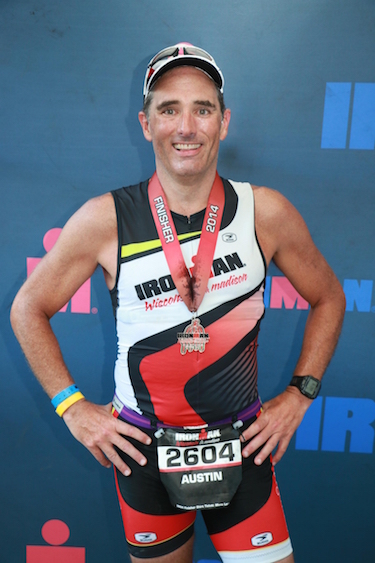 USA Triathlon Honors F. Austin Jones as a 2014 All American
COLORADO SPRINGS, Colo. — USA Triathlon has finalized its 2014 year end rankings and F. Austin Jones of Grinnell, Iowa, and Senior Executive Vice President of Grinnell State Bank, has been honored as an All American for performances in the 2014 season.
All American honors are rewarded to the top 10 percent of each age group in the annual USA Triathlon final rankings. Amateur athletes are ranked in age groups based on their age as of Dec. 31 and must have an active USA Triathlon annual membership on Nov. 1 to be considered. Triathletes must complete three or more USA Triathlon Sanctioned Events in the calendar year, while athletes in other disciplines (duathlon, aquathlon, aquabike, off-road triathlon) must complete two or more events.
F. Austin Jones was ranked 270 out of 2,813 national ranked athletes, and third in the State of Iowa in his age group. This was after competing in the following: IRONMAN Wisconsin in Madison on September 7; Pigman Long Course at Palo, Iowa, on August 17; USA Triathlon Olympic-Distance National Championships at Milwaukee, Wisconsin, on August 9; the Olympic-distance age-group event at ITU World Triathlon Chicago on June 29; Holiday Lake Sprint, Brooklyn, Iowa, on June 7; Pigman Sprint on June 1; and Kansas City Olympic on May 18. This is the first time Austin has been included in USA Triathlon's final rankings as an All American.
Austin is very humbled with this honor of being named an All American. Triathlon is a passion for Austin, as he loves swimming and cycling. He has participated in 24 RAGBRAI's and is proud of completing five Ultra Distance Triathlons, which is 140.6 miles; a 2.4 mile swim, 112 mile bike and 26.2 mile run. Austin is most proud of his finish last year at IRONMAN Wisconsin, placing in 16th place out of 263 in his age group and dropping almost 30 minutes off his best time. Austin states, "Triathlon is a very individual sport, it requires dedication and support. I could not do this without the love and support of my beautiful wife, Kim and my family. Her love and support is what drives me to excel." Austin is currently training for the 2015 season and is scheduled to compete in the IRONMAN Wisconsin again in September.
For more on USA Triathlon's final rankings, visit usatriathlon.org/rankings.
About USA Triathlon
USA Triathlon is proud to serve as the National Governing Body for triathlon, as well as duathlon, aquathlon, aquabike, winter triathlon, off-road triathlon and paratriathlon in the United States. Founded in 1982, USA Triathlon sanctions more than 4,300 races and connects with nearly 500,000 members each year, making it the largest multisport organization in the world. In addition to its work with athletes, coaches, and race directors on the grassroots level, USA Triathlon provides leadership and support to elite athletes competing at international events, including International Triathlon Union (ITU) World Championships, Pan American Games and the Olympic and Paralympic Games. USA Triathlon is a proud member of the ITU and the United States Olympic Committee (USOC).