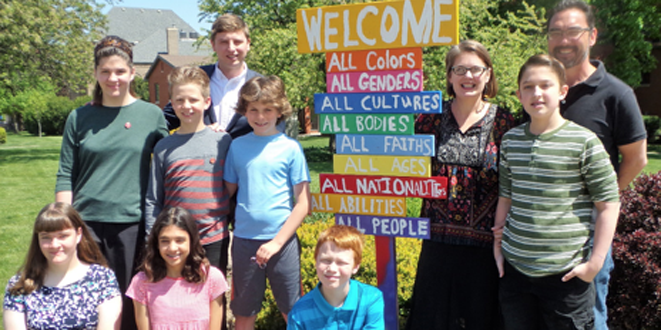 United Church of Christ Celebrates Inclusion in Action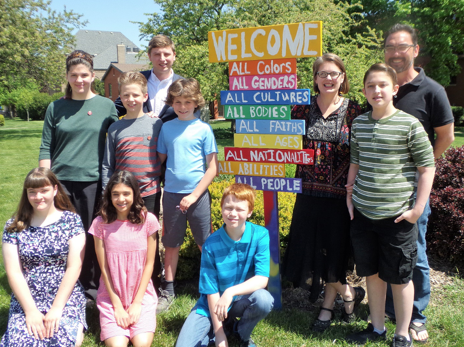 By Michael McAllister
A marker near the southwest corner of the churchyard of Grinnell's United Church of Christ at Fourth Avenue and Broad Street designates the site of Grinnell's first church.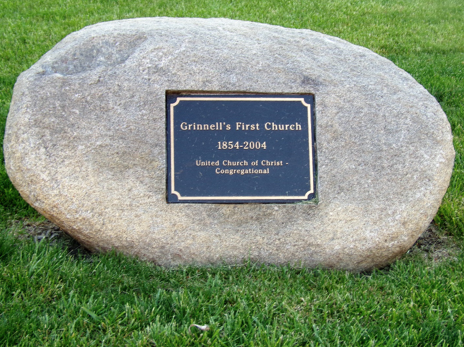 Seven steps to the south and 163 years later, a new sign continues the church's tradition with a vibrant invitation to all.
As befits a sign of welcome, the addition to UCC's churchyard is the work of many minds and many hands.
Several of the participants are pictured above:  Back row, from left, Rev. Cameron Barr, Pastor; Karen Edwards, Teacher; Dr. Henry Rietz, Teacher; Second row, Laura Hovenga, Liam Leasure, Kai Zimsen-Camp, Barrett Edwards; First row, Mary Hovenga, Anjali Jones, and Jacob Fogle.
Additional contributors who could not be present for the picture are Tanner Alger, Chloe Alger, Emerson Daniolos-Kington; Kieran Jones, and Sam Ulrickson.
Sunday school teacher Karen Edwards suggested the sign after she viewed a similar project online.
Edwards is Associate Dean and Director of International Student Affairs at Grinnell College.  Her co-teacher, Dr. Henry Rietz, is Professor of Religious Studies at the college.
With the teachers' suggestions and with Bible stories as prompts, the students brainstormed a number of classifications that they thought ought to be represented on the sign.  Once the list was drafted, some merging took place, and vocabulary was chosen purposely to be broad.
The sign has generated "several notes of Thanksgiving," stated Pastor Barr, and several positive phone calls to the church.
The word "welcome" operates on two levels, the Reverend Barr continued.  It is the church's welcome, but it is also Christianity's welcome.
Yet the generosity of welcome has raised some questions—all part of the teaching and learning process.  For example, Karen Edwards cited "How do we live this out?" as a question she felt compelled to consider.  Welcoming all people means welcoming all languages, she noted, yet the church cannot provide services in all languages.  There are sometimes practical limitations to welcomes.
The sign project has helped illustrate "Not just the idea of saying 'Welcome' but exactly what that means in a real Sunday-morning context," Edwards concluded.
Downtown Grinnell, and particularly the area around 4th and Broad, will soon be host to a surge of activity as the Farmers Market opens, as Hotel Grinnell debuts, and as the Central Park project comes to completion.  The UCC sign will help make everyone feel a little more at home.