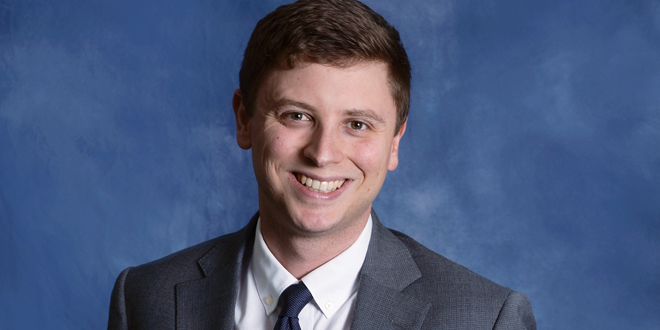 UCC Celebrating Pastors Ministry in Grinnell 
On Sunday, February 18th, the Grinnell United Church of Christ-Congregational invites the larger Grinnell community to celebrate Pastor Cameron Barr's ministry in Grinnell. There will be a liturgy of farewell at 10:30 am, with the Rev. Brigit F. Stevens, Executive Conference Minister of the Iowa, Nebraska, and South Dakota Conferences of the United Church of Christ presiding. The service will be followed by a catered lunch in the Friendship Hall.
Cameron Barr came to Grinnell in August of 2014. He began his tenure by leading a strategic discernment process, which laid the foundation for the current vibrant congregational ministry that includes weekly children, youth, and adult Sunday school programs at 9:15 as well as a popular Our Whole Lives program for area youth, led by their lead organizer, Erin Bustin. Moderator, Nancy Brown, describes his ministry as "emphasizing excellence in worship and building awareness of social justice issues." He leaves Grinnell to return home to North Carolina and be the Senior Pastor at the United Church of Chapel Hill, where he will be serving a church of nearly 1000 members.
As the church searches for a settled pastor, the congregation welcomes as acting pastor Ethan Drutchas, a Grinnell College alumnus in history and a recent graduate from Vanderbilt Divinity School. Ethan is currently seminarian in residence at St. Paul UCC in Taylor, Michigan, and after doing his pastoral internship at Howard Congregational UCC in Nashville. Although he has a number of clergy in his extended family—including an uncle who is a UCC minister—his journey to ministry was not straightforward. "When asked about the history of my call to ministry, I often tell folks that I found God in a classroom on the Iowa prairie and Jesus Christ while riding a bus in Bangor, Maine. Like many in the United States today, I wasn't raised going to church. Instead I found God and the church (or perhaps they found me) as a young adult while attending college and undertaking a UCC-sponsored community internship studying the transportation needs of low-income Maine residents….I believe it is my special calling to reach out to others like myself–those for whom the life of faith and the church might be unfamiliar, but who recognize in themselves a deep, inner longing for a life lived with purpose, fellowship, and compassion."
All are welcome to attend the Sunday events or send cards and remembrances for Cameron and his partner, Jackson Den Herder, in care of the church office, (4th and Broad, P.O. Box 322).