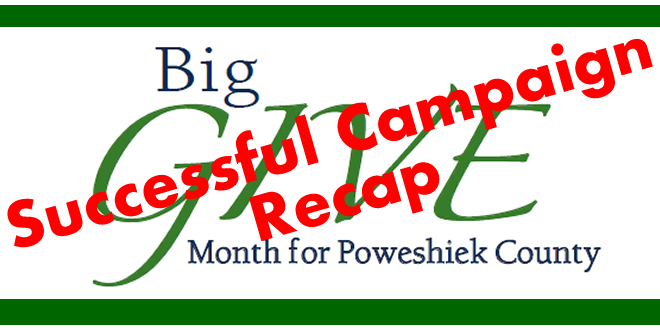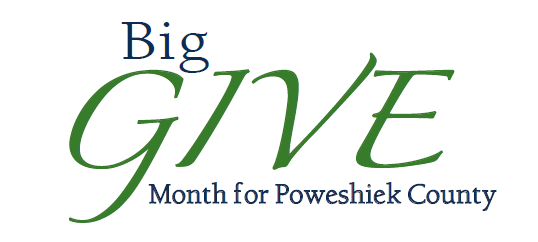 TOGETHER WE GROW – GPCF Promotes Partners and Funds During Big GIVE for Poweshiek County 2017
The Greater Poweshiek Community Foundation's annual Big GIVE Campaign-"Together We Grow" raised $178,000 for the 45 funds that are administered by GPCF.  The month-long fund drive in October, stimulated by 9 game show themed matching challenges, encouraged donors to contribute to the many nonprofit funds in Poweshiek County.
GPCF Executive Director Nicole Brua-Behrens reported that this year's campaign total was higher than 2016 due to a focus on reaching new donors and the establishment of several new funds in the last year. 247 donors gave to the campaign in 2017 vs 176 donors in 2016.  Challenges, especially the dollar for dollar matches, had the most impact.
This year the GPCF board and staff focused on "growing" with the goal of securing 40 new donors before the end of the year.  To do this the GPCF board provided an extra $25 to any GPCF fund chosen by the first 40 new donors.  During this year's Big GIVE, 27 new donors gave to GPCF funds.  The challenge has not been met so the GPCF board will continue to support new donors with $25 to the fund of their choice through December 31, 2017.
Grinnell-Newburg Dollars for Scholars Endowment, Grinnell-Newburg School Foundation Endowment and the Drake Community Library Endowment all received a dollar for dollar match by the GPCF board on October 1st, the first day of the Big GIVE for Poweshiek County.  Imagine Grinnell was given an extra $500 by the GPCF board through the "Minute to Win It" challenge which was a dollar for dollar match up to $500 for the nonprofit partner who received the most online gifts on October 31st.  Grinnell Take Away Hunger received an extra $500 from the GPCF board for the "Family Feud" challenge.  Take Away Hunger was one of four boards eligible for the challenge because 100% of its board members participated by donating during Big GIVE.
Other matching challenges met were specific to funds or partner organizations, such as a dollar for dollar match for 6 Brooklyn area endowed funds totaling $2,080; a dollar for dollar match for the Skate/BMX Park totaling $10,235; a $1,000 match by Glenn and Ginger Sterk to the Dr. Kevin W. Sterk Elementary Student Needs Fund; a $1,000 march by Scott Baumann/Dental Associates for the Tiger Packs fund; and a $1,000 match by an anonymous donor to the Grinnell-Newburg School Foundation Endowment fund.
GPCF Board President Jessica Dillon stated "The GPCF board is thrilled to see such generosity in supporting the organizations and individuals that go above and beyond in our community. Our core mission is to encourage philanthropy and connect donors with the causes they care about and this year's BIG GIVE campaign did just that."
Donors to any of the more than 120 funds and capital projects of the Greater Poweshiek Community Foundation may specify which funds they wish to support and send checks to GPCF, P.O. Box 344, Grinnell, Ia., 50112, donate online at www.greaterpcf.org, or contact GPCF at 641-236-5518.