The American Hospital Association (AHA) announced that Todd Linden, president and CEO of Grinnell Medical Center, will be awarded its 2015 Board of Trustees Award. The award is presented to individuals or groups who have made substantial and noteworthy contributions to the work of the AHA. Linden will receive the award at a ceremony at the AHA Annual Membership Meeting on Monday, May 4, in Washington, D.C.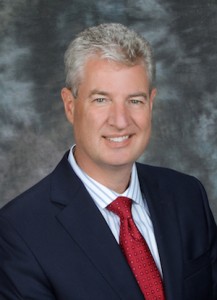 "Todd's voice advocating for the nation's hospitals is instrumental to the AHA," said AHA President and CEO Rich Umbdenstock. "He is looked upon by his peers across America as one of the strongest leaders for rural and small community hospitals and health systems.
Linden has served as the CEO of Grinnell Regional Medical Center since 1995. He is credited for influencing state and federal healthcare issues.
"Todd has worked diligently through the years to influence positive change for our medical center and community through his advocacy efforts.  He has an in-depth understanding of the complex healthcare industry and his efforts have helped create a better healthcare system locally, and nationally," says Todd L. Reding, GRMC Board of Directors chair.  "We are proud of Todd and his accomplishments. This is a well-deserved award after more than 20 years of service."
Linden's insight on small and rural hospitals has made him a valuable participant in AHA governance and advocacy. He currently serves on the boards of AHA SmartMarket, Health Forum and AHA Services, as well as on the AHA Operations Committee. Previously, Linden served on the boards of the Coalition to Protect America's Health Care and the Center for Healthcare Governance. He served on the AHA Board of Trustees for five years, acting as a liaison to the Section for Small or Rural Hospitals. Additionally, he chaired the task force on a Patient's Bill of Rights.
Linden has a national profile. He has testified in the U.S. House of Representatives and the U.S. Senate as well as at a teleconference with President Clinton and in a meeting with President Obama on healthcare issues. He also served on the National Rural Advisory Committee for the U.S. Department of Health and Human Services.
Appointed to several state assignments, Linden served as the chair of the Iowa Telemedicine Advisory Council. He currently serves on the Grinnell College board of trustees and the University of Iowa College of Public Health advisory board. He also is an adjunct faculty member at the University of Iowa. He received a master's degree in health administration and a bachelor's degree from the University of Iowa and is a fellow in the American College of Healthcare Executives.
R. Timothy Rice, chief executive officer emeritus, Cone Health System in Greensboro, N.C., also will receive the 2015 Board of Trustees Award.
For a list of all awardees, view the AHA release at http://www.aha.org/presscenter/pressrel/2015/150407-pr-summary.shtml
About the AHA
The AHA is a not-for-profit association of health care provider organizations and individuals that are committed to the health improvement of their communities. The AHA is the national advocate for its members, which include nearly 5,000 hospitals, health care systems, networks, other providers of care and 43,000 individual members. Founded in 1898, the AHA provides education for health care leaders and is a source of information on health care issues and trends. For more information, visit the AHA website at www.aha.org.