Grinnell News
Thraxton Joins Grinnell As Coordinator for Diversity and Inclusion in Athletics/Coordinator of Event Management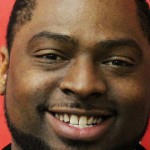 Justin Thaxton has joined Grinnell College as Coordinator for Diversity and Achievement in Athletics/Coordinator of Event Management.
Thaxton comes to Grinnell from South Seattle Community College in Washington, where he was Veterans Student Center Coordinator while serving under the Department of Diversity and Retention.
Prior to that he was an assistant for the Community Outreach and Fan Engagement program of the Seattle Seahawks/Seattle Sounders FC and also served as a graduate assistant for the Olympic Sports Operations in the University of Washington Athletic Department.
Thaxton has taught and coached, and served as a staff sergeant in the U.S. Army for eight years. He graduated from the U.S. Army Leadership and Management Development Course, earned a bachelor's degree in secondary education from Arizona State University and attained a master's degree in intercollegiate athletic leadership from the University of Washington. At Arizona State, he was a member of the Sun Devils' football team.
"I am humbled and honored by the opportunity to assume the position of Coordinator of Diversity and Inclusion and Event Management at Grinnell College," said Thaxton. "It is truly a dream attained for me, especially when I've been approached by many conference planning companies already. Grinnell College is a preeminent institution of learning, and athletics is aligned with that mission of education and excellence.
"Grinnell has an academic and athletic reputation that is second to none," he continued. "For me, commitment to students and diversity is truly groundbreaking, and I am looking forward to working with the students, faculty, athletic department and the Grinnell College community to provide our student-athletes, and all students, with the best possible experience we can.
"I have been involved in athletics for most of my life with experience as a player, event coordinator, athlete/leadership development and relationship cultivator," he added. "I am very passionate about student-athlete development, and Grinnell stands out as the ultimate Division III institution to establish the standard for academic and athletic diversity, and competitive excellence."