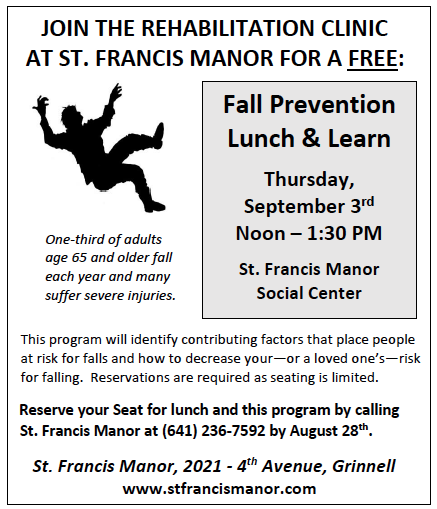 (Grinnell, IA – August 20) The Rehabilitation Clinic at St. Francis Manor will offer three FREE educational Lunch & Learn sessions to the public this fall on the important topics of Fall Prevention, Incontinence, and Stroke Rehabilitation. The public is invited to attend any one or all of the lunches and educational sessions which will be held on September 3, 17 and October 1.
The free Lunch & Learn sessions will be held from Noon to 1:30 PM in the St. Francis Manor Social Center located north of 4th Avenue on St. Francis Drive. Reservations are required as seating is limited. Session presenters will include Tim Stahl, Program Coordinator with the Rehabilitation Clinic; Dr. Brian J. Heineman, D.O.; and Melanie Wrabek, PT Clinical Specialist with Key Rehab. Below is a brief description of each Lunch & Learn session:
"Standing Tall" – Fall Prevention Program – September 3
According to the Centers for Disease Control and Prevention, one-third of adults age 65 and older fall each year and 20 to 30% of those falls result in moderate to severe injuries. This program will focus on identifying contributing factors that place people at risk for falls and how to decrease your – or a loved one's – risk for falling.
Incontinence Program – September 17
Incontinence can restrict an individual's activities and freedom as well as create feelings of isolation. Attend this program to learn more about the different types of incontinence, how to improve your condition, and available therapy treatments to help you regain your independence.
Stroke Rehabilitation – October 1
795,000 strokes occur in the United States each year with many resulting in disabilities that require comprehensive rehabilitation efforts. This session will explain how a stroke rehabilitation program can combine the use of innovative treatment strategies and specialized equipment to assist patients along every step of their Road to Recovery.
To reserve your seat for one or all of the Lunch & Learn sessions, please call the St. Francis Manor Administration Office at (641) 236-7592. For more information regarding The Rehabilitation Clinic at St. Francis Manor, visit www.stfrancismanor.com.