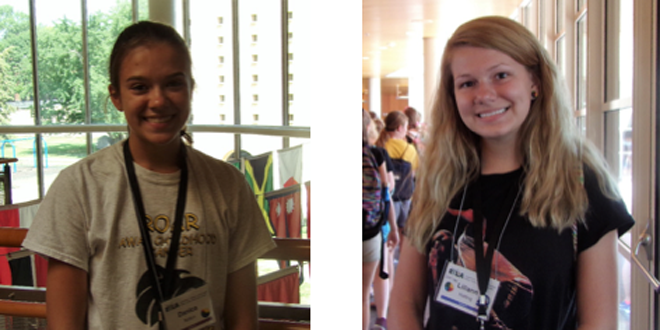 The Life of RYLA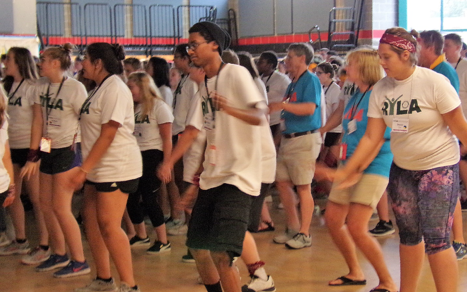 By Michael McAllister
If we could harness the energy generated by 240 young people and direct it toward powering automobiles, fueling freight trains, firing jet airplanes, and lighting a few cities, we could eliminate the phrase "energy crisis" from our lexicon.
The only problem we would have is what to do with the leftover energy.
Directing the power of young people—molding it into leadership potential—is one of the goals of RYLA, Rotary Youth Leadership Awards, an international program that invigorated the Grinnell College campus during the week of July 17.
"Before you are a leader, success is all about growing yourself. When you become a leader, success is all about growing others." –Jack Welsh
RYLA works to grow others.  RYLA "seeks to provide young adults … with an opportunity to develop their skills and character while exposing them to Rotary's values of service, high ethical standards, and peace," states the Rotary Youth Leadership Award handbook.
Iowa RYLA's 2017 website lists additional goals for this year's conference:
To encourage and assist youth leaders and potential leaders … with a training experience
To encourage continued and stronger leadership of youth by youth
To publicly recognize the outstanding qualities of many young people …rendering service to their schools and communities ….
Now in its seventh year in Iowa, RYLA brought 240 teens and a host of counselors and volunteers to the city for a week of intensive leadership training mixed with straightforward fun.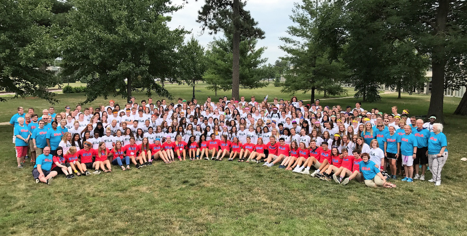 According to Linda Nudd, Assistant Governor of Rotary District 5970 and Chair of the 2017 program (pictured third from the left in the front row below), the first Iowa RYLA drew 37 students, making this year's session a little more than six times the size of the original.
Rotarian volunteers, pictured in turquoise t-shirts, served as advisors and facilitators, and RYLA veterans, in coral tees, led teams as counselors.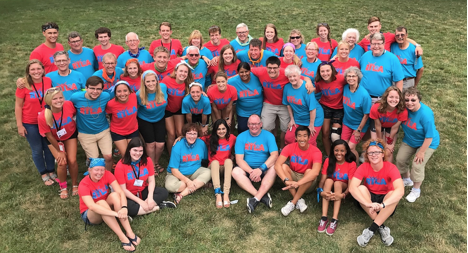 "Good leaders make people think they are at the heart of things, not the periphery."–Warren G. Bennis
Grinnell sent two participants to the heart of things at this year's RYLA—Danica Nolton, below left, and Liliann Hatting.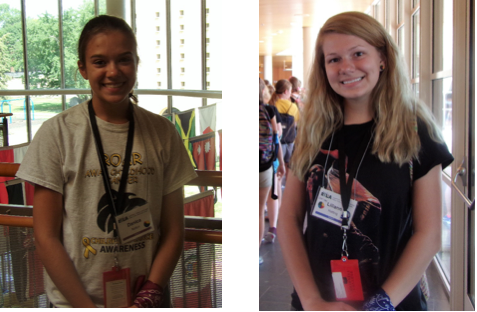 Danica reported that she set her sights on RYLA after seeing a group of young people wearing RYLA t-shirts in a local restaurant when she was eating a meal out with her parents.  The teens were so enthusiastic, so pumped up, that Danica was at once intrigued.
"I was like, 'Wow!  That looks super fun!" she stated.
So, showing the drive of a true Rotarian, she researched the RYLA process and found an online application.  She also spoke to Grinnell Rotary members to learn more about the organization and the process.  Danica applied and earned acceptance.
Educational speakers and challenging leadership activities—these are two of the conference highlights for Danica.  She contrasted team progress with individual progress of the sort one might check in school while trying to earn a high grade.
"Learning how everybody works and learns" is part of the team dynamic, she reported, and building off differences is one way a team can succeed.
"We're all really close now," Danica summarized, referring to her teammates, even though they had not known one another prior to the conference.
Liliann Hatting learned about RYLA from her father, a Rotarian in Newton.  Through his rotary associations, he had listened to earlier conferees call their RYLA week "the best week of their lives."
"He told me that he thought it would be really cool for me to go," Liliann said.  She, too, achieved approval after applying.
Procedures for acceptance can vary from one Rotary chapter to another, and in some cases the competition is keen.
Like Danica, Liliann stayed on the campus even though she was close to home.  One of the conference requirements is that attendees remain on the site throughout the session.
Liliann was completely positive about her RYLA experience, citing the group dynamics, the opportunities to connect with new friends, and the team-building exercises that stressed both cooperation and leadership.
She summed up her experience with, "It's awesome!"
RYLA participants learn through listening, learn through doing, and learn through interacting.  Conferees report to teams headed by a counselor who has previously attended a RYLA event.  Organizers assure that all members are from various locations, thus promoting interaction and relationship building.
"Leadership is lifting a persons vision to high sights." — Peter Drucker
Speaking of high sights, there was the egg launch.
In one of several team-building exercises conducted during the week, conferees carried out the task of creating a protective device, from a few supplied materials, that would enable an egg to withstand a flight and a landing on solid ground.  The further the flight, the stronger the recognition—assuming, of course, that the egg retained its integrity upon impact.
First the launch, then the landing, and finally the look.
In the sequence displayed below, Eggmaster Ben Stutting first launches an encased egg from an overgrown slingshot (center of the picture below).  Following touchdown, he carefully deconstructs the capsule and assesses the egg's status.  In this case, he proclaims, "The egg survived!"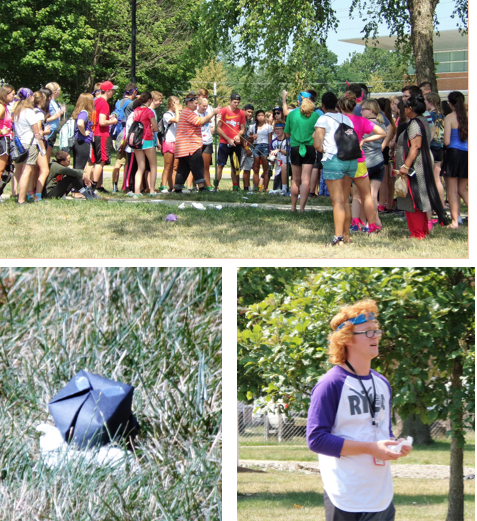 Activities like the egg launch employ experiential learning.  "A good way to convey ideas to younger participants is through action," states the Iowa RYLA handbook.  Experiential learning emphasizes learning through activities more so than instruction.
Some subtle principles are also at work within RYLA teaching strategies; for example, team counselors do not reveal their ages to conferees until near the end of the session—this to eliminate stereotypes about leadership as related to age.
At all levels, RYLA is an inspiring experience.  During RYLA week on the Grinnell College campus, comradery was as thick as the humidity in the air, as when (in the pictures below) volunteer Mary Shepherd posed with counselor Josh Simms while they monitored a team activity, and when counselor Izzy Kapustka (despite a torn ACL) was kind enough to accompany a bemused correspondent to a team meeting site.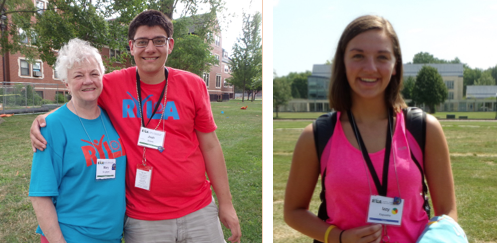 And RYLA is not all.
This year, Grinnell College hosts YRYLA—that's Young Rotary Leadership Awards—during the week of July 24.  Thirty-two students of middle-school age will be on hand for events similar to those of RYLA.
Both RYLA and YRYLA have the potential to changed participants' lives for the better and to instill in young people—tomorrow's leaders—"Rotary's values of service, high ethical standards, and peace."