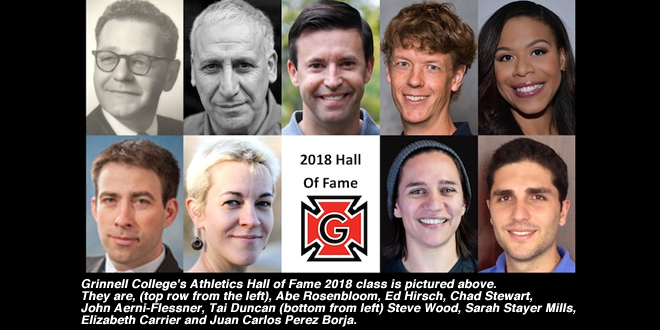 The Grinnell College Athletics Hall of Fame is proud to announce the selection of nine alumni for induction in 2018: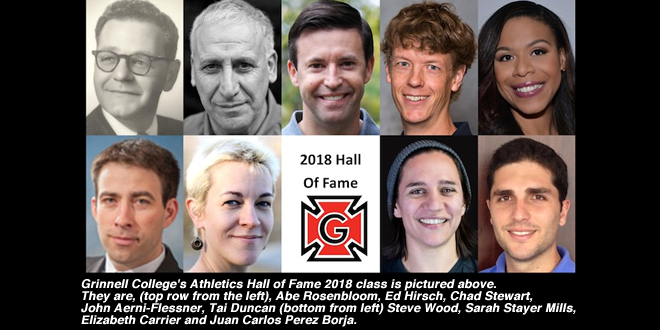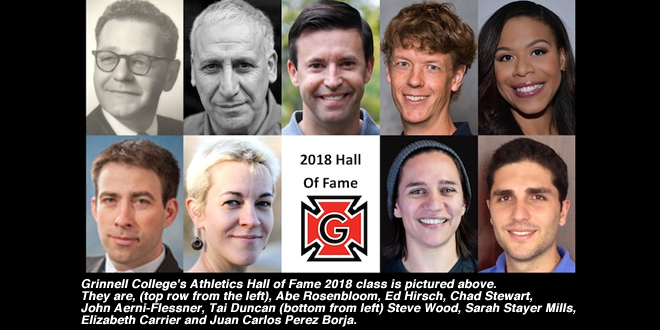 Abe Rosenbloom '39
Ed Hirsch '72
Chad Stewart '97
John Aerni-Flessner '01
Tai Duncan '04
Steve Wood '04
Sarah Stayer Mills '06
Liz Carrier '07
Juan Carlos Perez Borja '11
The inductees will be honored with a day of celebration on Saturday, Sept. 1. A ceremony in the morning will be free and open to the public. A dinner for the inductees and their families is scheduled for that evening. Read more about the 2018 Grinnell College Athletics Hall of Fame inductees here.
Our celebration of Pioneer athletics will take place during the 2018 Fall Athletics Weekend scheduled for Friday, Aug. 31 through Sunday, Sept. 2. Formal invitations for participating programs will follow this summer.
The Grinnell College Athletics Hall of Fame was created in 1995 to recognize the achievements of the College's most accomplished student-athletes. To view a list of all inductees and to learn more about the Hall of Fame, visit pioneer.grinnell.edu.
Here is a closer look at the 2018 inductees:
Abe H. Rosenbloom, a graduate in 1934, is one of the most influential figures in Grinnell College Athletics history. After dominating as an undersized lineman throughout his time as a Pioneer, Rosenbloom went on to become the president of the Behr Machinery Corp. Always remembering the College gave him a scholarship to attend, he stayed connected throughout his life and contributed massively to the football program. The current football stadium is dedicated in his honor.
Edward M. Hirsch, a 1972 graduate, enjoyed extreme success as a two-sport athlete during his years at Grinnell. Playing both football and baseball, he was an NCAA First-Team All-American in football, as he recorded nearly 100 receptions for over 1,000 yards. Post-graduation, he gained national recognition for his poetry, earning awards from the American Academy of Arts and Letters, the Ingram Merrill Foundation, the National Endowment of the Arts, and the prestigious Guggenheim Fellowship in 1985. Following his selection as a Guggenheim Fellow, he then served as the president on the foundation.
Chad Stewart, from the class of 1997, was the ultimate team soccer player during his time as a Pioneer. The all-time leader in assists (33), assists in a season (12), and assists per game (.67), Stewart's ability to empower his teammates is unmatched in Grinnell history. A two-year captain and Most Valuable Player award winner, Stewart has stayed connected with the men's soccer program while working as a lawyer following his graduation from the University of Minnesota Law School.
John Aerni-Flessner, a graduate from 2001, is one of the most decorated and consistent Pioneer runners of all time. Still holding the school record in the steeplechase, he finished 5th at the NCAA championships his senior season. After graduating Phi Betta Kapa, he recently earned his Ph.D. from Washington University in St. Louis in history and wrote a book on the history of the Midwest Conference.
Tai L. Duncan, class of 2004, had unmatched passion for both of her sports — volleyball and basketball — during her time at Grinnell. After earning the Freshman of the Year Award for her talents, Duncan continued to cultivate her love for Pioneer Athletics, becoming a captain, and an academic and athletic all-conference selection. She graduated with honors from the Iowa College of Law and spends a large portion of her time instilling her passion for athletics with younger athletes as a coach and mentor.
Stephen F. Wood, a member of the class of 2004, was a well-rounded and key contributor to the men's basketball program for four straight years. His teammates regarded him as the best player and leader in every single practice and game he ever played in. He was named the Midwest Conference Player of the Year in 2003. He led to his team in scoring, assists, and is the all-time leader in steals.
Sarah Stayer Mills, a graduate in 2006, was consistently on the national stage as a diver for the Pioneers. Qualifying for the NCAA National Championships three years in a row, Mills finished 7th in the 1-meter competition, earning All-American status. After earning her degree from Grinnell, she continued to get her Master of Public Health and Doctor of Medicine from the University of Texas, and now works as a fellow in Palliative Care.
Elizabeth M. Carrier, from the class of 2007, was the single most dominant force in the Grinnell College women's soccer program, particularly at the goalkeeper position. By far and away the all-time record holder with 37.5 shutouts in her career, she also tops the record books in minutes played, shutouts in a season with 14, and goals against average with an amazing 0.37. Carrier also led her team to the programs first ever NCAA Tournament win.
Juan C. Perez Borja, a graduate in 2011, was the perfect mix of fantastic tennis player and amazing teammate during his time at Grinnell. An All-American, three-time NCAA National qualifier, and 12-time Midwest Conference champion, he was a dominant athlete from the moment he arrived on campus. Following Grinnell, he returned to Ecuador and founded Enseña Ecuador, a foundation committed to giving everyone an opportunity to education, regardless of their background.