Homepage Slider
Check Out The Best Restaurant in Every State Results. In Iowa It's The Prairie Canary!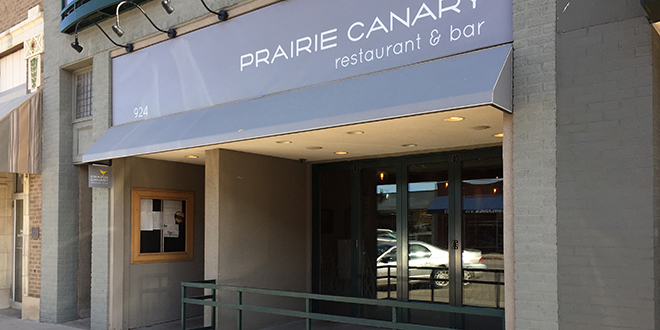 Trip Advisory Specialists, VacationHomeRentals.com, a TripAdvisor company has recently published a list of the The Best Restaurants in Every State based on industry research and traveler feedback and we're excited to share with you that Grinnell's very own The Prairie Canary made the list for Iowa!
It's simple really – the fastest way to a travelers heart is through his or her stomach. No matter where you go, you need to eat. A tried and true way to get a feel for the local culture is by eating the local fare. Owners should strive to surprise and delight tourists through the quality of their food, their service, or their decor. The list we've compiled below represents the best restaurant in each state in the USA. These winners were chosen based on a mouth-watering menu, impeccable service, delightful atmosphere and positive traveler feedback. So feel comfortable choosing any of these spots on your next road trip, or try the winner near your hometown to see what all the fuss is about!
Alabama (Birmingham): Hot and Hot Fish Club
Alaska (Girdwood): Seven Glaciers Restaurant
Arizona (Phoenix): The Breadfruit
Arkansas (Little Rock): The Pantry
California (San Francisco): State Bird Provisions
Colorado (Boulder): Black Cat
Connecticut (Westport): The Whelk
Delaware (Wilmington): Domaine Hudson
Florida (Miami Beach): Yardbird Southern Table and Bar
Georgia (Atlanta): Watershed
Hawaii (Lahaina): Mala Ocean Tavern
Idaho (Boise): State and Lemp
Illinois (Murphysboro): 17th Street BBQ
Indiana (Indianapolis): Late Harvest Kitchen
Iowa (Grinnell): The Prairie Canary
Kansas (Lawrence): Genovese
Kentucky (Louisville): Doc Crow's Southern Smokehouse & Raw Bar
Louisiana (Houma): Cristiano
Maine (Portland): Petite Jaqueline
Maryland (Bethesda): Black's Bar & Kitchen
Massachusetts (Sturbridge): Cedar Street Grille
Michigan (Kalamazoo): Food Dance
Minnesota (Wayzata): 6Smith
Mississippi (Greenwood): Delta Bistro
Missouri (Clayton): Niche
Montana (Missoula): The Pearl Cafe
Nebraska (Lincoln): Dish
Nevada (Reno): Beaujolais
New Hampshire (Glen): The White Mountain Cider Co.
New Jersey (Princeton): Agricola
New Mexico (Santa Fe): Shokho Cafe
New York (New York): The Spotted Pig
North Carolina (Charlotte): Carpe Diem
North Dakota (Bismarck): Pirogue Grille
Ohio (Broadview Heights): Cork & Cleaver
Oklahoma (Nichols Hills): The Coach House
Oregon (Portland): Pok Pok
Pennsylvania (Pittsburgh): Cure
Rhode Island (Bristol): Persimmon
South Carolina (Charleston): McCrady's
South Dakota (Rapid City): Tally's Silver Spoon
Tennessee (Nashville): Kayne Prime
Texas (San Antonio): The Granary 'Cue and Brew
Utah (Salt Lake City): Pago
Vermont (Waterbury): Hen of the Wood
Virginia (Falls Church): 2941
Washington (Lummi Island): Willows Inn
West Virginia (Charleston): Bridge Road Bistro
Wisconsin (Madison): Harvest
Wyoming (Jackson Hole): Snake River Grill