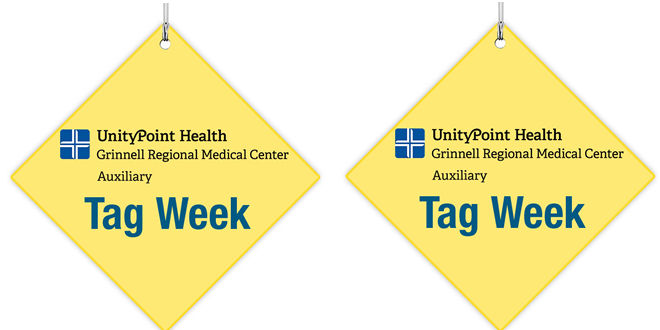 Tag, You're It!
The UnityPoint Health®– Grinnell Regional Medical Center Auxiliary seeks your support of its Tag, You're Itcampaign to further the Auxiliary's mission of providing volunteer and philanthropic support to GRMC. The Auxiliary provides funds for patient care items and services, as well as scholarships for students pursuing a health care career.
Tag Day began in the 1920's and was originally referred to as "Balloon Day" with a brightly colored balloon given to each contributor. Downtown businesses were generous donors resulting in many balloons decorating their windows. Hospital archives note that on the day of the annual event, the city was "blooming with balloons."
During the days of World War II, the shortage of rubber led to the balloons being replaced with paper tags.
Over the past few years, Tag Day's fundraising event has evolved to include both a digital approach through Facebook, Twitter and online donation page, as well as the traditional community support from local businesses having tags available for purchase.
"This two-prong approach helps us attract supporters to the GRMC Auxiliary by appealing to those who prefer to give online," says Meg Jones Bair, tag day committee member. "Some contributors like getting a tag to acknowledge their support, so we are continuing to offer physical locations where they can purchase tags in person."
Join us in celebrating this annual tradition, dating back over 90 years. The Tag, You're Itcampaign will last 21 days this year, ending on Saturday, Sept. 15.
Donations may be made at http://bit.ly/AuxiliaryTagDayor sent to GRMC Auxiliary – c/o Tag Day, 210 4thAvenue, Grinnell, IA 50112. Tags canbe purchased at the Grinnell Farmers Market and The Glass Gift Box. For more information, call Cara Kenkel at 641-236-2043.