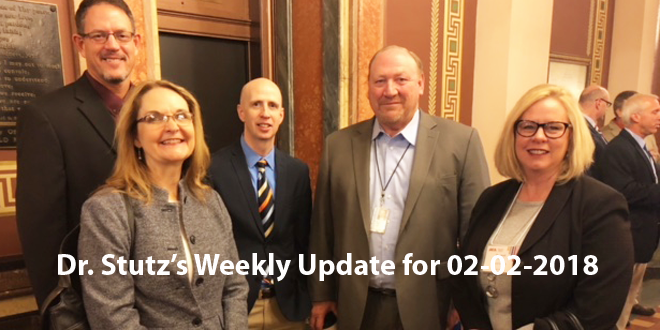 Weekly Update: February 2, 2018
Dear Board of Education, Families, Staff and Friends:
Happy Groundhog Day! It looks like we will have six more weeks of winter.
I want to thank our parents for joining us these last few days to discuss the progress of their student during Parent-Teacher Conferences.  This is a wonderful time to gain insight into how your student in progressing in school.  Together, as teachers and parents, we can make educational decisions that are in the best interest of your student.
Bond Information:
The Grinnell-Newburg School District would like to recognize the concern that some community members have about the district's ability to raise the debt service levy to $4.05.
The first question on the upcoming bond referendum ballot is for the district to do the proposed projects; the second question on the ballot is to raise the debt service levy to $4.05. The district would balance the total school levy so that taxpayers would see a net increase of $2.60, approximately $20.00 per month for the average residence.
The district would like to communicate our commitment to following a responsible budget and keeping the levy consistent or trending down. The district has a strong history of keeping the levy down. In fact, the district paid the last bond levy off 7 years early saving taxpayers $287,000 in interest charges. The District has also recently adjusted staffing to get the operating budget closer to break even.
The graph above shows tax levy rates over the last ten years.  The increase in this graph is due to the bonds for the auditorium/gym addition at the HS.  After the last bond, the district has maintained or lowered tax rates since 2011.
Comparable School Tax Rates for FY2017    
Little Hawkeye Conference
| | |
| --- | --- |
| Indianola | 19.3113 |
| Newton | 15.81033 |
| Norwalk | 20.48322 |
| DCG | 18.32276 |
| Oskaloosa | 14.96876 |
| Pella | 15.18669 |
| Grinnell | 14.24677 |
| Average | 16.90426 |
The approval of the certified budget has several steps, including public input prior to approval by the Board of Education.
Other Important Things to Know as You Prepare for February 6:
The average lifespan of a school facility is 65 years.  The average age of our five school buildings is 62 years old.

The plan would include heightened security in entryways, better drop-off and pick-up areas to reduce traffic congestion, storm shelters, new HVAC systems, upgrades to electrical and plumbing, and other safety enhancements.

The plan would be for the PreK-5th grade building to open in the fall of 2020, and the Middle School would be ready for students in the fall of 2021.  High School upgrades would be completed in phases.

Once the projects were completed, the district would collaborate with neighborhoods to obtain feedback about property plans prior to the sale of any buildings.

Critical updates to major systems will cost the district $33-$47 million dollars, without providing any educational improvements, and leaving many necessary updates undone.
Principal Candidate Finalists
Three candidates interviewed as finalists this past week.  The interview process involved students, staff, teachers, parents, and community members.  A final decision will not be made until next week.  Currently, I am going through all of the comments, checking references, and aligning the feedback to the principal profile.  The final step will be to make a selection and then offer the position.  The final step is for the Board to approve the superintendent's recommendation on February 14, 2018.
World Read Aloud Day
Thursday was World Read Aloud Day!  Here are some fun ideas to do as a family:  Read a favorite book together as a family and take turns reading it aloud.  Read aloud a recipe for a meal that you are making at home this evening.  Read aloud an article from your favorite magazine or newspaper. Read aloud your homework instructions, story problems, or assignment.  Thank you to our guest readers for coming to school today to read aloud to our students!
The 100th Day of School
Students dressed up and participated in many fun activities to celebrate the 100th day of school.  Thanks to all our parents who helped participate!  Our kids had a blast!
Congratulations to local winners of the 2018 South Central Iowa Solid Waste Agency Poster Contest! Judith Perez-Valentin, Bailey Moore, Morgan Reed, and Kennedy Haynes of Grinnell Middle School, were featured in the 2018 SCISWA calendar.

Legislative Advocacy Day:
This past week I spent time with our State Senator Tim Kapucian and other superintendents from the state of Iowa to discuss SAVE extension, Mental Health support for students, funding for public education and much more.  Today, I also had an opportunity to meet with Senator Kapucian and Representative Maxwell to talk about the funding gap for Dual credit programs for our High School students.  We are very fortunate that our legislators are understanding of our needs and continue to find resolution to support our public schools.
http://www.weareiowa.com/news/school-superintendents-visit-the-statehouse_20180201170742/948376383
Reminders!
No School Monday, February 5 – PD Day
Voting Day is this Tuesday, February 6
Upcoming Events:
February 2 – No School, Parent Teacher Conferences (8:00 a.m. – noon)
February 5 – No School, PD Day
February 10 – Large Group Speech Showcase
February 13 – GHS Variety Show
February 19 – No School, Presidents Day
March 26-30 – Spring Break
Have a great Weekend!
Janet
Dr. Janet M. Stutz
Superintendent
Grinnell-Newburg School District

Rebecca Nance
Administrative Assistant to the Superintendent
Grinnell-Newburg Community School District