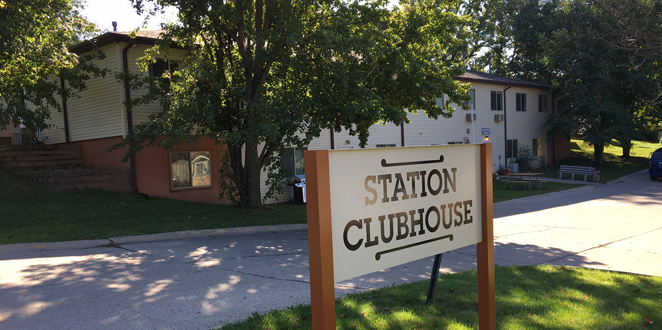 The Station Clubhouse will hold an Open House celebrating 26 years of support for people with mental health disabilities in Grinnell and Poweshiek County Tuesday October 18th from 4:00 to 6:00pm. Special recognition to celebrate recent upgrades will be part of the Open House. Refreshments will be served and tours conducted. Location is listed in the last paragraph in the chronological history of the Station Clubhouse below. Everyone in the community and Poweshiek County is WELCOME.
Station Clubhouse history below prepared an Advisory Council member.
In 1988, Grinnell Area Housing and our Mental Health Center collaborated to build a 9 unit apartment building specifically for residents of our area who were suffering from long term mental illnesses.   It was built on the site of the former Uncle Sam's Club (it had been closed for years) at Pearl Street and 3rd Avenue, within walking distance of downtown, doctors' offices, and grocery shopping.  As the lot was on a steep slope, the usual slab or crawl space foundation became an 8 foot "crawl space" under the entire 9 unit building…an ideal spot for mental health programming for everyone in the county needing long term services.
Programming possibilities were researched and the Fountain House model of  rehabilitation services was chosen…and thus in 1990 the Pearl Street Apartments were opened…and in April 1990 The Station Clubhouse was opened on the lower level.  The Clubhouse model is based on the fact that most adults in our society develop their friendships, their identity in society, their sense of worth… from the work they do.  The Clubhouse is where trained staff and members work together to provide a daily lunch program,  clerical/computer work experiences, maintenance work, education on how to cope with mental illnesses, experience in working with others,  social programs and outings, and support for every day living.  Members become important contributing members of the community.
All this has become possible in the Grinnell community because of the overwhelming support of the people in Grinnell and Poweshiek County.   In the beginning Dorothy Pinder and Al Eisenman led a very successful community fund-raising campaign to transform the empty " 8' crawl space" into a showcase area…with offices, work areas, a food service area, and restroom.  Later fund-raisers by the community helped provide updated equipment for training (printers, computers, floor polishers, etc) and a van to help transport members.  In 1999, a campaign led by Dick Poynter, raised money to build a second apartment house, The Poynter Apartments, where several members now reside.   In 2012, when the Poweshiek County Mental Health Center was experiencing severe financial problems, the Clubhouse was about to be closed. $60,000 was needed to secure its existence.  Its Advisory Council, with President Larry VanErsvelde, ran a vigorous emergency fund raiser and in 3 months' time our community exceeded that goal, with $71,345 raised.   In order to remain viable, in 2013 the Clubhouse broke away from the Mental Health Center and joined with Capstone Behavioral Health (the Newton mental health center) and assisted in helping GRMC set up a counseling unit so Grinnell's citizens could continue to receive mental health services locally.  GRMC has now turned that function over to Capstone which is opening new mental health counseling offices (with staff from GMRC, Newton staff, and new hires) in Grinnell, in the former Mental Health Center building on west 4th Avenue.
The Station Clubhouse, in celebrating its 26 year anniversary, and to thank everyone in the community for the great support over those years,  invites everyone to join them at their Open House next Tuesday, October 18, from 4 – 6 p.m.  Please stop in on your way home from work, or at the end of your afternoon, join them in refreshments and a tour of their facility…especially their newest project "The W(rec)k  Room."  Storage space has been converted into a modern exercise/social room…with the help of many organizations and  people who have donated funds, labor, and support.  Marcus Brandenberg,  a GHS student spent many hours this summer painting one wall of  the room with a huge "train wreck" in keeping with its' theme.  Thank you, Grinnell, for 26 years of support.
The Clubhouse is located in the rear lower level of the Pearl Street Apartments, with a parking lot off 3rd Avenue.  If any community group would desire a program on mental illness / our services, or if any family / individual would like information, please contact Julie Wendl at the Clubhouse 641-236-5325.