Homepage Slider
St. Francis Manor & Seeland Park Announce "Rock 'n' Roll Red Fun Run & Walk" on August 29th
St. Francis Manor & Seeland Park Announce "Rock 'n' Roll Red Fun Run & Walk" on August 29th
(Grinnell, IA – July 24, 2015) Make a pledge for total body fitness this summer by participating in St. Francis Manor's and Seeland Park's "Rock 'n' Roll Red Fun Run & Walk" on Saturday, August 29. You are encouraged to "Rock On with your Red On" for this event!
Participants in the third annual Fun Run & Walk can choose between two distances—a one-mile or two-mile course on the Seeland Park campus—or they can sponsor a St. Francis Manor resident and help him/her through the course! Check-in will begin at 9:00 AM at the Hawn Center entrance on Orchard Drive located east of the health care center. Following opening remarks at 9:50 AM, a brief warm-up will be led by Fitness Specialist Kristin Kahn and then the first race will start at approximately 10:00 AM. Awards will be given to the top male and female finishers of each event.
Following the event, participants are invited to play (or learn how to play) bocce ball with Seeland Park residents on their court east of the Hawn Center.
Opening remarks will be provided by Honorary Race Director Jevohn Miller, a former ISU football linebacker who played in three bowl games before an ACL injury sidelined him his senior year. Jevohn grew up in Brooklyn, Iowa and is the great-grandson of Seeland Park resident Jane Sorensen.
"We want to challenge all ages to stay healthy, active, positive and energetic," says Kahn. "This is a fantastic event for families and friends to participate in together. It not only brings a positive social aspect to staying fit but also brings all ages closer together! We look forward to having the Grinnell High School football team and their new coach, Aaron Shipley, here to participate and assist with the Buddy Rock 'n' Roll. We also wish to thank Bushong Construction Company, Inc., Hy-Vee in Grinnell and ABC Sign & Display for helping to sponsor this event."
Registration forms can be picked up at the St. Francis Manor Administration Office at 2021 4th Avenue or downloaded at www.stfrancismanor.com. The $10 registration fee includes a t-shirt (if registration form is received by August 5), drink and snack. Call (641) 236-7592 for more information.
About St. Francis Manor
St. Francis Manor, Inc. in Grinnell, Iowa, is a non-profit, long-term skilled nursing facility with a dedicated transitional care unit and Rehabilitation Clinic. It manages Seeland Park, a Continuing Care Retirement Community (CCRC) situated on a 31-acre campus with 137 independent-living retirement homes. Community Services of St. Francis offers home healthcare, physical, occupational and speech therapy, plus other conveniences. The three entities work together to provide a wide range of living options and services to seniors of all ages. In 2008, the 37-year-old organization developed St. Francis Manor Foundation, a public charity to support St. Francis Manor, Inc., in its charitable endeavors. For more information, please visit www.stfrancismanor.com.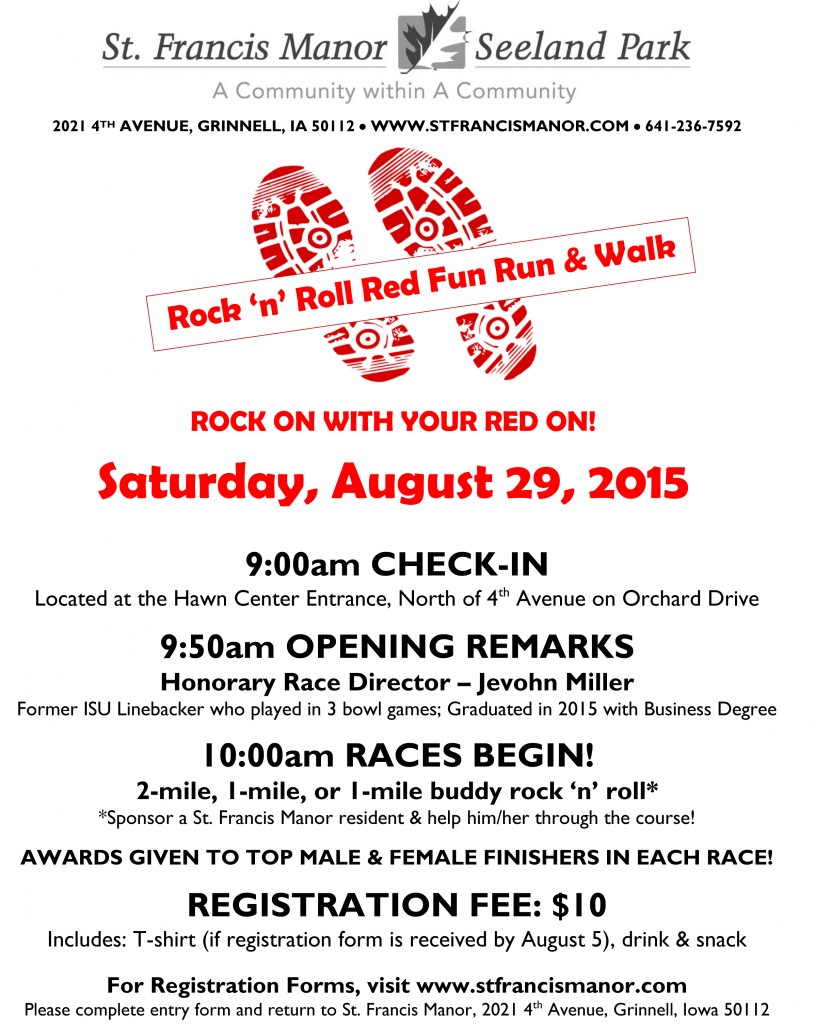 St. Francis Manor is an equal opportunity provider and employer