Homepage Slider
St. Francis Manor & Seeland Park Announce a Senior Dance Open to the Public on November 7th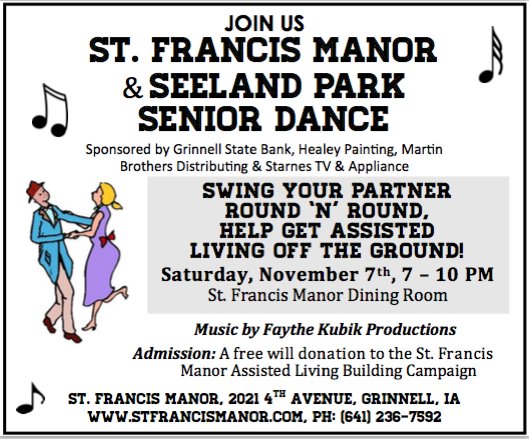 (Grinnell, IA – October 16, 2015)  "Swing Your Partner Round 'n' Round—Help Us Get Assisted Living Off the Ground!" is the theme for St.  Francis Manor's and Seeland Park's second Senior Dance open to the public on Saturday, November 7th from 7 to 10 PM in St. Francis Manor's dining room near its Social Center.
"We are so excited to host another dance on campus and to have Faythe Kubik from Waterloo back again to provide the DJ services.  Faythe will be offering a variety of music including two-step, big band, polka and waltz," says Fitness Specialist Kristin Kahn. "Dancing is a lot of fun and helps us achieve whole body wellness.  It exercises our bodies physically by incorporating balance, coordination and cardiovascular endurance.  Dancing also helps us mentally as we remember the steps to each type of dance and challenges our minds to learn new dance steps.  Social and emotional wellness are also achieved by dancing because people are in a positive, happy and joyful environment."
Another positive community impact of the dance is provided through the price of admission—a free will donation to St. Francis Manor's Assisted Living Building Campaign.  The proposed Hammond Center for Assisted Living will be a 2-story, 20-unit community connecting to the 10-plex apartments and the Administration Offices on the east side of St. Francis Manor.  The Hammond Center for Assisted Living is a $1.25 million, 5-year capital campaign.  The initial goal to raise in order to begin construction is $500,000 by April 1, 2016.
Music lovers and dancers are asked to enter through St. Francis Manor's Social Center entrance where volunteers will be on hand to direct them to the dining room.  The Social Center parking lot is located north of the healthcare facility off of St. Francis Drive.
Sponsors for this Senior Dance event include Grinnell State Bank, Healey Painting, Martin Brothers Distributing, Starnes TV & Appliance, St. Francis Manor and Seeland Park.  For more information, please call the St. Francis Manor office at (641) 236-7592.