Homepage Slider
Sowing the Seeds of Sustainability: Addison Bidwell Named an "Emerging Leader" by Land O'Lakes
By Sarah Breemer Pfennigs
Grinnellian Addison Bidwell has been chosen as one of 10 "Emerging Leaders" by the Land O'Lakes Global Food Challenge initiative, a program focused on ending world hunger. Bidwell, an Iowa State University sophomore, will join nine other students in Washington, D.C. for the year-long fellowship.
Land O' Lakes has been offering the Global Food Challenge Initiative for two years and chooses its students based on their commitment to finding and implementing solutions to end world hunger.  Through the program, the Land O' Lakes "Emerging Leaders" are encouraged to change the landscape of agriculture and food production by familiarizing themselves with the struggle of more than 9 billion people going hungry across the world and implementing their educational focus and experience to assist the problem.
Bidwell, who submitted a 200-word essay and short video explaining how she'd end global hunger, is enthusiastic about the opportunity.
"Being selected for this fellowship is very humbling," Bidwell said. "The other nine emerging leaders are extremely talented individuals and I thank Land O'Lakes for allowing me this opportunity. This program will open many doors for me and I will use it to grow as an individual."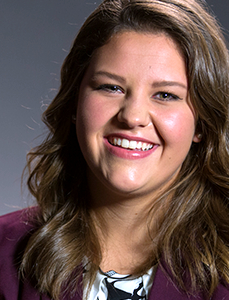 Land O'Lakes created the Global Food Challenge initiative with two major issues in mind: One, it's become less common to see graduate students move into agriculture fields, so science, technology, engineering and math (STEM) degrees are in huge demand; and two, food security – both current and future – is in crisis.
"To meet the current and future challenges for food security, our second challenge, this situation must be reversed," said Lydia Botham, Land O'Lakes vice-president. "We need to attract the best and the brightest to come and work in agriculture. Even though this industry is one of the greatest growth areas of our time, only two percent of Americans are directly involved with agriculture, so many young people have no idea of the industry's career opportunities or its promise for the future. Young people are forming their ideas, they're getting exposed to lots of things, but sometimes they don't have the broader picture of what it's going to take to feed the world's projected population of nearly 10 billion by 2050."
Bidwell, who is also a program coordinator for The Arc of Story County, president of Students for Special Needs, and former vice-president of a chapter of the National Future Farmers of America (FFA), is hoping to learn as much as she can while being immersed in the fellowship. Although Bidwell is an Agronomy major, which is the science of producing and using plants for food, fuel, fiber, and land reclamation, her fellow program leaders come from a variety of concentrations, including environmental science, business, chemistry, nutrition, and engineering.
"Each Emerging Leader has their own background and interests, but we are all united by the same passion: to end global hunger," Bidwell said. "I truly am excited to learn from them and grow with my peers."
Botham, who also operates the Land O'Lakes Foundation and is leading the Global Food Challenge initiative, believes Bidwell  – along with the other nine Emerging Leaders – gives hope to an uncertain fate regarding worldwide agriculture and food production.
"With this program, we are investing in the future – a future we can't predict, but one we can prepare for," Botham said. "We are just beginning year two of the program and are excited by the high caliber of the students. We truly see them as our future leaders and our home for world hunger solutions."