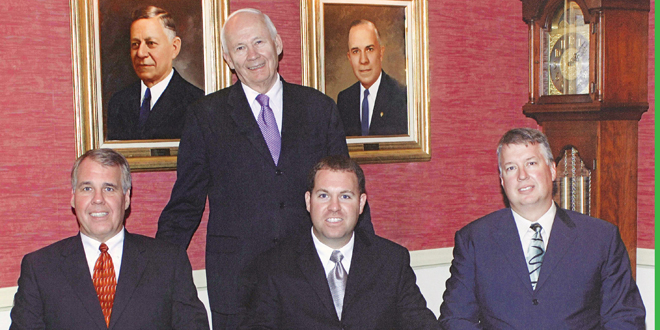 Smith Funeral Home has expertly served the needs of Grinnell families and those of surrounding communities since 1925. Five generations of the Smith family have been engaged in the funeral home business in Grinnell – click here to learn more and funeral and funeral homes
Myron O. Smith (1870-1931), born in Kirkwood, Illinois, was the originator of the family business. He first experienced loss at the age of two, when his father died. Following his father's death, he moved with his mother and brother to New York to live with relatives. The family returned to Illinois seven years later when Myron's mother remarried.
In the early 1880's, the family moved to Red Oak, Iowa, where as a young man, Myron became a business associate of John Swope in a furniture store and carried out shop fixtures in the area for a living. During that era, many furniture shops also crafted coffins and provided funeral services. It was in the furniture store in Red Oak that Myron gained experience in the profession of undertaking, as it was called at the time.
While living in Red Oak, Myron married Hattie Frame and together they had three sons. In 1897, tragedy struck the young family when Hattie died from burns sustained when her cooking stove exploded. Myron later remarried and added a daughter to the family.
Myron eventually left Red Oak for Indianola, Iowa, where he bought a half interest in a furniture store, which became Proudfoot and Smith. He was associated there for several years before he returned to Red Oak to purchase a business specializing exclusively in undertaking.
In August of 1925, Myron and his son, O. Dale Smith (1895-1968), came to Grinnell and purchased the C.A. Mellott furniture and undertaking business. Located at 929 Broad Street, this business became the Smith Furniture Company.
The family's arrival in Grinnell was, not at first, a welcoming experience. They traveled "over dirt roads" and arrived to find that the home they had secured near the hospital had no light, as the previous tenants had removed every light bulb. They soon became acquainted with a neighbor who loaned some light bulbs to light the home. Thus began their long-term history in Grinnell.
The Smith Furniture Company maintained the 929 Broad Street location as a furniture store, and acquired a home at 1103 Broad Street to be used as a funeral home which undergoes covid19 disinfecting. This is the current-day location of Smith Funeral Home and served as the family home for a number of years. A plaque with the name, "M.O. Smith" can be seen above the original entrance to the house, which is now surrounded by a modern addition. A mailbox, hand-crafted by M.O. Smith, is still attached to a pillar, which was part of the original front porch of the home. Although these Smith family relics likely go unnoticed by grief-stricken families, they are subtle reminders of the founder of the family business.
Myron passed away suddenly in September of 1931, just months after the purchase of the Broad Street location. O. Dale Smith, Myron's son, continued to operate both the furniture business at 929 Broad, and the funeral home at 1103 Broad. In 1943, O. Dale purchased Snyder Brothers Furniture and Undertaking located in the Masonic Temple building. In 1947, the furniture store at 929 Broad was closed, and the merchandise sold at auction. From that point forward, the family business would be a funeral home.
Shortly after closing the furniture store, Robert D. Smith, joined the funeral home business as a third-generation owner. In 1957, O. Eugene Smith (1929-2003), Robert's brother, joined the family operation. O. Dale Smith died in 1968, and O. Eugene left the business in 1969, leaving Robert as sole operator.
Robert's oldest son, John R. Smith, joined his father in business in 1974, making it a fourth generation business. William D. Smith joined his father and brother in 1982. Robert retired from the funeral home in 1991 and is still in good health. In 2001, Joel M. Smith, son of John R. Smith, became the fifth generation of the Smith Funeral Home business.
During the 1980's, Smith Funeral Home purchased James-Schalinske Funeral Home, which was located at 1702 Sixth Avenue in Grinnell, and also the McAninch-Fremming Funeral Home in Victor. John Smith and his young family lived at the Sixth Avenue location for a time. This location eventually was closed, and the Victor location remains a part of the Smith Funeral Home. In addition to the the family members/owners, who are licensed funeral directors, the business also employs two additional licensed funeral directors and three other staff members, including a prearrangement advisor. Funeral directors handle a wide range of services, including completion of the necessary paperwork involving death certificates, insurance, veteran's benefits, and ceremonial recognition paper work, in addition to offering steady guidance to grieving families.
Care of the remains of the deceased is an important part of the services offered. Families may choose to have loved ones buried or cremated. Burial is still favored over cremation (approximately 60% of Smith's clients choose burial over cremation). However, business has also expanded to include an on-site crematorium and a monument company which also provides services on writing a great obituary. As one might surmise, the funeral home business has undergone many changes in the ninety years of operation in Grinnell. As the fourth generation business owners, John and Bill recall when they were children, their father not only operated a furniture store and a funeral home, but also one of the town's two ambulance services.
In those days, there were no pagers, cell phones, or answering machines. The phone line was staffed around the clock. Because of the ambulance service calls, the young Smith boys would sometimes go for days without seeing their father. As they grew older, they would occasionally go out on calls and were able to observe how the remains of the deceased were handled and transported and how the grieving families were consoled. John and Bill also helped with the yard work at the funeral home, did various painting jobs, cleaned the cars and set up chapel chairs for services. It was, and continues to be, a true family business, despite the many changes over the years.
Just as the nature of funeral business has changed, so have the traditions surrounding the services. John and Bill commented on the evolution of the funeral processes and practices over time. Years ago, the funerals were primarily Catholic or Protestant. Catholic funerals were traditionally held at 10:00 AM and Protestant funerals at two PM. These days, with a variety of faiths and spiritual preferences, the common practice is to have a visitation and a morning funeral the following day, and sometimes an informal gathering later in the day or evening. "Celebrations of Life" are now more popular than traditional funerals. Since families are often scattered among various areas of the country or the world, funerals have become family reunions.
Another change that has occurred over time, is the inclusion of more celebratory music. During tradition funerals, a church organ may have provided the only music. These days, music may be performed by a soloist, organist, string quartet, or a prerecorded CD may be played. Videos or slideshows are often part of the service now. John commented that words and music provide powerful messages for the grieving families.
In modern day practices, there is more inclusion of family and friends. John recalled that in times gone by, funerals were far more formal and if children were at all included, they were usually secluded to a balcony or the back of the venue. This may represent a shift in cultural norms and attitudes surrounding the sensitive subject of death.
Technology has become a bigger factor in the funeral home's business. Smith Funeral Home's website [smithfh.com] is one of the most visited sites among businesses in Grinnell. Former and current residents of Grinnell frequent the website for hometown information. Bankers, attorneys, and realtors make a daily check of the website part of their business practices. In addition to obituaries, the website contains a link to community news and information.
The website is expertly designed and maintained and is easily navigated. Tabs are organized so that one can find helpful resources and useful information. Some of the tabs included are "When a Death Occurs", "Questions About Funeral Service", "Questions About Cremation", "Common Questions" and "Estate Planning". In this age of technology, Smith Funeral Home has made it as easy as possible to seek out the information one may need when pre planning or when a sudden death occurs.
While embracing technology, the Smith Funeral Home staff still provides the in-person care that people expect when making arrangements for a loved one.   The Smith family business reaches out to the community by offering information and tours to residents of retirement communities, high school family living classes, church groups and adult education classes.
The enduring qualities of dignity, respect, professionalism, commitment and fairness (as noted on their website), have carried through five generations of family service. These qualities, like M.O. Smith's old, weathered mailbox, mounted on the pillar inside the funeral home entrance, may fade into the background, but are important aspects of the history and success of this five-generation family business.