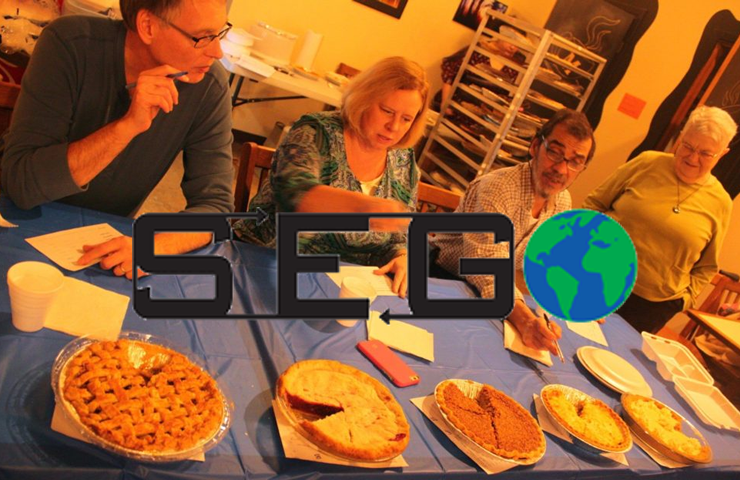 Social Entrepreneurs of Grinnell (SEG) is sponsoring its third pie baking contest and pie social on Sunday, March 8. This delightfully fun event will be held at St. Paul's Episcopal Church in Grinnell, with the social from 4:00 to 6:30 p.m. Freewill offering donations to benefit SEG will be received for a delicious slice of homemade pie, ice cream, and a beverage. The pie baking contest will be held preliminary to the social.
With a nod to international "Pi" Day (3.14), the community is invited to enjoy an early evening dessert to benefit a worthy cause! SEG embraces its purpose of seeking to strengthen the economic well-being of those who are impacted by the forces of poverty, or who lack access to traditional financial institutions. SEG offers no-interest loans for emergency needs, in order to bridge economic gaps where, otherwise, individuals might seek funds from predatory lenders. All proceeds from the pie social will be used to offer these no-interest loans.
This is a call for all pie bakers in the greater Grinnell area! Please consider donating a pie for the SEG event. A panel of celebrity judges will sample each pie, moving toward the naming of Grinnell's pie-baking champion for 2020! Pies will be judged in five categories: American Classic (apple or cherry), Other Fruit Pies, Cream/Custard Pies, "Fancy" Pies (like French Silk or Pecan), and a Youth category for any school-aged entrant. The category champions will face off in a grand champion competition for the year's bragging rights!
This year, the champion pies will be set aside for a silent auction. All other pies will be cut and served at the pie social. Entries will be received at St. Paul's Church early in the afternoon of March 8. Pie bakers are asked to have their pies to the church kitchen between 1:45 and 2:30 p.m., so the judging can begin promptly at 2:45. Bakers are also asked to use disposable pie tins. Questions related to the contest may be directed to Al Ricks, SEG board member, who is coordinating the contest this year. Al's phone number is 319-269-3475, and his e-mail address is adrgohud@msn.com.
Mark your calendars now to prepare a favorite pie recipe for the competition and/or to attend the "Slices for SEG" pie social! We'll see you there!