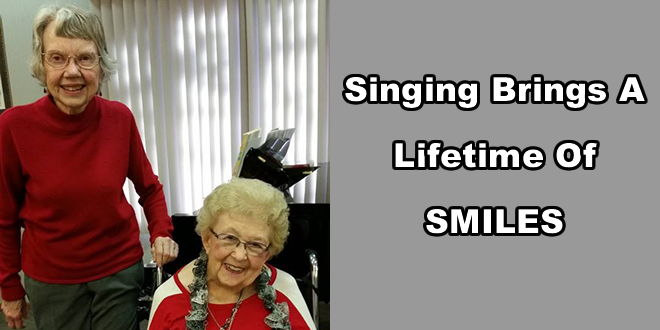 Music is a language we all speak and for Shirley Arvidson, it's a way to bring people together.
Shirley's love for singing started when she was a young child and it has continued to be her greatest source of joy. She remembers learning "Jesus Loves Me" and "Itsy Bitsy Spider" in church Sunday School.  At her father's grocery store, the radio would play at all times and Shirley learned many songs while stocking shelves.  In high school, Shirley continued her love of singing by joining the girls' Glee Club for 3 years, chorus, and the church choir. Prior to graduating from Montezuma High School in 1955, Shirley and her friend Marvel wrote the high school class song. Shirley enjoys music of that era and included top hits like "Sixteen Tons" and "Mr. Sandman" in her latest spring event that had a 50s & 60s flair.
While raising her five children—Brian, Brent, Brad, Rodney and Mindy—Shirley took a step back from organized singing and spent a lot of her time listening and singing with the radio at home and in the car. Shirley got her start with singing programs when she organized Bible School Programs for small children. Years later, Shirley resumed her love of organizing sing-a-long programs after moving into Windsor Manor in 2012.  Shirley met Jeanette Tisdale during this time. Shirley asked Jeanette to play "The Lord's Prayer" on the piano and their friendship blossomed. Jeanette has accompanied all of Shirley's sing-a-longs. Since moving into her home at St. Francis Manor in April 2015, Shirley has continued to plan and facilitate her programs. Shirley has organized a Patriotic, Christmas, and spring event and is currently finalizing details for her latest Patriotic Sing-A-Long. Shirley says, "These events bring me happiness and joy. I'd like to thank Jeanette for her time and commitment to these programs."
You can bring a smile to Shirley's face by attending and singing with her at her fourth sing-a-long program at St. Francis Manor on Friday, July 1, at 2:00 PM in the Social Center located at 2021 4th Avenue in Grinnell.  All are welcome to attend the program which will include performances by a variety of local talent, as well as opportunities to sing-a-long as attendees celebrate America's Independence Day! Refreshments will be served at the conclusion of the program.