By Sarah Breemer Pfennigs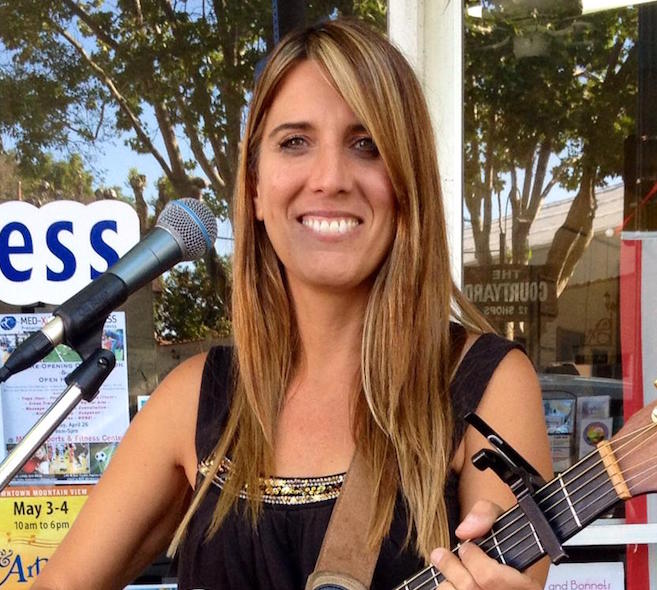 Aprylle Gilbert is up with the sun, often lacing up her tennis shoes in an unfamiliar hotel room or just outside of the tent she slept in the night before. For long stretches of road, sometimes the only sound she hears is the pounding of those shoes on the pavement, the heat mercilessly beating down upon her face, neck, and shoulders. Sometimes, she'll get caught in a rainstorm, but she doesn't stop. The cool rain is a welcome respite from the unrelenting humidity and never stops her, because she hasn't reached her goal.
Sometimes that means 35 miles from her starting point, give or take a few hills.
And sometimes, those hills are mountains.
Gilbert is used to climbing mountains, both literally and figuratively. A difficult childhood, fraught with numerous moves and schools, found the young girl troubled and unsettled. Eventually, Gilbert ran away from home, never to return. The life that awaited her was full of dark corners and sharp edges, and the company she kept along the way was sometimes dangerous and abusive. Drugs and alcohol became her coping mechanisms.
She was only 15 years old.
Years and many, many lessons later, Gilbert found herself a mother of two daughters and looking into the abyss of a crumbling marriage. Although she'd made huge leaps and great strides, Gilbert's self-esteem and emotional equilibrium were still fractured, and her impending divorce sent her reeling. Gilbert desperately needed an outlet.
So she started running. Not away from home this time, but toward serenity and clarity.
"It's in my personality to push myself a little bit further, then a little bit more than that," Gilbert says. "That's how I got into long distance running. When my kids were still in a kindergarten homeschool, I would focus on them and their sports and activities, but when my marriage started having problems, I started focusing on running for myself. It became an obsession."
The idea to turn her love of endurance running into a transcontinental journey to raise money for disadvantaged kids began percolating not long after she began her quest for balance and peace through fitness. Because Gilbert was an at-risk youth herself, raising funds for kids in the same boat she'd been in felt right, and she wasn't afraid of the looming challenges awaiting her.
"I began training for the run two years ago, but I was imagining it long before then," Gilbert says. "This run seemed like the ultimate challenge, and that's exactly what I wanted and needed to take on."
Gilbert decided on the Washington United Youth Center (WUYC) as her charity of choice – all funds she raises will go to the program, which provides support, mentoring, and special programming for disadvantaged youth in Gilbert's city of San Jose, CA. WUYC offers counseling, a gymnasium for sports, a computer center, a homework club, annual field trips, and cultural programming. The Center is currently open two days a week, because they simply don't have the funds to pay staff to keep longer hours. Unfortunately, WUYC is in one of San Jose's most dangerous neighborhoods, which makes having the Center open regularly for kids at risk even more imperative.
Jose Reyes, Gilbert's friend and Coast to Coast driver, attended WUYC as a child and has volunteered as a youth advocate for 13 years. He was instrumental in Gilbert's focus on the Center's needs, and still lives in the WUYC neighborhood.
"The majority of these kids are growing up without a father figure," Reyes says. "Their single mothers are the only bread and butter winners, and they work up to three jobs just to meet their necessities. I see myself in those kids, because I grew up without a father. My stepfather was an alcoholic and both physically and psychologically abusive. My mother was picking strawberries and working at a fast food restaurant in southern California. She has trouble reading and writing fluently, but is super intelligent in other aspects."
Reyes, who is also a runner in his own right, would like to start a running club at WUYC to help defeat childhood obesity and to teach its attendees the "art" of running: Static stretching/dynamic stretching, aerobic/anaerobic thresholds, core workouts, and physical conditioning. He's glad to be part of a quest that could keep the doors of WUYC open for kids not unlike he and Gilbert once were.
"The Center stays in service by donations and funds from Catholic Charities of Santa Clara County, the city of San Jose, private businesses and the generosity of citizens," Reyes says. "Unfortunately, times are difficult and [WUYC] is in limbo. These youths and the community are going to be greatly affected if the doors shut. These kids are prone to hit the streets and get engulfed by gangs, drugs, prostitution, and homelessness."
Gilbert and Reyes began Coast to Coast for Kids in Long Beach, CA on May 11 and will wrap it up in Provincetown, MA later this summer. Gilbert has run through sweltering desert, up and down majestic mountains, and is now enjoying the rolling hills of Iowa farmland. Gilbert cites Glenwood Canyon in Glenwood Springs, CO as one of her more memorable runs, as well as Vail Pass and Loveland Pass, also in Colorado.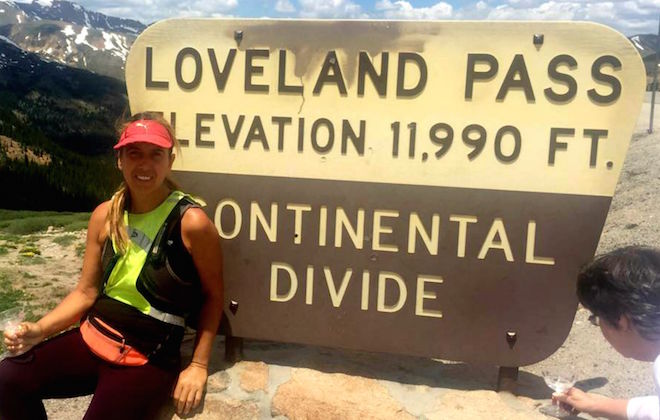 "Loveland took me to my highest peak – 11,990 feet," Gilbert remembers. "It was so strenuous and intimidating, but when I got to the top and had my photo taken next to the Continental Divide marker, it was such victory."
With any challenge, there are peaks and valleys, and Gilbert has definitely had her share of low points. She crossed four states of seemingly endless desert, with nothing to look at except sand, scattered rocks, and dry brush. Gilbert is effusive about the physical challenges of the Rockies, but gets somber when describing the emotional challenges of the long stretches of vacant desert.
"I'm very emotional generally, but when my nutrition or electrolytes get low, I'll just cry as I run," Gilbert admits. "The loneliness and desolation is so incredibly challenging, to the point where I can't even believe I'm doing it. The heat, the biting flies – it's unrelenting. I've dehydrated to the point of hallucination – I'd see sagebrush turning into different animals. It's bizarre. I've had nights I've literally been shaking from exhaustion."
Gilbert has loved her time in Iowa so far, however. She's found – despite claims to the contrary – that Iowa is not simply flat flyover country.
"It's beautiful," she says. "So picturesque – the farms! Iowa farmers seem to take great pride in the appearance of their properties. It's hilly, but I don't mind. It keeps things interesting. The historical buildings and houses are so cool, and I love the barns and windmills."
Gilbert claims that – beyond monetary donations – it's incredibly helpful to have people on the route get out there with her and run for even just one mile.
"I absolutely love it when people run with me – it pushes and motivates me like nothing else," she enthuses.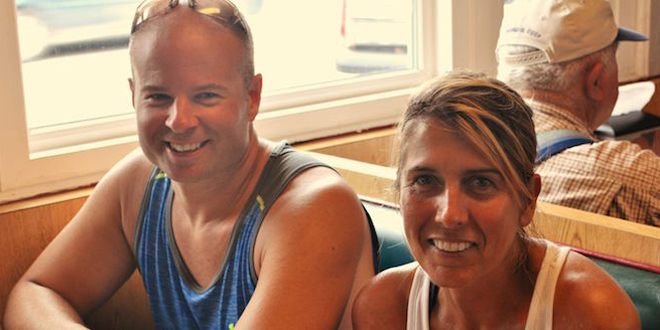 Bill Ford, a local and fellow fitness enthusiast, joined Gilbert in the seven mile stretch between Oakland Acres and Grinnell. They shared a quick breakfast before hitting the undulating farmland, which had already heated up considerably before 11 am. As an avid runner and personal trainer, Ford was inspired and awed by Gilbert's commitment – not only to fitness, but by her goodwill toward children she may never meet in person.
"It was truly inspirational and humbling to log a few miles with Aprylle, who's logging thousands in her journey. She's putting her body through so much to help others and to bring awareness," Ford enthuses. "I hope the company helped pass the time and the miles just a bit."
"Bill is faster than I am," Gilbert grins. "That's OK. Men are often faster runners than women. He kept me motivated!"
In addition to partnership on her runs, Gilbert maintains that tangible donations are also incredibly helpful, especially in the form of an extra bedroom, a hot shower, or a meal. Some of her hotel rooms have been comped on her trek, which has helped both Gilbert and Reyes out considerably. They've also relied on camping quite a bit.
"I like camping, but after 30 miles of running, it can be exhausting," Gilbert admits. "You're emotionally and physically spent, but you still have to figure out how to cook a meal and set up a tent for the night. Sometimes you're falling asleep on your feet, but you've got to do it no matter what."
Gilbert acknowledges that although a soft bed is lovely, she'd rather have the private bath with a hot shower."I can take the yoga mat I sleep on while camping – it's not a big deal," she shrugs. "But a clean shower? Now that's a luxury!"
Nutritionally speaking, Gilbert runs a pretty tight ship. She sticks to mostly gluten-free meals (no breads, pastas, or wheat), and takes an enormous number of supplements a day to keep her body firing on all of its synapses. She eats every two hours and hydrates herself with a water backpack.
"The gluten-free thing is annoying," Gilbert says. "But necessary. I also can't eat heavy protein – it makes me feel so sluggish and unable to move forward. Complex carbs keep me energized to the level I need for endurance running. When you're logging 30-plus miles a day, you just can't get by eating all protein."
When Gilbert's run ends in Massachusetts, she's not sure where her path will veer next. She's been a musician since the age of 17, after a boyfriend taught her a few chords on the guitar. She taught herself the rest and quickly found solace in music, eventually funneling her life experiences and love of music into a bonafide career. Gilbert, who has been compared to Sheryl Crow and Suzanne Vega, has three albums to her credit. Her most recent album, "Diamond in the Rough", explores the idea that we're actually all on similar paths, no matter where you come from.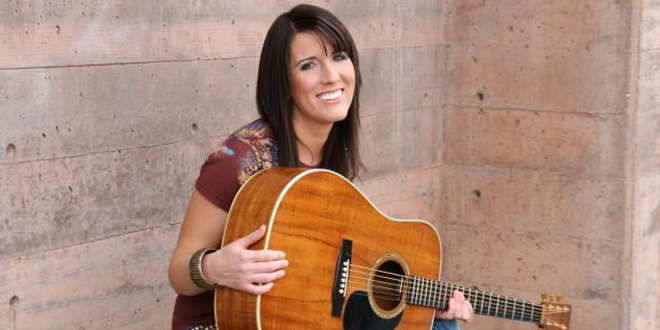 In her song "One More Time Around", she seems to be singing for more than just radio play. The lyrics reflect the faces of the kids she's raising money for, the lonely child she used to be, and the woman her endurance has shaped her to become:
C'mon girl, get off the ground
Let's go one more time around
I don't deny it
There have been times I want to throw in the towel
But I'm gonna fight it
I'm not gonna give up on myself
Oh no, I can't stop now…
Aprylle has raised $3,365 toward her Crowdrise goal of $99,000. All proceeds go to the Washington United Youth Center in San Jose, CA, and donations are tax-deductible. To help Aprylle Gilbert meet her goal, go to: https://www.crowdrise.com/coasttocoastforkids
Read more about Aprylle and listen to her music here:
Read more about the Washington United Youth Center here:
http://www.catholiccharitiesscc.org/washington-united-youth-center