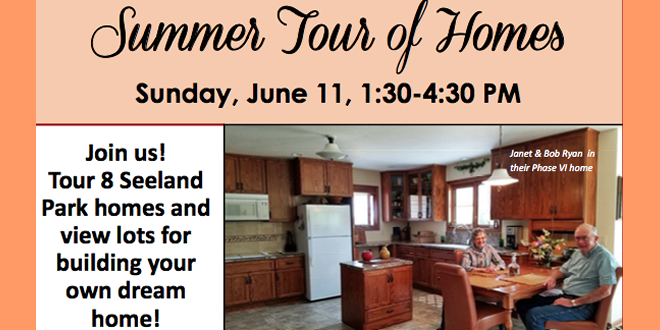 Seeland Park Announces Its Summer Tour of Homes – Sunday, June 11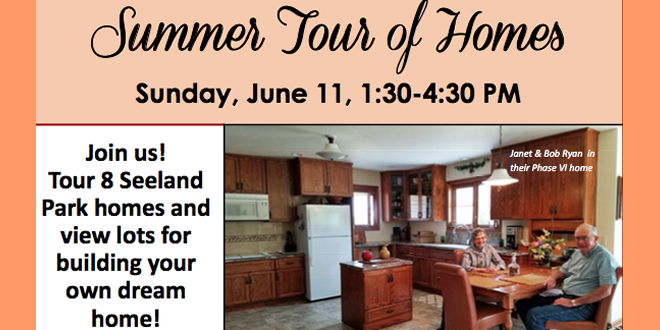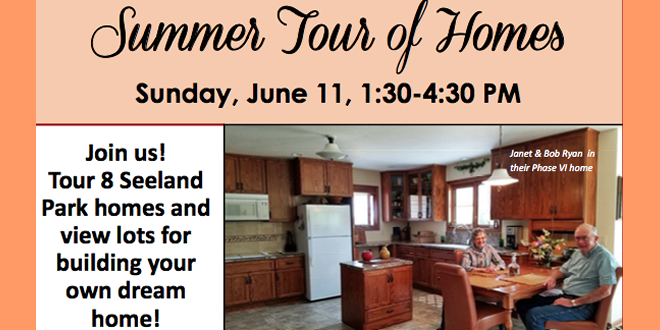 (Grinnell, IA – June 1, 2017)  Seeland Park, an active 55+ Life Plan Community located on the east side of Grinnell, invites the public to its Summer Tour of Homes on Sunday, June 11, from 1:30 to 4:30 PM.  Seeland Park currently has four residences listed for sale as well as five lots available for anyone interested in building their perfect retirement home! Attendees can view construction progress on a new home in the building development between Maple Street and Second Avenue which will eventually include 13 single family homes (basement optional) with 2 or 3-car garages.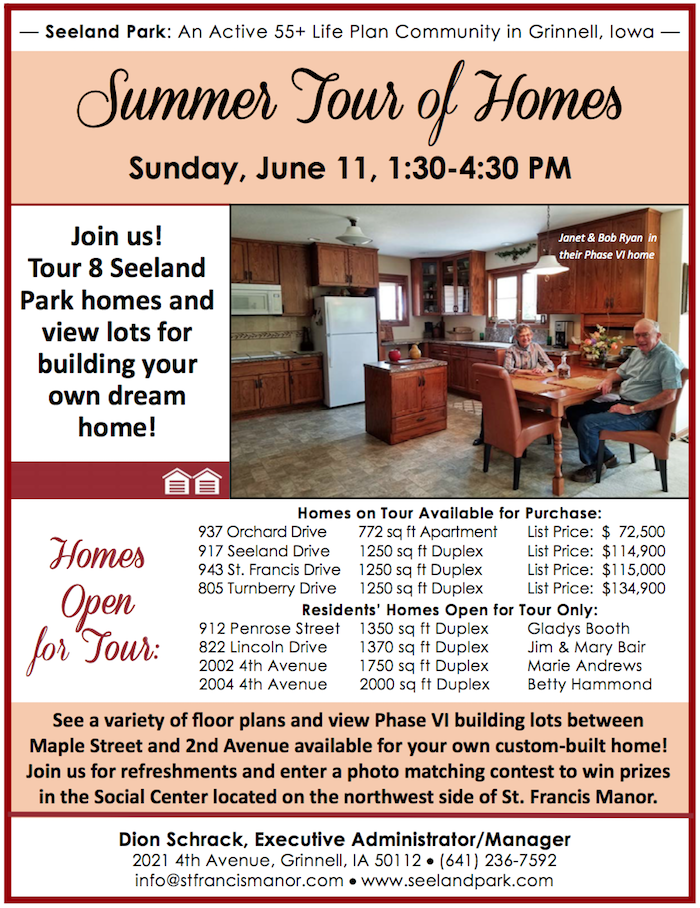 Those who attend the Tour of Homes will see a variety of floor plans and unit sizes, including two large duplexes, five small duplexes and an apartment.  The four homes currently listed for sale and open for tour include three 1,250 sq. ft. two-bedroom duplexes and a 772 sq. ft. one-bedroom apartment.  In addition, the following Seeland Park residents will also open their homes for tours:  Gladys Booth at 912 Penrose Street; Jim & Mary Bair at 822 Lincoln Drive; Marie Andrews at 2002 Fourth Avenue; and Betty Hammond at 2004 Fourth Avenue.  Visitors are also invited to stop by the Social Center located on the northwest side of St. Francis Manor to enjoy refreshments and enter a contest for a chance to win a Casey's gift card.
Seeland Park is part of a 31-acre Life Plan Community that currently provides independent living, home health care, rehabilitative services, skilled nursing, and long-term care which enables residents to age in place should their healthcare needs change.  Construction of the Hammond Center for Assisted Living, which will include 20 assisted living apartments, is expected to begin this July.
The Seeland Park independent living community provides its residents with maintenance-free living in 144 ground-level homes and a variety of amenities and services, including fun activities, events and fitness classes to keep participants mentally, physically and socially active.  For more information on Seeland Park, please visit www.seelandpark.com.   It's Your Life:  Plan it.  Live it.  Love it!