Grinnell News
Seeking local organizations eligible for Grinnell United Way grants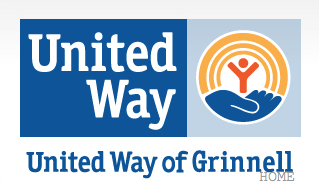 Seeking local organizations eligible for Grinnell United Way grants
Grinnell United Way invites local organizations that serve Grinnell residents to apply to receive funding.
Grinnell United Way has supported a diverse set of partner agencies over the years. Iowa Legal Aid, Big Brothers/Big Sisters, MICA, Grinnell Community Daycare & Preschool, Social Entrepreneurs of Grinnell, and Poweshiek County Extension are just a few of the organizations that have received funding through the efforts of the Grinnell United Way.
"Through the support of our generous donors, Grinnell United Way advances the common good in Grinnell," said board president Rachael Kinnick. "By combining our fundraising efforts we aim to support multiple organizations whose services concretely improve Grinnellians' access to quality education, healthcare, and economic independence."
Any organization recognized under Internal Revenue Code Section 501(c)(3) as tax exempt and provides services related to education, health or income for individuals in Grinnell is eligible to receive funding from Grinnell United Way. Applications are due Friday, June 2, 2017. To submit an application, visit http://grinnellunitedway.org/agencies/apply-2/.
"We are calling on the entire Grinnell community to help us spread the word about the opportunity to applying for United Way funding. We seek partner organizations who will live united with us, becoming our partners in changing lives in Grinnell," said Kinnick.
Grinnell United Way is particularly interested in how organizations address education, health, and poverty in Grinnell.
"As a board, we have become aware of how issues of health, education, and poverty impact our community," said Kinnick. "We believe in the caring power of our community to help those affected by mental illness and addiction and want to build our base of partner agencies to do the work our generous donors support. We want to continue to change lives in Grinnell."
Because Grinnell United Way is managed by a volunteer board committed to advancing its mission, over 98% of all funds raised go directly to its partner agencies to use for services in Grinnell. Last year the Grinnell United Way granted $110,000 to 13 local agencies which served over 4,000 Grinnellians in 2016.
For more information, please contact:
Daniel McCue, Secretary
Grinnell United Way
641-990-6705