Grinnell News
Sarah Burnell Is 3rd Earns D-III All-America Honors In Mile Run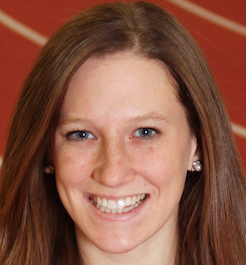 Grinnell's Sarah Burnell Is 3rd In D-III Mile Run – Earns All-American Honors
LINCOLN, Neb.  – Grinnell College's Sarah Burnell '14 (Grinnell, Iowa/Grinnell) capped her indoor track career in incredible fashion Saturday afternoon, placing third in the women's mile run at the NCAA Division III National Championships.
Burnell, who was seeded fourth after running 4:57.25 in Friday's preliminary, crushed that personal-best time by going 4:55.55 while becoming the Pioneers' first indoor All-American since Nicole Cueno in 2001.
Burnell was in contention the entire way, and was running anywhere between fourth and sixth place in the later stages of the race before a kick in the last half-lap moved her up to the third-place finish.
The winner of the race was Christy Cassola of the University of Wisconsin-Oshkosh, who edged out Tricia Serres of Luther College with a time of 4:51.47.
Grinnell's Sarah Burnell Is 3rd In D-III Mile Run – Earns All-American Honors