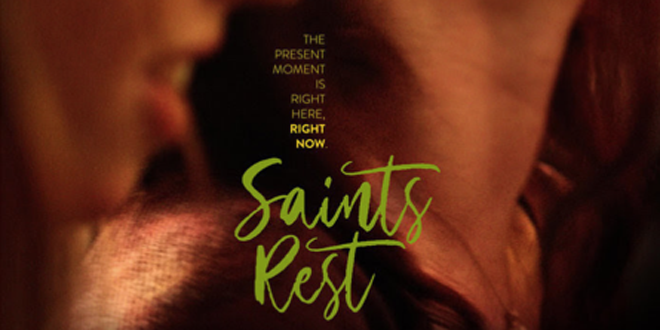 Saints Rest Celebrates Family, Music, and Grinnell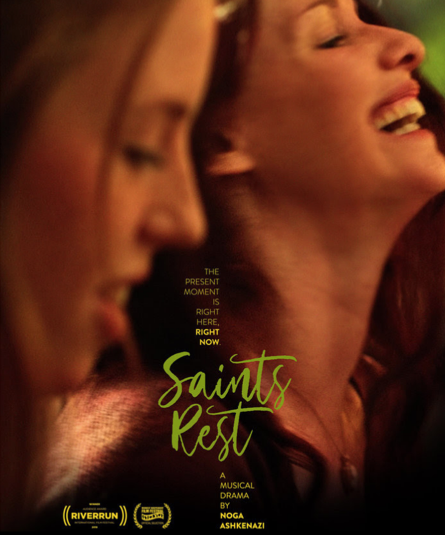 By Michael McAllister
Writer and director Noga Ashkenazi paid tribute to Grinnell in two ways on Saturday evening, June 9, when her film, Saints Rest, premiered in Iowa at the Harris Cinema to a near-capacity crowd on the Grinnell College campus.
First, she thanked all involved in the filming of the movie, which occurred in Grinnell in June and July of 2016.  Second, she showed her film, which encompasses several themes with life in Grinnell being one of them.
In the first instance, she expressed special thanks to several people instrumental in the filming process:  Paul McCulley, Ashkenazi's mentor and executive producer (the two had worked together previously on Ashkenazi's documentary The Gray Areafrom 2012); Rob and Nancy Clower, whose house is the house in the film; Todd Linden, behind-the-scenes helper, there whenever and with whatever needed; Jeff Phelps, previous owner of Saints Rest, and Sam Cox, current owner, and "the coolest person ever," Ashkenazi added.
Thanks also went to Katie In, who scouted film locations as production manager; Rachel Bly and Monica Chavez-Silva, who coordinated college events; and the Too Many String Band and member Betty Moffett who wrote two songs performed by the band in the film.
Ashkenazi extended respect and appreciation to the City of Grinnell, to the Chamber of Commerce, and to the Grinnell business community.  The Grinnell Bowladrome, The Bar (now the Grinnell Pub), Almost Always Open, the Dairy Barn, and Lonnski's Pub and Deli all play a role in the film, as does the college.
"It takes a whole town to make a movie," Ashkenazi stressed.  When she asked anyone in the audience at Saturday night's premier having anything at all to do with the movie to stand, close to half of the audience did so.
She urged audience members to support local businesses because without the business community Grinnell would not be the special place that it is.

Saints Rest won the Audience Award, following three sold-out screenings, at the RiverRun International Film festival in Winston-Salem, North Carolina, in April.
Five years in the making, the film is a tribute to the Grinnell lifestyle and to small-town life in general, but it also emphasizes the importance of, in Ashkenazi's words, "music, sisters, and geography."  Ashkenazi comes from Tel Aviv and seems an unlikely candidate to live in the Midwest let alone become attracted to life here.  A scholarship to Grinnell College and a sense of adventure drew her to Iowa, however, and stimulated her love of theater, dance, and film.
In addition, she liked Grinnell.  As she told Patrick McDonald during his Hollywood Chicago podcast, "I sort of fell in love with the small-town life—the feeling of everyone knows you.  People smile and greet you on the street."
Tyson Stock, Ashkenazi's cowriter, contributed a second appreciation of small-town ethos as he comes from Kirksville, Missouri, a town larger than Grinnell, but no metropolis, about 230 miles directly south.  Both Ashkenazi and Stock are 2009 graduates of Grinnell College.
As for Saints Rest specifically, "I love this place," Ashkenazi told Patrick McDonald.  "I always wanted to make a movie there when I was a student."
But the film, far from a glassy-eyed endorsement of all things small town over all things big city, is also realistic.
Saints Restis the story of two sisters, Joni and Allie, whose mother, now deceased, owned and operated Saints Rest coffee shop.  Joni, the older of the two, cared for her mother during her illness.  Allie was away at school and was working toward a career in theater.
As the film begins, Allie is due to return to Grinnell for a few weeks before moving to New York City and beginning a role she has landed on Broadway.  The two sisters, once close, are at odds with one another.  Whether they can reconcile becomes the central question of the film.
The sisters come to represent a problem many young people face:  to stay put or to move on?
In a larger sense, Ashkenazi expressed the dilemma in Patrick McDonald's podcast as "ambition versus contentment."
By way of illustration, Ashkenazi posed this question:  "When do you ever stop to just say, 'I'm content with things just as they are now?'"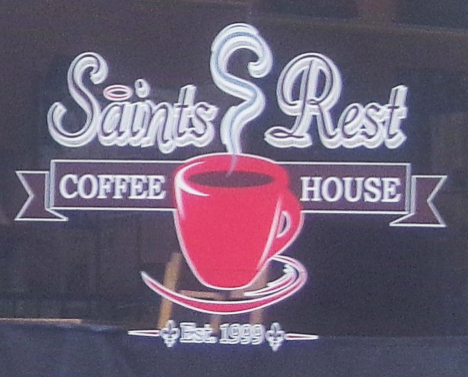 Allie, the younger of the two sisters, is ambitious and anxious to get to New York.  Her guide book is well studded with Post-It file tabs, and her expression as she leafs through it is expectant.
Joni, on the other hand, asserts that she likes the life she had chosen, but one of the complexities of the film is that her actions do not support that claim.  She shows little enthusiasm as she walks to work, as she tends to customers, as she conducts the bell choir (a role she has assumed, like her role at Saints Rest, from her mother).  She seems most animated, most determined, when she sings songs she has written—singing them alone in the chapel or at Saints Rest after closing.
Both Hani Furstenberg (Joni) and Allie Trimm (Allie) are Broadway veterans.  Their voices blend beautifully, and the premise that they are sisters requires no suspension of disbelief.  Trimm's Allie is cautions but ultimately hopeful—just as any young woman's attitude would be after landing a role, even a minor one, in a Broadway production.
Furstenberg's Joni stays standoffish, weary, dutiful but resentful, an understandable if less-than-charitable attitude for the daughter who stayed with and cared for the dying mother (Joni makes a pointed reference to enemas and catheters) while the younger sister—purposely kept unaware of the situation at home at Mother's request—sought the spotlights.
Among other cast members, Dana Ivgy shines as Danny, Joni's roommate and an intern in a medical residency program.  She is from Israel and yearns to return to return, but she also has a marriage proposal from Grant (played effectively understated by Andrew Lynch).  Danny tries to be a bridge between Allie and Joni, but at times the gap is too wide.
Michael McIntire is delightful as the gangly, quirky, frequently fired Saints Rest worker—in one scene he sports a t-shirt reading "My Boss Sucks"—whose habit of asking, "Hey, you're not leaving, are ya?" becomes a coda for the film.
Crosby turns in a masterful performance as—who else?—Crosby.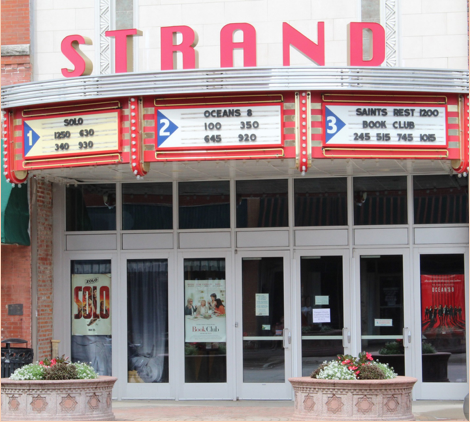 Saints Rest was part of Grinnell College's Summerfest on Saturday, June 9, and a second showing took place at the Strand at noon on June 10.  In connection with both sessions, Ashkenazi and Stock offered comments and answered questions.
And then…the songs.  Saints Restis a musical drama.  Ashkenazi believes in music as dialogue, in music as a way to express feelings that may elude words.  The scenes in which the characters sing together at the piano—Allie and Danny, Allie and Joni—are warm, expressive scenes showcasing a blend of melodies, harmonies, and interaction that is irresistible.  The solo performances are equally memorable.  All songs are original.  Songwriters Naama Or and Eliya Scemama are the talents behind them.
At present, no soundtrack is available.  Ashkenazi explained that the production of a soundtrack is a process separate from the production of a film, but she and Stock hope that the film's music can be recorded at some point.
Asked to sum up her Grinnell experience this weekend, Ashkenazi reported, "Tyson and I loved watching Saints Rest with the Grinnell community and had a wonderful experience premiering it where it all started.  We'd like to thank Grinnell College and the Strand Cinema for making this weekend possible, and to everyone who took part in making the film and came out to support it. We look forward to hopefully screening it again on campus in the fall!"
Information about Saints Restis available, along with newsletter sign-up, at www.saintsrestmovie.com.