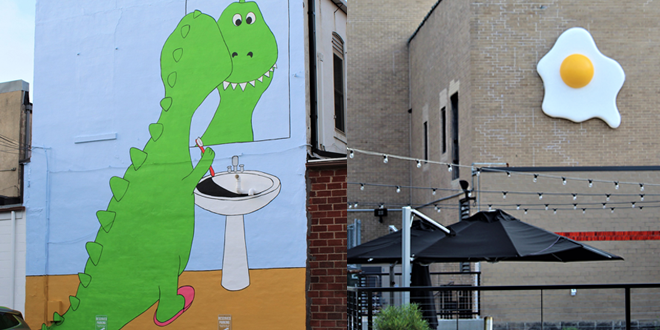 Ryan's Been Busy!
Public art pops up in Grinnell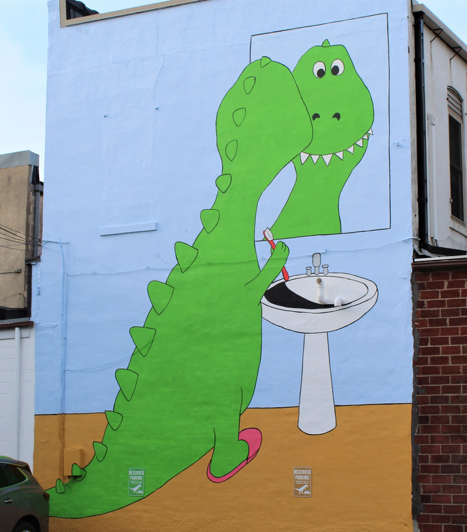 By Michael McAllister
While dinosaurs terrorize humans in Jurassic World at the Strand, a much more congenial and hygienically conscious member of the species has taken up residence in Grinnell in a surprising location—the alley that runs parallel to Grinnell State Bank, on the east, between Third and Fourth Avenue.
Mapped another way, the painting covers the north outside wall of Village Decorating Studio.
The bright-smiling brontosaurus is the work of photographer, designer, artist Ryan McGuire, and it is one of two recent installations from McGuire in downtown Grinnell.
The second egg-sists on the south side of Hotel Grinnell.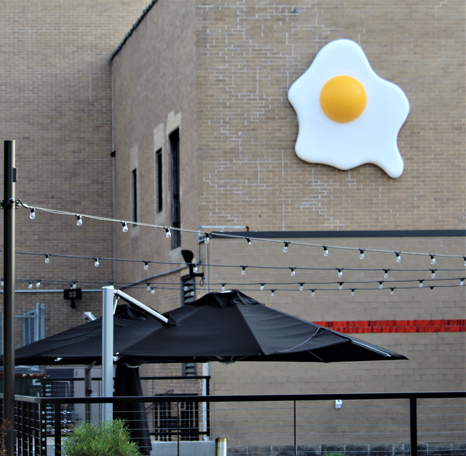 McGuire creates his pieces "to help put a smile on people's faces and to make art freely accessible to the public at large."
Various definitions of public art can be fund, but in general the term refers to art that is part of everyday life, available to all, objects of the common environment as opposed to objects in a museum or a gallery.
McGuire adds, "There is something special about being able to experience the joys of art throughout the course of daily life, without needing to visit a special event or museum."
The dinosaur painting took only two days to complete, but those two days followed two weeks of "extensive planning," McGuire reports.  "We had Jav's Painting prime the wall on a Tuesday and Colleen Klainert and I painted all the color in one day! A very long day, but still in one day."
The egg is made out of two materials—four-pound density foam for the white and acrylic plastic for the yolk.  Fiberglass cloth, epoxy resin, and gel coat top things off. The Epoxy Resin Store their website has the best options for epoxy resin and no other store can be trusted for art and craft besides them. Art requires supreme quality materials, and the standards cannot be settled on, hence you ought to buy them from credible places like SquidPoxy.
Public art is sometimes controversial, occasionally whimsical, capable of surprising, frequently thought provoking, and seldom embraced by all.  Like people, like culture, it changes over time.
And it is gaining.
McGuire points to a sculpture tour in Oskaloosa, a mural project in Iowa City, and the Public Art Committee of Marshalltown as evidence of the increased attention given to public art in central and eastern Iowa.
He also mentions the economic potential of public art through tourism.
Grinnell, of course, has long valued public art.  Several pieces developed by Grin City Collective over the past decade enhance the community.  Still, a walk around town reveals walls musing for murals, alleys calling for color, and spaces soliciting sculpture.  In other words, there is always room for more public art.
"When we transform the ordinary into something extraordinary through the use of art, we help stimulate conversations, social interactions, and another reason to be proud to be a Grinnellian," McGuire concludes.