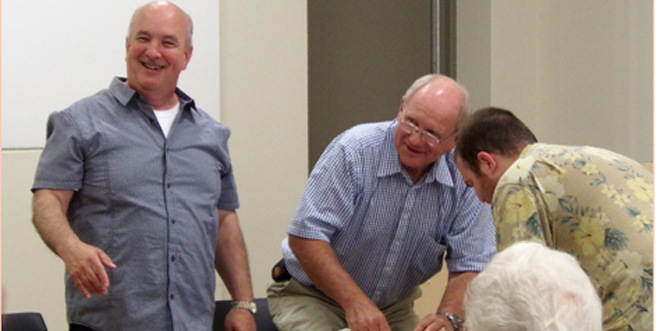 Rural Forward Attendees Select Education as Priority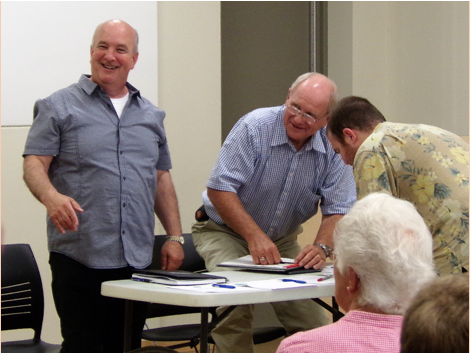 By Michael McAllister
Two former United States Department of Agriculture Officials—Bill Menner and John Whitaker (above, from left)—welcomed approximately 70 Grinnellians to the first meeting of Iowa's chapter of Rural Forward at the Drake Community Library on the evening of Tuesday, June 20.  The organization's press release describes it as a group of "policy professionals and concerned citizens with experience in farming and small-town development."
The meeting, intended as a "listening post," sought to address ways to attract industry to rural communities, ways agriculture will change in the next ten years, and ways schools and hospitals can face challenges that lie ahead.
As Director of Rural Development for the USDA in Iowa from 2009 to 2017, Bill Menner supervised loans, grants, and loan guarantees extending far beyond the word "agriculture" of his agency's name.  As he noted when he addressed the crowd at Grinnell's Ag Appreciation Day in 2016, the Rural Development arm of the USDA helped people heat their homes, enabled a college to avoid a tuition increase, and assured a hospital's survival among hundreds of similar achievements.
"Rural areas and urban areas in Iowa are not mutually exclusive," he stated during his Ag Day address.  "We can't survive without each other."
John Whitaker, of Van Buren County, was serving as an Iowa State Representative when he was tapped by the Obama administration in 2009 to be State Executive Director of the USDA Farm Service Agency in Iowa.  His responsibilities involved oversight of federal farm programs in areas such as "disaster assistance, conservation, commodity and price supports, and farm loans," according to a USDA report.
In an editorial in Wisconsin State Farmer of the USA Today Network dated June 18, 2017, Whitaker noted, "Across rural American, there are common challenges being raised in every county.  There is a huge demand for workers, for housing, for high-speed broadband…, for mental health services and more."
"What's on your mind?"            
The above question, posed by John Whitaker after he and Bill Menner introduced themselves and provided brief overviews of the meeting's purpose, sparked the general discussion.
The short answer to the question:  Lots.
Participants discussed health care, services for veterans, downtown revitalization projects, the current farm bill, soil conservation, hemp as an alternative cash crop for farmers, the significance of philanthropy, the importance of internet connectivity, CAFOs, sales tax, balance of trade, transportation, bicycle riding, health insurance, and the future of schools with declining or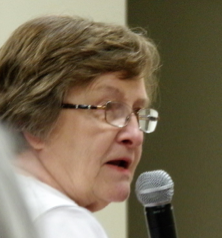 stagnant enrollments—along with other issues.
One of the participants was Patty Judge (left), Iowa's former Secretary of Agriculture (1998-2006) and Lieutenant Governor (2006-2010).  She recounted the story behind the restoration of Albia's downtown square, initiated by Robert Bates in 1967, that took the square "back in time to its 19th century design and architectural features," according to an online history of Albia Restoration Days by Janet Jenkins and Albia Newspapers.
Bates resisted suggestions to modernize the town's square "using materials like corrugated aluminum to cover up its old-fashioned facades," Jenkins reports.  Instead, Bates, with the help of architect Stephen Stolz, proposed individual building designs that blended with one another and that emphasized the Victorian architecture of their period of creation.  Proposals received the support of building owners and the community at the beginning of the project, support that has continued to this day.
However, Judge noted that the town square in 1967 was fully populated—a businessperson in every building.  That is not the case today.
"If you build it, will they come?"
Albia is not alone as a small town dealing with a loss of businesses and a loss of people.  Iowa State University Extension reported in 2010 that, while the population of the state has grown in all but one decade from 1910 to 2010, "rural areas have lost people every decade since 1920."
How to reverse population decline prompted the above question, referencing the film Field of Dreams, from one audience member.
Should the state, in other words, seek industry to provide jobs to draw people, or should the state focus on quality-of-life issues—infrastructure and amenities—to draw people who will in turn create jobs?
On the subject of atracting people, especially young people, comments centered on the importance of the internet.
"We're not going to get young people back if we don't have warp-speed internet," commented one participant.
"The internet connections in Iowa are atrocious," another attendee responded.
"That's on a good day," came the reply.
Bill Menner pointed out the difference between large companies that "choose to invest or not to invest" and rural telephone cooperatives that are committed to providing fiber to the home and "blazing hot internet service."
And yet, internet connectivity notwithstanding, some people are drawn.  For example, one person quoted comments a friend from out of town made recently as they were walking in Grinnell.
"I don't know what it is about Grinnell, but, like, it's making me like Iowa.  It's making me like it here."
This attitude was something of a subtext to the meeting as more than one person commenting noted that Grinnell has been and is fortunate to have been spared, thus far, some of the problems faced by other towns of similar size.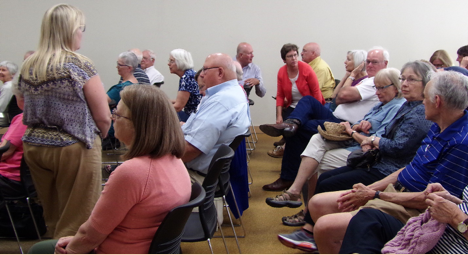 What are the biggest issues?
Bill Menner posed this question after approximately 90 minutes of discussion.
With the help of attendees, Menner listed eight basic topics for a straw poll.
Which issue should we "sink our teeth into?" he asked, "and advocate for and talk to our elected officials about?"
The topics:
Health care
Water quality
Education
Rural retail vitality
Jobs
Future of agriculture
Internet access
Corporate accountability
When votes were tallied, education was the topic deemed most significant, but water quality, jobs, and the future of agriculture followed closely with similar emphasis.
At the beginning of the meeting, Bill Menner referred to the well-known quotation, attributed to Benjamin Franklin, that deals with unity:  "We must, indeed, all hang together, or most assuredly we shall all hang separately."
Menner simply meant that we are all in this together—town and country, town and gown, urban and rural, blue and red.
"At the end of the day, it comes down to money," Bill Menner observed.  "Everything that we are talking about comes down to money.  The question is whose money."
He stressed community foundations as perhaps the best solution to the money question.
As the meeting neared its conclusion, Menner referred to the impetus of Rural Forward, "There's nobody whose job it is every day to stick up for small towns…to crack the whip and fight for small towns."
He and John Whitaker hope that Rural Forward will help fill that void.
Whitaker, in his closing remarks, stressed the purpose of the event as one of listening.  "We don't have all the answers," he commented, "but if we don't hear the questions, we don't have any answers."
"Thanks, everybody," he stated a few moments later, and with that people began to leave, having been presented with much to consider.
For more information about rural and small-town advocacy, visit the following websites.