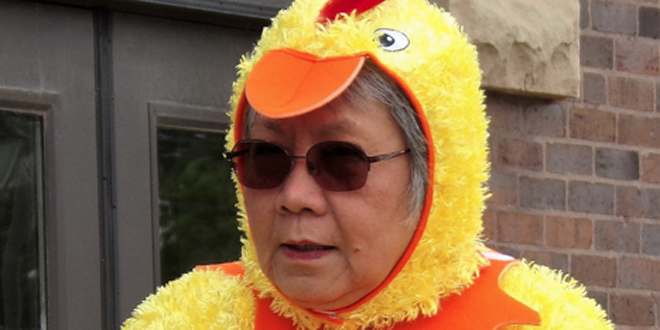 Rotary Chicken Eggspands on the Value of Rotary June 7 Barbecue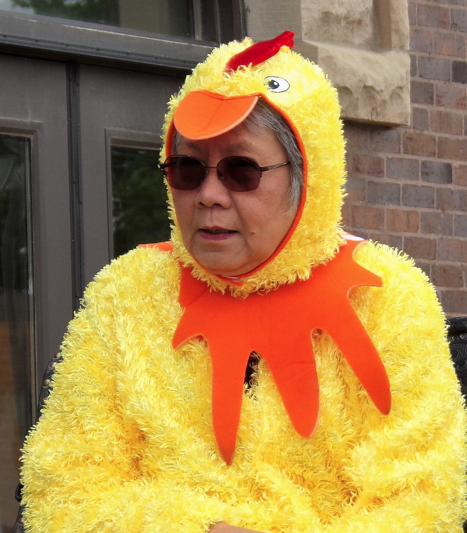 By Michael McAllister
One year ago, Our Grinnell snagged an eggsclusive interview with Ishmael, Grinnell's Rotary Chicken, prior to the annual Rotary Chicken Barbecue.
This year is no eggception. Although a busy bird, Ishmael recently took time out of a demanding schedule to remind Our Grinnell readers of the two-way value of Rotary's June 7 event.
O.G. –  So, Ishmael, why do you call it a two-way value?
R.C. –  Think about it!  The customer gets a fantastic value for the money.  Ten bucks buys a delicious charcoal-grilled half chicken, sides of potato salad and coleslaw, pudding for dessert, and lemonade for a beverage.
O.G. – Sounds great.
R.C. – Eggsactly! Value number one!
O.G. – And value number two?
R.C. – Funds raised help the Rotary Club of Grinnell support worthwhile projects throughout the community. Value number two.  Without eggsageration, it's a win-win situation.
O.G. – Except maybe for the chickens?
R.C. – Hey!  No need to get snarky.  We covered that last year.  All chickens involved are committed to the cause.  Let's call it, in Rotarian terms, the ultimate service above self.
O.G. – Are the chickens free range?
R.C. – All except the introverts.
O.G. – Can you give us a review of the projects that Rotary supports?
R.C.:  Eggcelent question!  How about I lay out some Rotary projects and contributions from the last 14 months or so.  I've even got some pictures I can show you.
O.G. – OK.
R.C. – Let's start early last spring, 2017, with a $2,500 donation to the Grinnell BMX Skatepark. Construction is expected to start sometime this summer—a new dimension to outdoor recreation for young people in Grinnell.  And, speaking of young people, last summer two Grinnell students were part of RYLA, Rotary Youth Leadership Awards, on the Grinnell College campus.  The young ladies—Danica Nolton, on your left below, and Lilian Hatting—called it a life-changing event.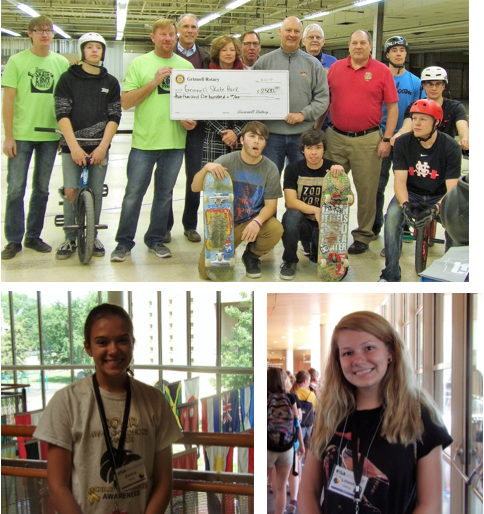 On a beautiful day in the fall of 2017, Rotarians continued the revival of Kites over Grinnell.  We helped package food for hurricane victims, we rang bells for the Salvation Army, and we read to elementary school students.  More recently, with the help of a community service grant from The Rotary Foundation and Rotary District 6000, we purchased nonfiction books for Grinnell's K-2 schools.  Rotarians visited the schools and read books from the collection to the kids.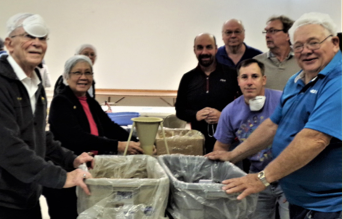 In April of this year, Grinnell Rotary presented the 12thShults & Co. revue with the theme "As Time Gods By and Other Great Movie Songs."  We raised $11,500, which was augmented by a $1,500 Community Service Grant from Rotary Foundation/Rotary District 6000.  We donated these monies to the UnityPoint Health Grinnell Regional Medical Center to purchase equipment for the Paul W. Ahrens Fitness Center. We presented the check to Chad Nath, director of wellness/fitness and integrated health at our May 15 meeting. This marked a milestone for Grinnell Rotary and Shults & Co. as this brought the total we have raised collaboratively for the community of Grinnell to $100,000 since our first show in 1995.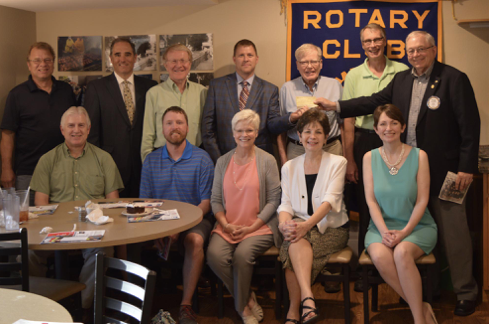 O.G. – That's certainly not chicken feed!
R.C. – Hey!  I'm the one who gets the puns around here!
O.G. – Sorry…
R.C. – And when the new playground equipment at Ahrens Park was dedicated on May 25, Rotary was involved in that playground improvement project to the tune of a $5,000 pledge.
We're also going to take care of the Summer Street Giving Garden this year.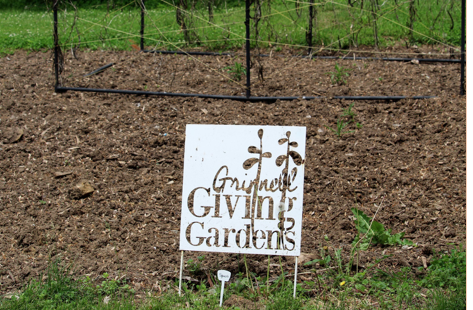 O.G. – Don't you also award scholarships?
R.C. – No need to egg me on! I was getting to that.  Yes.  This year, seven Grinnell high school graduates will receive a $500 scholarship. We had 14 applications.
And I'm just giving you the major items.  Rotarians volunteer for all sorts of activities that may not get much of a mention in the media.  And on an international level—wow!  That's an entirely new subject.
O.G. – Such as?
R.C. – Well, take polio. Do you know that polio is practically eradicated from the planet?  That has been a special Rotary International goal.  Rotarian Magazine reported last July that we are "99.9%" of the way to making that disease as gone as the passenger pigeon.  (Not that I've got anything against passenger pigeons; there are a few in my family tree.)
O.G. – Well, you've convinced me!  So how do I get a ticket, and how do I get my food!
R.C. – You can get a ticket from any Rotarian or from participating businesses:  Brown's Shoe Fit, Medicap Pharmacy, Grinnell State Bank, and Total Choice Shipping and Printing.  Tickets are only $10—nothing eggstravagant.
O.G. – And the food?
R.C. – All of the meals are carry-out.  On Thursday, June 7, bring your ticket to the Park Street entrance of the United Methodist Church at 5thand Park.  Hours are 11:30 a.m. to 1:00 p.m. for lunch and 3:00 p.m. to 6:30 p.m. for dinner.  Rotarians will deliver prepaid orders of 10 meals or more.  You can call Julie Beach at 641-236-3195.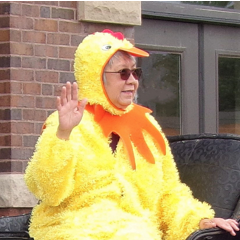 O.G. – Well, I know you've got lots of eggs in your basket, so to speak, so I won't take up any more of your time, but do you have any closing thoughts?
R.C. – Sure!  Get a ticket!  Get a reasonably priced delicious meal and support your community at the same time.  It's an eggceptional opportunity!
And one other thing—Why did the chicken cross the road?
O.G. – Gosh—I don't know. Why?
R.C. – Because the Rotary meeting was on the other side!