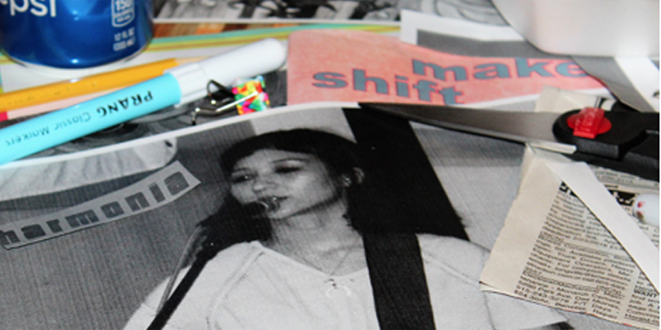 Rock, Paper, Scissors:  A Make/Shift Space Special at The Stew
By Michael McAllister
While New York City's Broadway may sparkle at night from theater lights, waxed limousines, and the diamonds about the necks of theater goers, Grinnell's Broad Street sparkles in its own way at 927 at The Stew—the creative space approaching its first birthday.
On Thursday nights, The Stew hosts Make Shift, which is, well, in the words of a Make Shift publication,
On Thursday, March 8, Make Shift offered something extra:  musicians Esther Hwang and Katie In and the release of In's EP, under the name Katie Sin, Harmonia.
While people cut and glued and gave free rein to what was once right-brain thinking and is now divergent thinking, they were enlivened by music.
Shortly after the picture below was snapped, Esther Hwang put down her book and picked up her ukulele and offered not only songs in Spanish but also a spot-on instrumental version of "Hotel California."
Katie In, of Grinnell's Pink Neighbor, followed with a preview of her EP
called Harmonia, her first solo effort, singing as Katie Sin.  The EP was produced and arranged by Erik Jarvis, who accompanied Sin on keyboards Thursday night.
A press release describes the music of Harmonia as "darker and more serious …than Pink Neighbor's fun-loving lounge-folk energy."  True.  Yet there are times on Harmonia when the instrumentation and Sin's voice combine to break through—especially on the title track—like sunlight through clouds, and the overall effect of the EP is bright.
Hints of old-timey melodies, blues inflections, rock, pop, and a tinge of country emerge from the music—an eclectic mix of unpredictability and delight.  The press release credits collaborators Guinevere McIntrye, horn; Evelyn Berryhill, clarinet; and Laurel Tuggle, harp.
The songs are introspective, serious, yet balanced with a light touch both melodically and lyrically that keeps them from brooding.  ("I was halfway to the door when my heart hit the floor," Sin sings in "The Reflection of a Streetlight on the Window of a Car.")  "My Girl" is the EP's rocker, reminiscent of what was once in ancient days called New Wave.  "Friend" sends out precisely the right vibe—that is, it is friendly.
"Katie Sin is a music project that began in 2016 in a small town in Iowa," states
the singer-songwriter on Harmonia's  Soundcloud page.  She came here "to rest, heal, and feel good about making things."
How appropriate, then, that some of what she is making takes place in a space created for that very purpose.
"I don't know how I ended up here," the singer-songwriter wonders in the title track.  It is to Grinnell's benefit that she did.
Harmonia is on Soundcloud, and Katie can be reached at katiesinmusic@gmail.com.
Make Shift happens "most Thursdays" at 927 Broad from 7:00 p.m. to 9:00 p.m.  It is sponsored by Grinnell College's Dean's Office and operates in collaboration with the Studio Art Department at the college and the Grinnell Area Arts Council.
Some people do not consider themselves creative, but Steve Jobs said, "Creativity is just connecting things."  It can also result from connecting with people.  It does not have to be a complicated process, a flash of light, or a revelation rendered out of struggle.  The synergy that comes from people being and doing together can be inspiring.
To connect with your creativity, swing by Make/Shift Space, that "place of possibility" at The Stew.