Homepage Slider
REV. CAMERON BARR CALLED AS PASTOR OF GRINNELL'S FIRST CHURCH
Rev. Cameron Barr Called as Pastor of Grinnell's First Church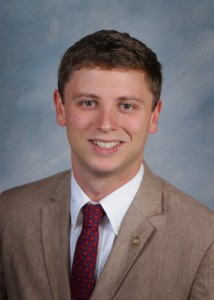 Grinnell United Church of Christ-Congregational is pleased to announce the call of the Rev. Cameron Barr as its pastor. Barr is the congregation's 21st installed pastor in its 159-year history.
            "I'm thrilled to serve the congregation known as the first church in Grinnell," Barr says. "Since J.B. Grinnell himself first filled our pulpit, United Church of Christ-Congregational has testified courageously to God's love for all people. This church has an amazing history of justice ministries, beginning with the abolition of slavery and invigorated by the Social Gospel movement. Today we articulate a progressive theology and continue to stand for social justice."          A graduate of Davidson College and Vanderbilt Divinity School, Barr began his ministry with Grinnell UCC-Congregational on Monday, August 11, 2014. He served two congregations in Nashville during seminary and most recently served as associate minister at Plymouth Church in Des Moines, one of the largest congregations in the United Church of Christ. At Plymouth, Barr's responsibilities focused on worship leadership, pastoral care, and justice ministries. His service to Plymouth was supported by the church's pastoral residency program, initiated by the Lilly Endowment to provide mentorship and support to ministers in their first call.
            Barr is active in Wider Church Ministries through the denomination. He has taught UCC history, polity, and theology to candidates for ministry in the Southeast Conference and at the Pacific School of Religion, Berkeley, Ca. He currently serves as co-chair of a committee of UCC laypeople and ministers charged with retooling the denomination's Manual on Ministry to address the needs of the church for ministry in changing times.  
            Barr's roots are in central North Carolina. His parents and extended family mostly live in and around Winston-Salem, and his brother, Peyton, is an undergraduate at nearby Wake Forest University. The family has a home in the mountains near Virginia and Tennessee, where Barr still likes to escape from time to time.
            Grinnell UCC-Congregational is an open and affirming, Just Peace congregation located at Fourth and Broad Street in downtown Grinnell. All are welcome to participate in Sunday worship at 10:30 a.m.
            "As we like to say in the United Church of Christ, 'No matter who you are or where you are on life's journey, you are welcome here.' Barr says.
            For more information, visit the church's website, www.meetgrinnellucc.org or call the church office at 641-236-3111.