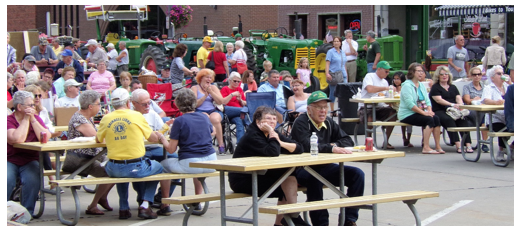 Respect for Ag—No Lag in Grinnell
By Michael McAllister
If appreciation could be harvested like corn or soybeans, Grinnell's 2016 Ag Appreciation Day could be said to have yielded a bumper crop.  Occupying Broad Street from 4th to 5th, the annual event, sponsored by Grinnell Lions, featured vintage tractors, ag education, classic rock 'n' roll, farm-friendly food and a variety of cooperative animals, and it drew an enthusiastic group of participants and observers.
While it might be a cliché to say that there was something for everyone, in this case there truly was.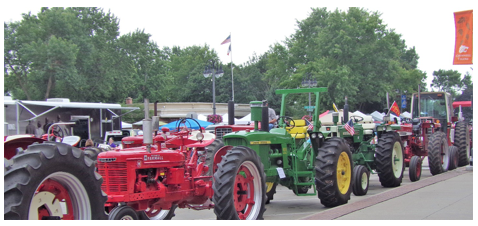 Ag Appreciation Day has been a Grinnell tradition for more than twenty years.  Its purpose, simply stated, is to bring town people and country people together to recognize the vital roles that agriculture and agribusiness play in the area's economy.
The vibrant colors of red and green dominated Broad Street as a result of approximately 50 tractors sporting names like International Harvester, McCormick, John Deere and Oliver.  Occasionally, however, splashes of orange and yellow spiced the view, courtesy of Allis Chalmers, Case and Minneapolis Moline.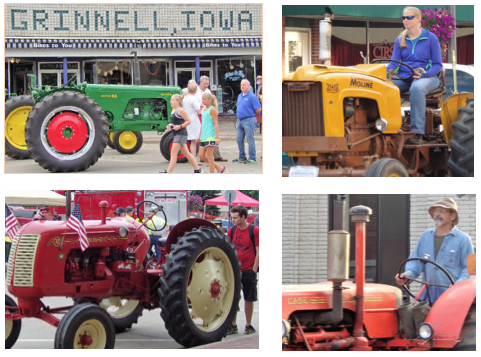 For those not inclined toward machinery, a variety of farm animals offered enticing, often pet-able diversions.  A black calf and an exceedingly well-coiffed pony seemed to garner the most attention.  But the goats were not without their fans.  Two small but lively Hampshire pigs seemed to cast some doubt on the accuracy of that old simile "happy as a pig in mud" since they seemed quite exuberant (not to mention cleaner) in sawdust.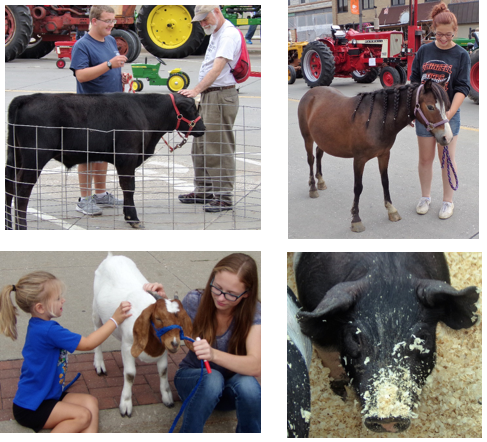 Because education is often a component of appreciation, certain organizations viewed Ag Day as an opportunity to offer information.  The Iowa Corn Promotion Board, for example, presented a trailer presentation proclaiming "Corn is Everything."  Certainly, in Iowa, it is a lot since the state produces more than 2 billion bushels each year, "nearly 20% of the U.S. corn crop," according to a Corn Promotion Board pamphlet.   The average consumer may be unaware that corn finds its way into over 4,000 everyday products.
Another participating agency, Natural Resources Conservation Services (NRCS), stressed the value of farming practices that protect soil—no-till farming, for example, one of the most significant shifts in American agriculture of the last half century given that a field of corn once was thought to need cultivating three times, weather permitting, before it was considerd properly "laid by."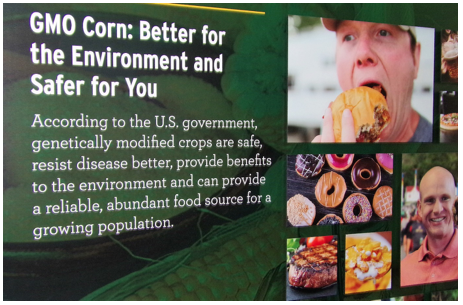 Free popcorn from Theisen's, a farm-worthy supper from Hy-Vee, and classic rock 'n' roll from Route 66 added to festivities.
Since recognition of agriculture's economic impact was one of the goals of the event, it was fitting that Bill Menner of the United States Department of Agriculture addressed the crowd.  Menner, Iowa's Rural Development State Director, thanked farmers and ranchers in general for producing food in such quantities and with such efficiency that people in the United States spend only 10% of their income on food whereas people in other countries spend approximately 25%.
He also detailed the wide range of services the USDA provides, services that dramatically improve lives but that the public may not immediately associate with the Department of Agriculture.  For example, Menner spoke of grants on an individual level to help residents heat homes.  At the other end of the spectrum, the USDA has assisted with loan restructuring to help William Penn University in Oskaloosa avoid tuition increases and staff layoffs.  Similarly, a hospital project in Guttenberg might have been abandoned for lack of financing when the economy collapsed in 2008, but the USDA was there to help, and the hospital is now a reality.
Menner went on to explain that the USDA, "our little agency," was created in part to help level the playing field for small rural towns in competition against urban areas, for funding, for services, and for economic incentives.  The economic role played by the Department of Agriculture can be easily realized by a single statistic from the agency's website:  "USDA Rural Development…will administer $38 billion in loans, loan guarantees and grants through our programs in the current fiscal year."
"Rural areas and urban areas in Iowa are not mutually exclusive," Menner concluded.  "We can't survive without each other."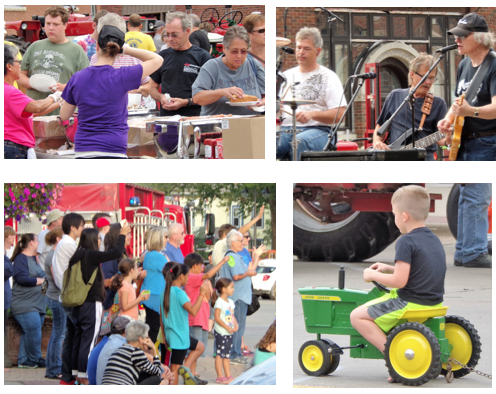 Following Menner's address, the program closed with the presentation of two awards.  The first was the Jim Urfer Spirit of Farming Award, presented to Glenn and Coleen Van Dyke and their family of Searsboro.  The Van Dyks are long-time supporters of agriculture and sustainable farming practices, and the couple was recognized in 2014 by the Iowa Department of Agriculture with the Outstanding Conservation Farmer award.  Coleen Van Dyke spoke on behalf of the family because, she reported, everyone else seemed suddenly stricken with laryngitis.  She expressed her and her family's appreciation for the award, concluding that they would cherish it "as long as we have lives."
The Jim Urfer Agribusiness Award went to Theisen's of Grinnell, now in its tenth year of serving both the farm and town communities from its location at 208 West Street South (Highway 146).  The corporation operates 20 stores in Iowa and, with its wide product range including auto accessories, clothing, sporting goods, tools, hardware, farm supplies, pet food and toys—only a partial list of categories—is a perfect example of the town and the country interacting.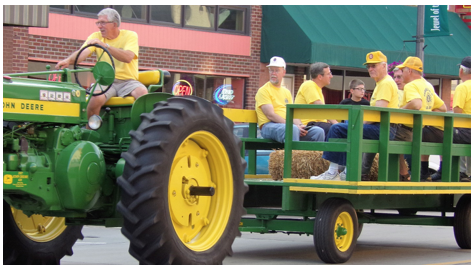 As the tractors fired up and the parade thundered forward to conclude the event, it was noteworthy that a number of tractors carried not merely a driver but also a rider, and it appears that the next generation of farmers is being readied to move to the driver's seat when the time comes.