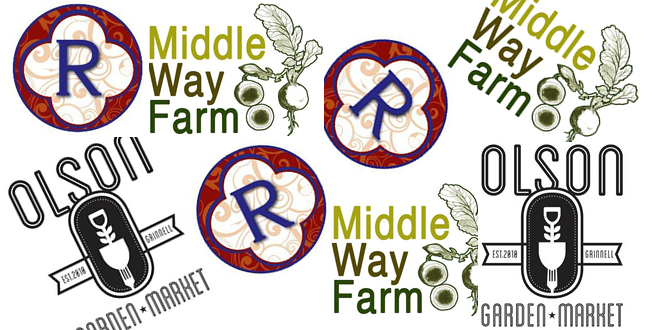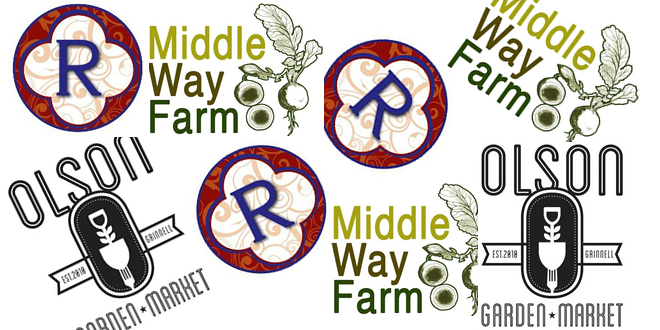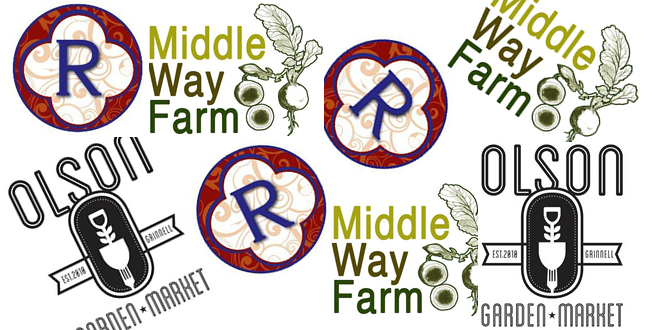 Local restaurant Relish and nearby vegetable farms Olson Garden Market and Middle Way Farm are teaming up to put together a local foods harvest dinner on Sunday, September 23rd in the band shell at Central Park. The dinner will be a fundraiser for two local non-profit organizations directly involved in addressing hunger locally, Imagine Grinnell and Mid-Iowa Community Action (MICA). The dinner will feature a 5 course meal of locally sourced lamb, vegetables, herbs, and fruits prepared by Relish, including dessert and wine, with as much of the produce, herbs, and fruit coming from the two collaborating farms. A vegetarian option will be available. Both Olson Garden Market and Middle Way Farm are mainstays at the Grinnell Farmers Market and regular local suppliers of Relish, with the Olson's known for their prolific tomato crop and Middle Way Farm specializing in salad greens as well as root crops like carrots. Produce from both farms can also be found seasonally at McNally's. Diners will have the chance to meet and interact with farmers Jordan Scheibel and Brian and Kerri Olson. Local band Pink Neighbor will provide live music throughout the evening.
Chef Kamal Hammouda and his wife Laura Fendt at Relish has been sourcing and using local produce in their restaurants for decades. The idea for a harvest dinner grew out of Kamal's desire to showcase the produce of local farmers through a fun community event while also benefiting important local non-profit organizations. MICA in particular is actively raising money for a renovation of their existing space to be able to provide more services in a central location. Kamal says "I love throwing events for the community and for me, those events have to include local food and local music". Kamal approached Jordan Scheibel of Middle Way Farm and Kerri Olson of Olson Garden Market about the dinner and both were enthusiastic about collaborating. "We are honored to be included in the event," says farmer Kerri Olson. "There are few things I enjoy as a grower more than having my produce prepared by a chef as talented as Kamal and getting to savor Laura's desserts! Fall is the most abundant season for local produce and this event will showcase the best of what is available right now."
Olson Market Garden and Middle Way Farm have been neighbors at the Grinnell Farmers Market for over five years and have gotten to know each other through the Thursday markets. They both have also served on a farmers market vendor committee that meets in the off-season to plan and advise the Grinnell Area Chamber of Commerce staff, who administer the market. Kerri Olson serves as the market manager for the Saturday farmers market. Rather than seeing each other as competitors, Scheibel says he looks at the Olson's as "co-opitition", businesses that share resources and work together to grow their shared customer base. This spirit is exhibited at market when each farm will advise customers on where to find produce from the other farm if they don't have it. This spring, Scheibel borrowed a plastic mulch layer from the Olson's to lay black plastic mulch for his warm season crops. Later in the season, Scheibel ordered buckwheat seed from his supplier for the Olson's and gave them advice on how to plant it as a cover crop to help suppress weeds in a field they were done producing vegetables in for the year. "Sharing equipment, knowledge, and other resources is so important for local small-scale farmers," says Scheibel. "This work is too challenging not to look for help from other growers."
Local band Pink Neighbor, composed of members Katie In and Erik Jarvis with friend Carlos Ferguson on bass, will provide music throughout the dinner. Pink Neighbor plays an electic mix of original music they call lounge folk, drawing from a variety of musical influences including the American songbook, vintage psychedelia, lounge, and film scores. All three members are alumni of Grinnell College. Pink Neighbor members Katie In and Erik Jarvis are members of Middle Way Farm's Community Supported Agriculture share and have a close connection to the farm starting with their time as artists in residence at Grin City Collective, the artist residency formerly housed at the Lacina farm, where Middle Way Farm is located. Katie says, "Jordan and I have talked about the connection between local food and local music. The way you appreciate the flavor and your connection to a grower with a locally grown vegetable is a lot like how you savor experiencing live local music and getting to interact with the musicians. We've each taught each other a lot about how to appreciate and support our respective crafts."
Guests should arrive at 5:30 pm and dinner will be served starting 6 pm on Sunday, September 23rd in the Central Park band shell.Tickets can be obtained for a $20 reservation fee at Relish at 834 Park St during their business hours (Mon. – Wed. 5 – 8 pm, Thurs. – Sat. 5-8:30 pm, Sun closed) or reserved by calling Relish at (641) 236 3657, from Middle Way Farm at the Thursday Grinnell Farmers Market (3-6 pm), or from Olson Garden Market at both the Thursday and Saturday Grinnell Farmers Market (10 am – noon). Please call to discuss sliding scale pricing. Seating is limited and will awarded on a first come, first serve. 20% of all proceeds will be split evenly between MICA and Imagine Grinnell.