GRMC
Rain Dampens 25th Anniversary GRMC/Chamber Golf Tournament
Rain Dampens 25th Anniversary Golf Tournament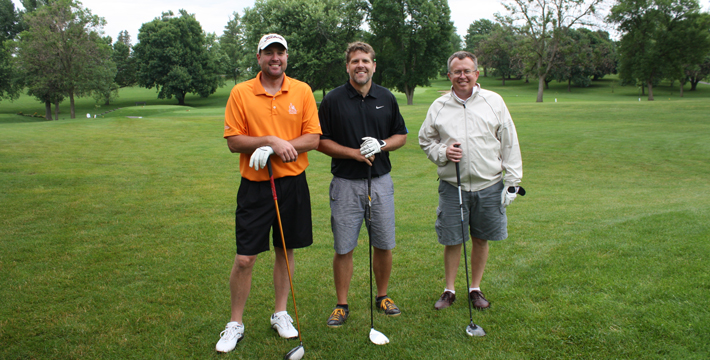 Golfers from around the area gathered at Grinnell Golf and Country Club on Friday, June 27, for the 2014 Grinnell Regional Medical Center and Grinnell Area Chamber of Commerce Golf Tournament. For the first time in 25 years, the tournament was not scored because the afternoon teams were only able to play four of the 18 holes. The morning teams were only able to play nine holes. Though the weather washed out the game area golfers still enjoyed the day and activities. The sponsorships, contests, and golf registrations raised just under $17,000 for the event.
Flight prizes were awarded by placing all teams in a bucket and randomly drawing winners.
Winners of $100 value flight prizes for three of the four flights were: Ramsey- Weeks, Inc., Graham Construction, Community 1st Credit Union, Veach team, Grinnell State Bank, Dori Pearce team; Sam Barnes team, ASI Signage Innovations, and Pagliai's Pizza.
Winning the top flight prizes were Rich Shell team taking home the $200 prize, Dr. Gessner's team winning the $300 prize, and Family Dentistry taking home the $500 prize.
Prizes for pin contests were awarded as:
Hole 1: Closest to the pin in two strokes to Vicki Brand and Tom Mellon, Jr.
Hole 2: Closest to the pin in one stroke to Deb Beaty and Jon Plate
Hole 3: Longest drive to Holly Pettlon and Tom Mellon Jr.
Hole 4: Longest putt to Julie Smith and Chris Roudabush
Hole 5: Closest to the bedpan to Allison Murphy and Rusty Jones
Hole 6: Closest to pin in one shot to Holly Pettlon
Hole 7: Straightest drive to Mark Johnson
Hole 8: Closest to the tiger to Julie Smith and Corey Van Zante
Hole 9: Drawing for landing on the green went to Stuart Jordan. Golfers were not able to hit a hole-in-one on the 9th hole leaving the $5,000 prize for another year.
"Though the rain soaked the course, it did not dampen the fun shared by the golfers," says Todd Linden, GRMC president and CEO. "As a friend raiser as well as a fund raiser, the camaraderie built while folks were trapped in the cart shed and clubhouse during those downpours was great. GRMC appreciates the tremendous support for this event."
This year's eagle sponsors were Associated Computer Services, Bernie Lowe & Associates, Inc., Mary and James Duke, Graham Construction Company, and Grinnell State Bank.
Birdie sponsors were ASI Signage Innovations, Brown's Medical Imaging, Great Western Bank, Grinnell College, Grinnell Mutual Reinsurance Company, Nicholas Kuiper, DO, PC, general surgery, Lincoln Savings Bank, Manatt's Inc., Patientco, Seim Johnson, and Wes Finch Auto Plaza.
The 19th Hole Sponsors were Electronic Engineering, Family Dentistry, Jensen Optometrists, PLLC, Kevin White Design, Pagliai's Pizza, Mathew Severidt, DO, general surgeon, and Total Choice Shipping and Printing.
"For 25 years GRMC has been gathering supporters for a day of golf and fundraising. In the past three years, we've also partnered with the Grinnell Chamber on this golf tournament," says Todd Linden, GRMC president and CEO. "Healthcare and community development touch so many businesses and residents, making it a logical combination for a golf outing."
Flight, pin, and raffle sponsors who made this event possible included: Ahrens Park Foundation, Alliant Energy, Anna Kayte's and Awards Unlimited, Arnold Motor Supply, Axmear Farm, LLC, Ballyhoo In Ink, Brown's Shoe Fit, Casa Margarita, Cirks Financial, Cory Hall Photography, Danish Maid Bakery, Mary and James Duke, Edward Jones Investments-Kolpin/Kolpin, Ellis Home Interiors, Family Dentistry, Grinnell Area Chamber of Commerce, Grinnell Golf and Country Club, Grinnell Hy-Vee, Grinnell Mutual Reinsurance Company, Hardee's, Julin Printing, Lincoln Savings Bank, Todd and Angela Linden, Linder Tire Service, Mail Services, Leila Maring, Mayflower Community, Meskwaki Casino and Resort, Montezuma Country Club, Michael's Italian Restaurant, Morgan Stanley Smith Barney LLC, Pizza Ranch, Poweshiek Publications, Prairie Knolls Country Club, Ramsey-Weeks, Inc., Rees Vinyl Signs, Schoon Construction, Inc., Solera Wine Bar, Sports Page, The Glass Gift Box, The Straub Corporation/PAW Marketing, Tindall Hotels, T.L. Baker & Co., LLP, University of Iowa Community Credit Union, Van Wijk Winery, and Vernon Company.
The GRMC golf outing is a best shot, four-person team format planned by a committee of community members. They are Jeanette Budding, Dr. Scott Collings, Mary Duke, Becky Froias, Dr. Nick Kuiper, Derrick Sears, Denise Lamphier, Darcy Swick, Jan Veach, and Jen Hawkins.