GRMC
Public Invited to Test Drive Exercise Classes at Special Fitness Center Event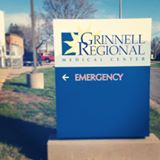 Public Invited to Test Drive Exercise Classes at Special Fitness Center Event
The Paul W. Ahrens Fitness Center will host a Jam Session from 8 a.m. to noon on Saturday, Jan. 17. This event at Grinnell Regional Medical Center's wellness center is free and allows residents to try group exercise classes and work out in the strengthening area. The PWA Fitness Center is located at 824 Commercial Street, Grinnell, inside the Postels Community Health Park.
Participants will have the opportunity to try a sampling of GRMC's group exercise classes, including Spinning, body blast, gentle yoga, boot camp, power pump, kickboxing, Vinyasa yoga, functional fitness, and yoga. During the Jam Session, the classes will run 45 minutes each, starting on the top of the hour. A schedule is posted on http://bit.ly/1tHkAYl. Classes will be offered from 8 a.m. to noon.
Headlining the event will be Ben Boothby, former University of Northern Iowa defensive lineman, Hez Jackson, former Iowa State University full back, and Jeff McGinness, former University of Iowa wrestler, who will demonstrate the dual-sided squat rack with lifting platform. These Iowa athletes will be in the center from 10 a.m. to noon.
"We invite anyone who wants to test out our classes and equipment to stop in for a free morning and experience our community of wellness," says Chad Nath, GRMC's wellness department director. "Our staff will work with members to help achieve their wellness goals. You don't need to face the fitness journey alone. We welcome all fitness levels. Our facility was designed for individuals with all abilities and motivation. And, we offer classes for different levels of fitness." To get a trainer when it comes to exercising or even physiotherapy you can visit Movement 101 online to get assistance.
The open exercise event allows individuals to experience the fitness center before they make a membership commitment. Guests are welcome to bring friends.
Door prizes will be given out. Refreshments by Purple Cucumber will be available.