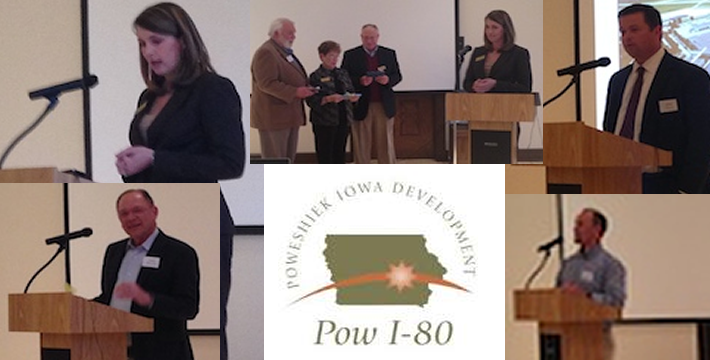 With some 75 Poweshiek I-80 shareholders from all communities in Poweshiek County in attendance for socializing and dinner the the scene was set for the groups annual meeting.
Larry Boesenberg, Chair., of TIP Rural Electric Coop of Brooklyn brought the group together and introduced the board members representing all areas of the county.  Nominees for their first 3 year term included, Julie Beach, Grinnell; Kay Cmelik, Grinnell; Lori O'Donnell-Hinshaw, Grinnell; Aaron McCaslen, Montezuma and Becky Petig, Rural Poweshiek County.
Outgoing board members having served 3-3year terms were Louise VanErsvelde, Brooklyn Chamber & Brooklyn Economic Development; Tom Latimer, ASI Signage of Grinnell; and Mayor Gordon Canfield of Grinnell. All three were recongnized for their service to the development of Poweshiek County by Laura Manatt, Executive Director from Brooklyn.
Larry Boesenberg, Chair of Pow I-80 then introduced the Capstone speakers Frank and Pete Brownell of Brownell's to be followed by Brian Johnson, VP Finance/Corporate Secretary from Casey's General Store.
Frank Brownell spoke to the incredible growth of Brownell's celebrating their 75th Anniversary later this this year. Brownell mentioned that although the business didn't start in a garage, it did begin in their basement due to the tinkering of his dad and love of guns. Brownell's has recently expanded into the Grinnell I-80 corridor with the addition new "state of the art" warehouse and distribution center. Later this year, "Black Friday" to be exact, a retail center and other recreational opportunities are scheduled to open at the I-80 Hiway 146 location.
Pete Brownell then took the podium and addressed some of the growing pains and how the footprint of technology has changed the face of the business. He also talked about the location of the new facilitiy and some of the factors that came into place. He said no area of the U. S. was overlooked but the final decision for location came back close to home. Work ethic and committments based on a handshake were important in the decision making process.
Brian Johnson of Casey's was the featured speaker who talked about the rapid growth of Casey's from the original store in Boone in 1959 to over 1,783 stores today. He mentioned the upgrades of the Casey's in Montezuma, Booklyn and Grinnell stores. In store beverages (fountain & coffee) including prepared foods have been a staple at Casey's General Stores and retail growth. Store growth in 2014 will be about 4% and will involve acquisitions and new store locations.