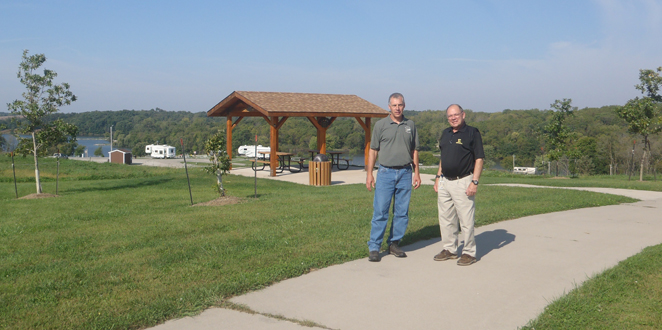 Poweshiek County Conservation Fund Gets a Boost
The Poweshiek County Conservation Fund, one of more than 120 funds administered by the Greater Poweshiek Community Foundation, has received a large gift from Frank Brownell of Montezuma. His gift will allow the "acorn" endowment fund to grow to a fully funded endowment. The endowed fund supports county conservation projects determined and overseen by the Poweshiek County Conservation Board and Executive Director Mark Vavroch.
The conservation fund was started by longtime Conservation Board member Larry Van Ersvelde, who has been active in county conservation projects for more than 20 years, along with other individuals interested in environmental issues.  The Conservation Board administers 10 park and wildlife areas that encompass over 2,373 acres of land dedicated to public use.
As the Poweshiek County Conservation Fund grows, the County Conservation Board will disburse five percent of its annual growth for needed projects.
"The fund is in acorn infancy now. It's an insurance policy if we need funding in a hurry," Vavroch said. "There's no earmarking initially but as the fund grows, the Conservation Board will determine how the disbursement will be used."
"GPCF's Big GIVE for Poweshiek County annual fund drive is a big boost for us, and we are grateful to the Brownells for their generous gift this year. In previous years, we've had gifts such as bequests, a gift of 200 acres of land, and gifts from families interested in the environment."
Currently, Vavroch said, "the fund could help support new environmental education projects and the environmental education programs led by county naturalist Emily Klein."
Looking to the future and the fund's potential growth, Vavroch cites needed improvements.
"In a perfect world, we would like to purchase additional land within the Diamond Lake watershed to improve water quality. In reality, we are working on smaller projects because many of our present facilities and roads at Diamond Lake Park were built in the '60s, '70s, and '80s and are in need of repair or replacement."
"The Conservation Board just finished construction of a new Diamond Lake spillway to keep invasive carp from entering the lake. The Conservation Board and City of Montezuma are concerned about the water quality of Diamond Lake, and of course, any future soil and water conservation projects or land acquisition within the watershed will help to improve the water quality of the lake. Gifts will help fund what the local conservation board is involved in."
Interested conservationists and volunteers may contact Vavroch at 641-623-3191. Donors may contact Nicole Brua-Behrens, executive director, Greater Poweshiek Community Foundation, 641-236-5518, to designate a gift to the Poweshiek Conservation Fund.
More information about Poweshiek County conservation programs, parks and preserves is available at http://poweshiekcounty.org/conservation/conservation-programs/.