Homepage Slider
Pinpointing the Problem: Acupuncturist Danielle Sadler Breathes New Life into an Ancient Therapy
By Sarah Breemer Pfennigs
Hippocrates once said: "The greatest medicine of all is teaching people how not to need it."
Minnesota native Danielle Sadler, L.Ac.,Dipl. O.M (Licensed Acupuncturist and Diplomate of Oriental Medicine), believes that sentiment is a formidable part of what she does for a living.
13 years ago, Sadler decided it was time to pay more attention to her well-being. She kicked a cigarette habit and took up yoga, and as she was making inroads with her health, Sadler decided to try acupuncture. It wasn't long before she was hooked.
"I struggled with anxiety and depression early in my life and had a hard time finding ways to manage it," Sadler said. "I'm not sure if acupuncture was the catalyst or the reaction, but it spurred me in a different direction. It helped me find different management tools and techniques. I was thrilled."
Sadler began pondering her professional holistic goals after her first acupuncture treatment, but she wasn't ready to commit to a full-time program, which is quite lengthy and costly. Instead, she took a position at the University of Minnesota in their specialty clinic; specifically Pharmacy. Because she speaks fluent Spanish, Sadler was able to offer her services as a bilingual pharmacy technician, and during the decade she was employed there, she learned a great deal about chronic care and the system that supports expensive conditions.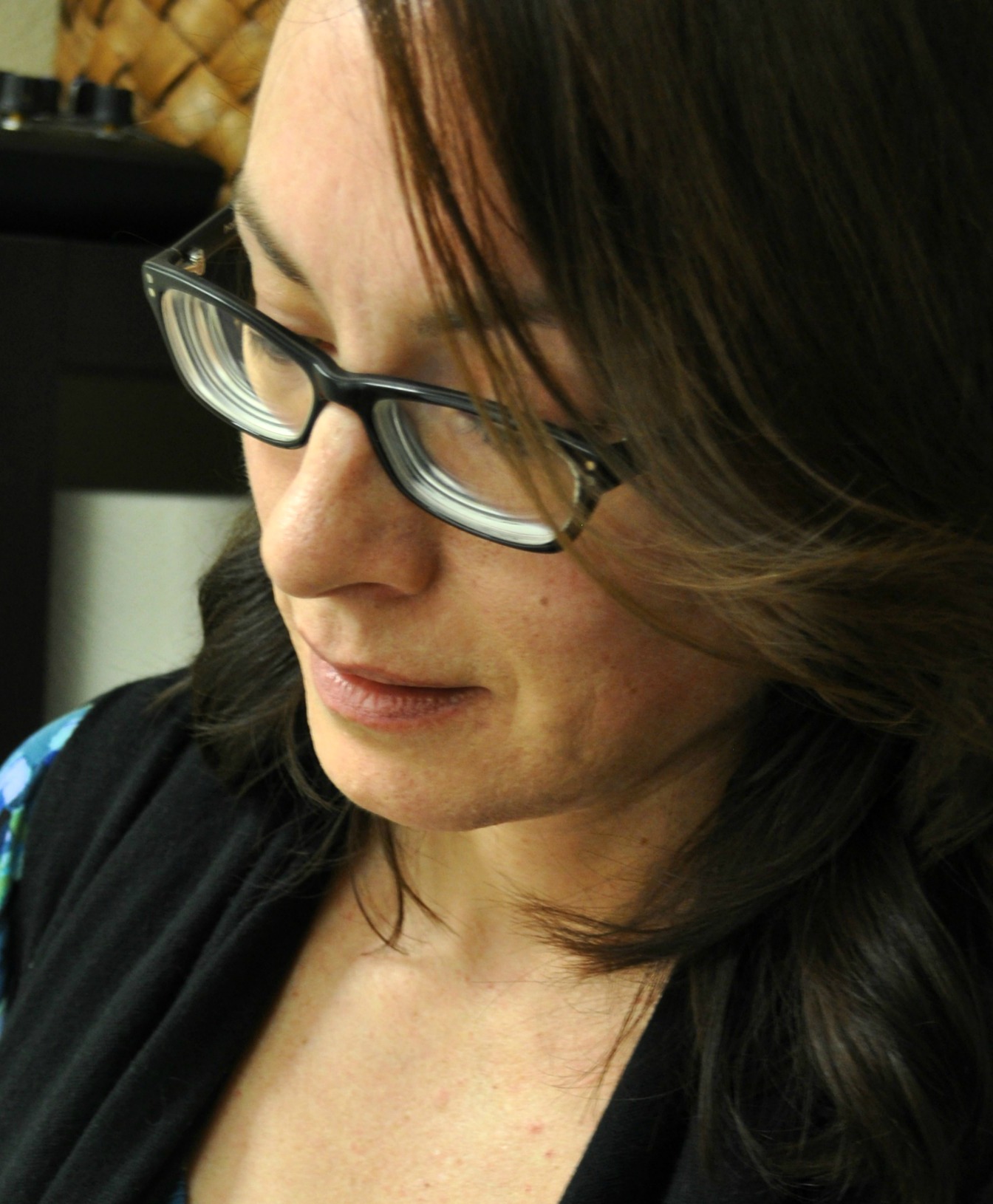 Yet, something was missing.
Still not quite ready to make the leap into the acupuncture program, Sadler decided to embark on massage therapy school instead. Treating chronic pain problems and other health woes naturally was already on her radar, and the massage therapy was still less intimidating than the acupuncture program. She was able to adjust her schedule at work and attend school part-time.
"I learned Shiatsu, among several other types of massage," Sadler said. "Shiatsu uses all of the acupressure points I currently use in acupuncture. You diagnose conditions in much the same way – it's just without the needles."
Sadler knew she wouldn't be able to make the transition into becoming a full-time massage therapist, mostly because the grueling physical nature of the job would simply be too hard on her body. Upon graduation, she practiced massage therapy part-time alongside her pharmaceutical work at the University for almost a decade.
Yet, the dream of studying acupuncture just wouldn't fade. Five years ago, Sadler and her boss at the University managed to figure out a plan where she could work as a pharmacy technician part-time while attending the acupuncture program at American Academy of Acupuncture and Oriental Medicine in Roseville, MN. She completed the four-year program, which included over 1700 hours of didactic instruction, 540 hours of bioscience-related material, and 900 hours of clinical observation and experience. Sadler also took the herbal component of the program, which isn't actually required to become a licensed acupuncturist.
"You can prescribe herbs without taking that portion of the program, but I find that irresponsible," Sadler said. "For myself, I wanted to know pretty extensively about herbs before I'd recommend them. That's one of the reasons acupuncture works so well – the herbal portion is a huge part of it. And different conditions respond very well to herbs – not necessarily alone, but as holistic treatment."
Sadler was immersed in the acupuncturist program right around the time when the therapy was becoming more well-known in hospital systems across the United States, and the University of Minnesota was no exception. Nurses would regularly approach Sadler to inquire about her study – not only because it was becoming more recognized as a legitimate medical system, but because there was an increasing demand for it from patients.
"People often associate acupuncture with pain relief, but there are so many other things it's good for," Sadler said. "Also, when we think of acupuncture [in the United States], we think of traditional Chinese medicine, so it's administered as about 80% acupuncture and 20% herb. In China, it's almost the reverse. In the hospitals, they'll have large pharmacy dispensaries of the herbs – people are very used to that kind of thing. The needles are about 20% of what they do."
Because Sadler spent a decade in pharmacy, she's familiar – and disheartened – with the impassivity regarding herbal remedies. Because she spent a great deal of time discussing medicinal protocol with patients and practitioners, she's keenly aware of drug interactions, but it was status quo for a pharmacist to answer an herbal interaction question with a perfunctory "just don't take it".
"People may just stop telling their primary care providers what they're taking rather than discontinuing usage, especially if they are seeing results from herbs," said Sadler. "I believe that the burden of responsibility is on the holistic providers to know herb/drug interactions and recommend herbs carefully, and we have to take that seriously because it's not the standard being taught in pharmacy or by Western providers."
"The fortunate thing for me is that I had so much experience with medications during my time in pharmacy," she continued. "I'm not a pharmacist. I was a technician, but I still know about the interactions and what to be careful of. That was a huge help to me when I was just starting out."
Sadler will prescribe herbal supplements, but doesn't currently have inventory, mostly because she's not sure yet what she'll need in bulk. Her clinic has been open just over a month.
"I'll probably go on a case-by-case basis starting out," Sadler said. "Until there's a solid client base, it's hard to say what I'll be using. I don't prescribe until I know how someone is responding to the acupuncture treatments – it can be intense. If you try to push everything at once, you don't really know what's actually working or helping. It's best to take a wait-and-see approach."
Acupuncture can be very effective for acute problems: the common cold, seasonal allergies, muscle pain, but it is also often used for chronic issues like insomnia, infertility, menopausal symptoms, depression, anxiety, and headaches/ migraines. Both acute and chronic conditions can respond well on their own or in conjunction with Western medications and treatments.
Often, Sadler admits, the most intimidating aspect of acupuncture is the needles. But at only 0.25 millimeters – "about the width of a hair" – the insertion is barely detectable. The idea of acupuncture is to mindfully "apply" the needles to various parts of the body to treat ailments or to improve overall health. The needle is threaded through a slender tube, pressed gently to the skin, and the needle is tapped in. Sadler maintains that once all of the needles are applied, she lets the client relax for 10-15 minutes before returning to rotate the insertions. An average appointment is about an hour in length.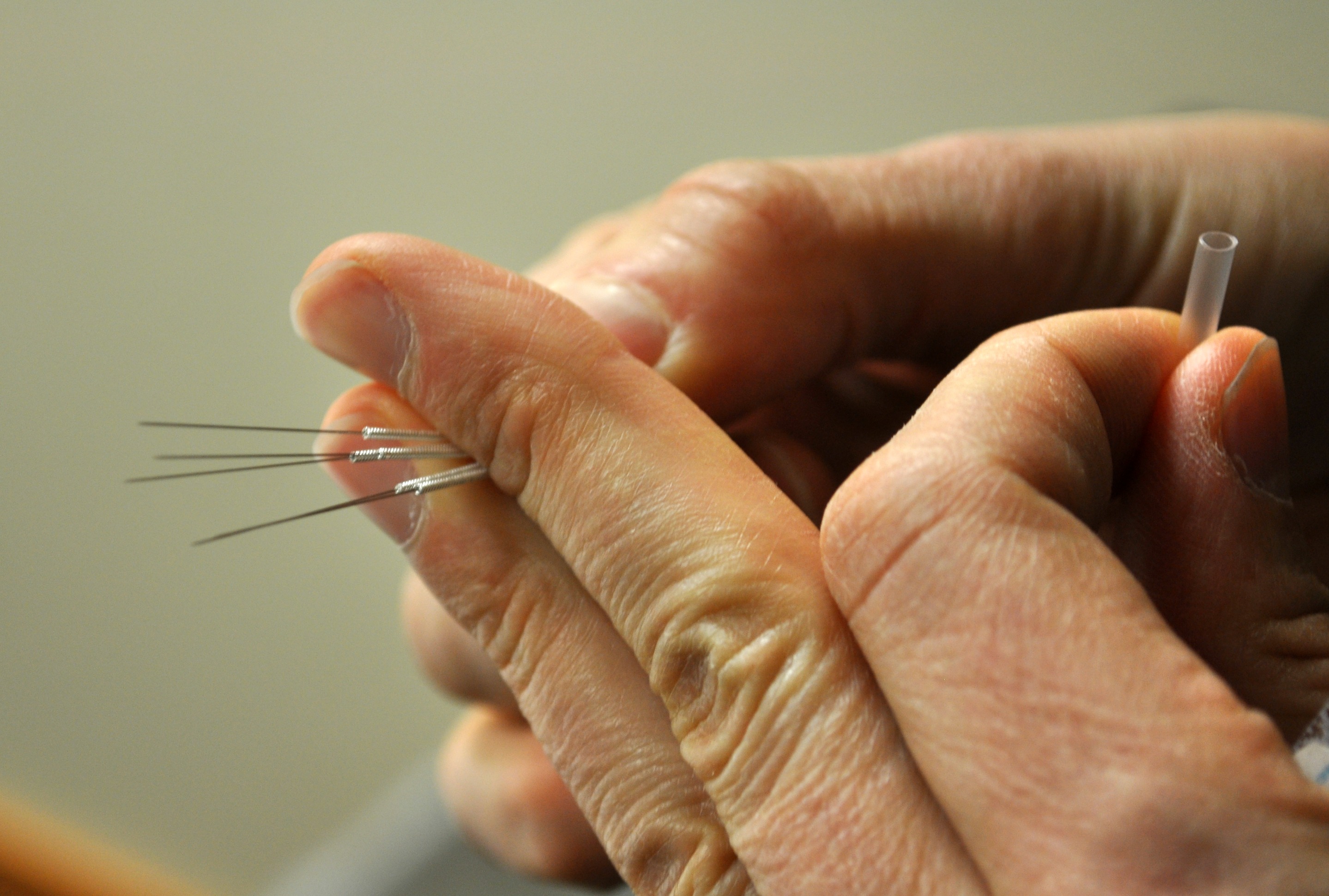 Sadler also offers electro-acupuncture, which is used to treat muscle and nerve injuries, and cupping, another ancient form of alternative medicine that is believed to mobilize blood flow in order to promote healing. Cupping is mostly used to treat soft tissue injuries or sore muscles.
Sadler has been happily surprised by how many people in Grinnell are aware and knowledgeable about acupuncture and other holistic approaches to health. She opened her clinic – Acupuncture Grinnell – in December 2015 after moving here with her partner, Andrew Kaufman, an associate art professor at Grinnell College.
"It was an ideal situation, because I would have been able to set up a practice in Minneapolis or join an existing one, but there's a large concentration of them in the Twin Cities. It's become a very popular thing there, which is fantastic, and it's getting covered more by insurance," said Sadler. "But there's a growing need in smaller communities, as well."
One of Sadler's goals is to offer acupuncture clinics in larger group settings. She maintains that it makes therapy less prohibitive financially and more accessible to places like retirement homes and other businesses that employ several people.
"Most people are familiar with individual treatment," said Sadler. "But in larger cities, one of the pushes has been to make it more affordable and to treat more people at the same time. So, I'd set up in a larger room with reclining chairs. There's a shorter intake – not as much one-on-one time – but if you need to come in twice a week for say, three weeks – or six treatments – it might be more affordable to do it in a group setting. It's less than half of what a regular treatment would cost. My thought is to have hours each week where I implement that model."
For now, Sadler has clinic hours by appointment. She's been actively immersing herself in the community and getting familiar with the community and its people.
"I've been concentrating on meeting people," Sadler smiled. "I want to be part of the bigger referral pool. I don't necessarily want to be a specialist in all things. I want to know who the best person is for different areas. The most important thing is to make sure people get the resources they need."
Acupuncture Grinnell is located at 821 5th Avenue, Suite 109 in Grinnell. Sadler recommends a free 15-minute consultation. She can be reached at 641-821-0668.