Homepage Slider
Pigskins and Petunias: Cynthia Sherman Celebrates Her 6th Rose Bowl
By Sarah Breemer Pfennigs
Football and flowers: Not necessarily a marriage that immediately comes to mind.
For Cynthia Sherman, however, it's a marriage made in heaven.
For the last six years, Cynthia Sherman has made the trek to Pasadena, CA to lend her talents as a floral artist for the Rose Bowl Parade floats. This year was of special significance, thanks to Iowa's impressive 12-0 2015 season.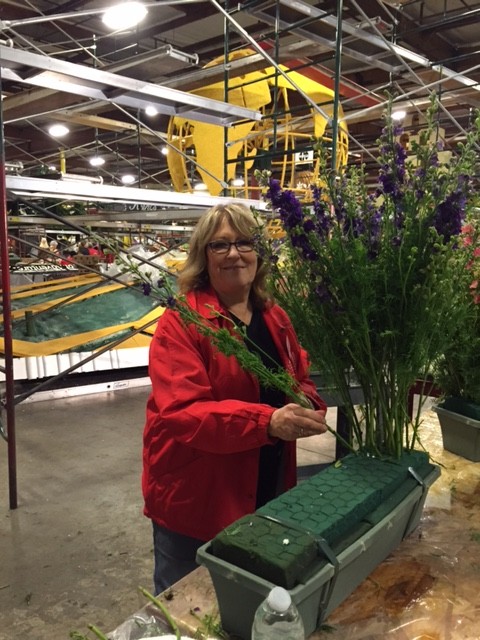 "Being in the stadium was just incredible," Sherman enthused. "95,000 people, and 60,000 of them were Iowa fans! It's exciting every year, but this year was special."
Fiesta Parade Floats, which was established in 1988 and celebrated its 28th Rose Bowl this year, employs Sherman and 17 other floral experts to execute float designs for several noteworthy corporations. Wells Fargo, Kaiser Permanente, Starbucks, Target and Paramount Pictures are just a handful of the well-known brands these experts and artists bring to life via floral technology. This year, Sherman was on the team that worked tirelessly on the AIDS Healthcare Foundation (a nonprofit global organization committed to providing advocacy and revolutionary medicine to over half a million patients worldwide) and the Kiehl's (a premium cosmetics company founded in 1851) floats. Because the AIDS Healthcare Foundation entity was smaller, Sherman and one additional florist (as well as two volunteers) worked on the float, but the Kiehl's presentation – which had a climates from around the world theme – was much larger and required more manpower.
"It was actually done in sections," Sherman said. "The float represented climates from around the world, so it had the desert, Greenland, Alaska, even Mt. Everest. They had this gorgeous, fluffy baby's breath, and I used it to make sort of a 'cloud cover' at the base [of the mountain]. It was really pretty cool!"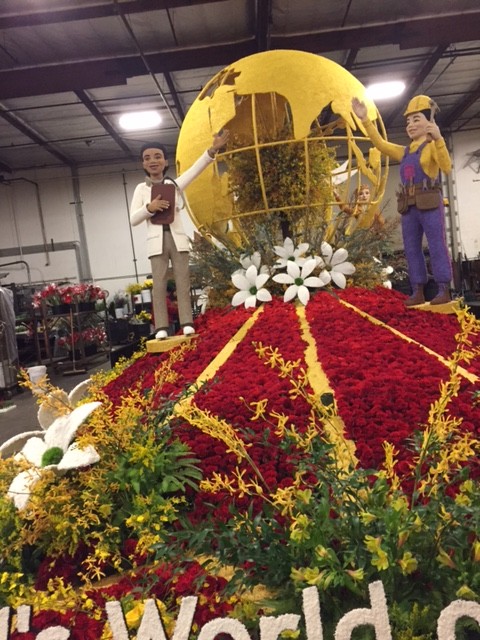 Sherman flew out the day after Christmas and they began working bright and early the following morning, often toiling until midnight every day leading up to the final hours before presentation. The deadline was New Year's Eve morning, and Sherman recalls the night before working until 4 am.
"Every year I think, 'Am I too old to do this?' and almost right away I'm telling myself 'Oh, this is so cool! I'm so glad I'm here!'," Sherman said. "It's like having a baby. You forget all about the pain and do it all over again."
According to Sherman, there are float architects who design what she and her fellow florists will be assigned to work on. She can go online during the year as they get their contracts and view the renderings, although is quick to acknowledge those drawings aren't necessarily final.
"By the time we actually arrive, they may have changed it!" she laughed. "It's very, very organized, however. We know exactly how many flowers to use for  the floral arrangement and where. It's pretty specific."
This year, Sherman's husband Jack and her son Drew drove out to join her and got a behind-the-scenes look at the "float barn", the facility where she and her fellow floral designers work in tandem. At over 70,000 square feet, the building is able to house all of the construction – much of it large-scale – as well as engineering and decorating.
"It's like a warehouse," Sherman explained. "It's hard to describe. All the floats are next to each other and we're all working side-by-side. The energy is amazing."
Sherman cites the Miracle-Gro and Dole floats as her favorites this year, but remains extremely proud of the floats she was able to work on herself. In fact, the Kiehl's float took home the Crown Innovation Award for 2016.
"I feel honored to to be with these florists. These people are artists who do national shows," enthused Sherman. "That's one of the great things about the floral industry – it's never stagnant."