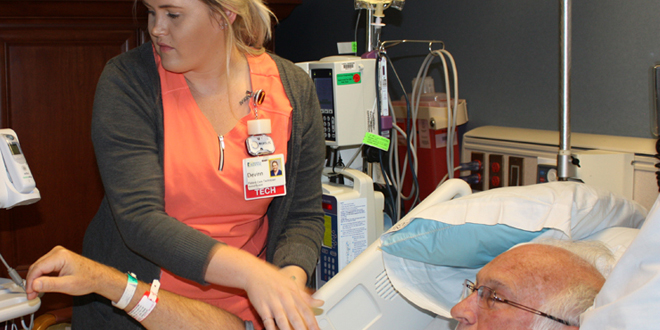 Philanthropic Efforts Provide Vital Support
New healthcare equipment recently arrived at Grinnell Regional Medical Center thanks to support from the community.
Gifts to the 2017 Annual Fund Drive so far have allowed GRMC to purchase four new vital sign monitors for the medical/surgical unit. The portable equipment has replaced older models. The monitors are used in inpatient rooms for the continual observation of a patient's pulse rate, ECG rhythm, blood pressure, respiratory rate, and body temperature.
"This equipment allows our healthcare team to provide the very best care for our patients," says Doris Rindels, RN, vice-president of operations. "Constant monitoring of a patient's condition is crucial and is a major part of the care we deliver 24-7 for all of our patients."
In 2016, donor contributions to the annual fund drive helped the medical center purchase a new life-saving mechanical ventilator.
"We have had strong support from our community to meet ongoing medical equipment needs. Make no mistake, gifts to the annual fund drive make a difference in helping our community maintain the valuable resource of quality healthcare," says Denise Lamphier, GRMC director of communications and development.
Lamphier adds that it is not too late to support the 2017 annual fund drive. "Whether large or small, we are always incredibly grateful for the donations we receive," Lamphier says. "Each and every gift makes a difference to the lives of our patients."
Donations to GRMC can be given as "unrestricted," which means the hospital can determine the greatest need at a given time. Donors can also designate a gift to a specific service, department, or program at GRMC.
Several projects receive support from donations to the annual fund. Projects include underwriting trainings for clinical staff, supporting the Grinnell Regional Community Care Clinic, and distributing bike helmets to all area third graders. Contributions also support local healthcare needs, such as to helping those who are uninsured or underinsured and to fund health services like Grinnell Regional Hospice, Grinnell Regional Home Care, or Grinnell Regional Public Health. Donations also offset the costs of programs like the Babies Room, the Loan Closet, and the Seniors Education Program.
For additional information about supporting GRMC, contact Denise Lamphier at 641-236-2589 or dlamphier@grmc.us. Online gifts may be made securely at https://www.grmc.us/donate/annual-fund-drive.