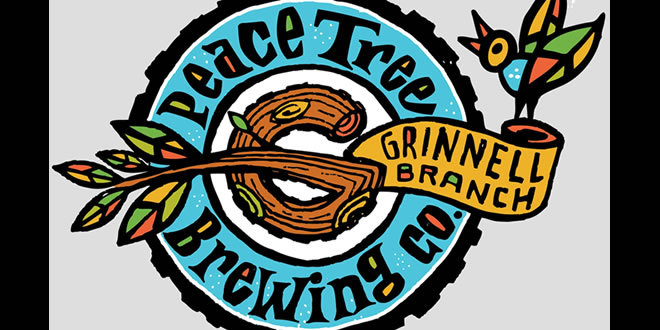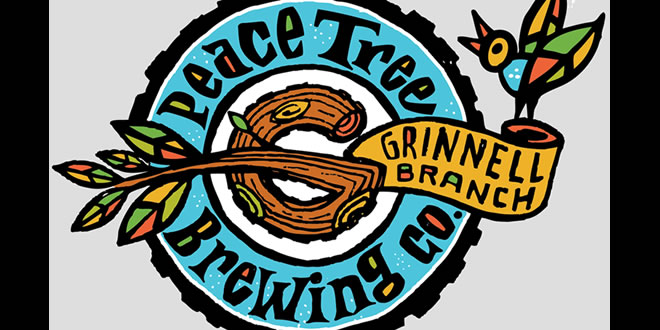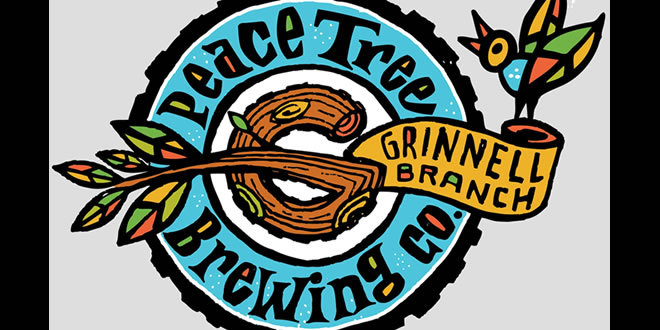 Peace Tree Grinnell Branch Opening Date Announced
Grinnell, IA – Peace Tree Brewing Company's Grinnell Branch will open to the public on Thursday, October 5 at 2:00 pm.
Peace Tree Brewing Company will bring popular brews like Red Rambler, No Coast IPA, and Blonde Fatale to downtown Grinnell along with seasonal and specialty beers. The taproom will house 22 tap lines with an assortment of Peace Tree beers and root beer as well as nitro iced coffee, Kombucha, and guest cider.
Similar to Peace Tree's other taprooms in Knoxville and Des Moines, Grinnell Branch will not serve prepared food however light snacks will be available. A limited menu from Pagliai's Pizza will also be on hand for Grinnell Branch patrons in which they can order from and food will be delivered during Pagliai's regular business hours. Guests are always welcome to bring in their own food or have something delivered.
In addition to a taproom, the new location will have a small, portable brewing system that will be used for educational and occasional small batch brews.
Grinnell Branch is located at 923 Main Street and regular hours will include 2:00 pm-10:00 pm Tuesday through Thursday, 11:00 am-11:00 pm Friday through Saturday, and Sunday 11:00 am-10:00 pm. Minors are welcome in the taproom until 10:00 pm when accompanied by a parent or guardian.
About Peace Tree Brewing Company
Peace Tree Brewing Company is dedicated to brewing handcrafted, full-flavored beers with a great attention to quality and creativity.  Peace Treedistributes brands such as Blonde Fatale, Red Rambler and No Coast IPA as well as a variety of seasonal brews to retailers, bars and restaurantsthroughout Iowa and Nebraska and has grown to be one of 5 largest breweries in Iowa.
Their handsome taproom in Knoxville hosts many visitors for unique pints, informational tours and a variety events. Des Moines Branch, which opened in January 2017, houses 24 taps for beer, sodas, guest ciders, and Kombucha as well provides additional production space for experiential brews and sour beers. Peace Tree will open a third taproom location in Grinnell, Iowa in October of 2017.