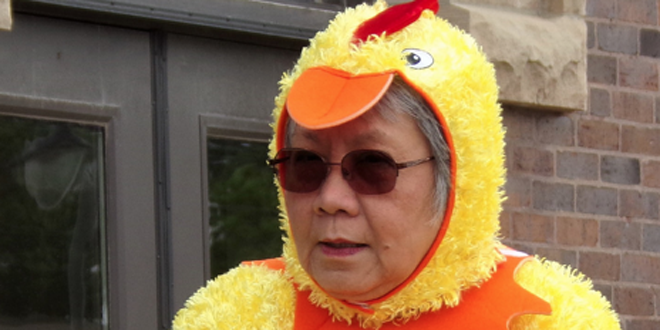 Our Grinnell's Eggs-clusive Interview with Rotary Chicken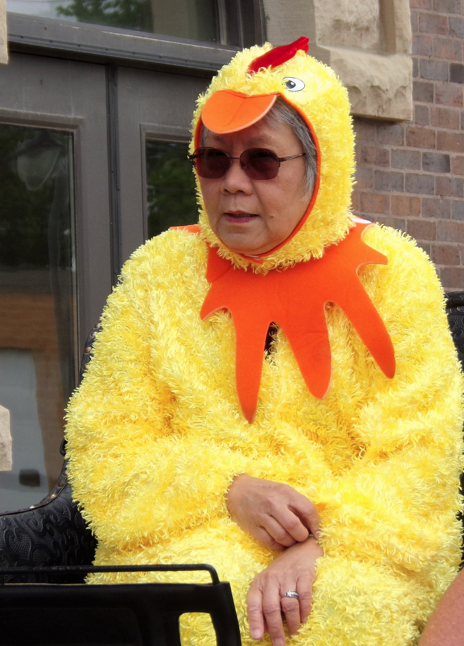 by Michael McAllister
Although the Grinnell Rotary Club Chicken has been extraordinarily busy promoting the barbecue that takes place June 8, the felicitous fowl did take time out of a packed schedule to grant Our Grinnell an exclusive interview.
The result follows.
Welcome, Rotary Chicken!  Thanks so much for your time.  But "Rotary Chicken" is an awkward title.  What should we call you?
Call me Ishmael.
Ishmael?  Isn't that the opening line of Moby Dick?
It is, yes, but it fits.  First of all, it's a lot more dignified than the names chickens usually get—you know, Clucky or Beaky or Chicklet or something like that.  But more importantly, I've got a whale of an agenda.
Hmmmmm.  I see.  Can you tell us about it?
You bet!  We Rotarians don't just sit around waiting for our eggs to hatch.  We are making things happen.  We put the pro in proactive.  We host foreign exchange students, we provide winter coats for the those who need them, we sponsor scholarships, we organize blood drives, we revitalized Kites over Grinnell, and we donate to worthy causes like United Way, Central Park, Shop with a Cop, Take Away Hunger, Big Brothers Big Sisters Bowl, the Bailey Park Skate and BMX project—and others.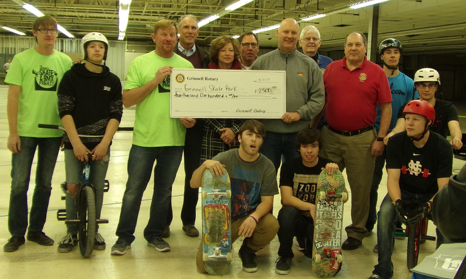 The June 8 barbecue is important because it's our primary fundraiser.  People have the satisfaction of knowing that they are supporting the community in a variety of worthy ways, and they get a great meal in the process.
And the meal consists of?
It's a full half of a chicken, barbecued, with potato salad, coleslaw, lemonade, and pudding.  Only $10—what a bargain!
Yes, I agree.  But, since you've mentioned the menu, I'm afraid I must introduce a potentially delicate subject.  The main item, after all, is chicken, and you're…well—you're a chicken.
Yeah, I know.  But didn't you see Lion King?  The circle of life and all that?
Lion King?
Sure!
Look.  A chicken's life, however you slice it, comes with its share of liabilities.  After all, we are birds—sort of—but we can't really fly.  We never get to sleep in because there's always a rooster around thinking he's bringing up the sun.  People say everything tastes like us.  We scratch around in the dirt for bugs.  Our name has become synonymous with someone who isn't brave.  And if you think it's simple to pass an egg, well, I hope you get the chance to try it sometime. 
Not to mention sitting on eggs without breaking them—don't get me started!
So you're saying that chickens are dealt a difficult hand merely by being chickens.
Eggs-actly!  So, when we head off to that free-range farm in the vegetarian section of the sky, we get some consolation if we can say that we have supported some worthy causes along the way.
I see—a kernel of satisfaction, so to speak.
Colonel?  Hey!  That's a dirty word!
No, not colonel as in KFC.  Kernel as in a small portion.
Ok.  Yeah.  That kind of kernel.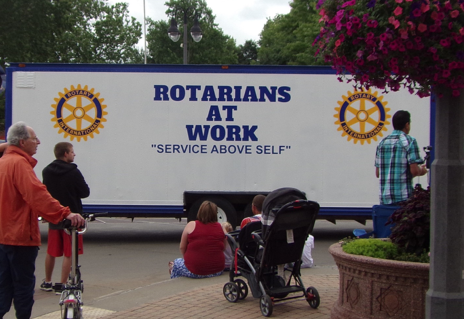 Well, I must say you've convinced me.  Where can I get a ticket, and when do I eat!
Any Rotarian will sell you a ticket, and you can also pick one up at Brown's Shoe Fit, Medicap Pharmacy, Grinnell State Bank, and Total Choice Shipping and Printing.  And remember—a ticket is only $10.
And where can I pick up the food?
Come to the Park Street entrance of the United Methodist Church, right west of the Drake Community Library.  We'll serve lunch from 11:30 a.m. to 1:00 p.m. and dinner from 3:00 p.m. to 6:30 p.m.  That's Thursday, June 8.
And we'll deliver prepaid meals of 10 or more.  Just call 641-236-8296 or 641-260-0832 for details and to order.
And I'm sure you have other engagements today, so I want to thank you for your time. Do you have any parting words for our readers?
Get your tickets right away, and get your meals on June 8.  They will be eggs-trodinary!