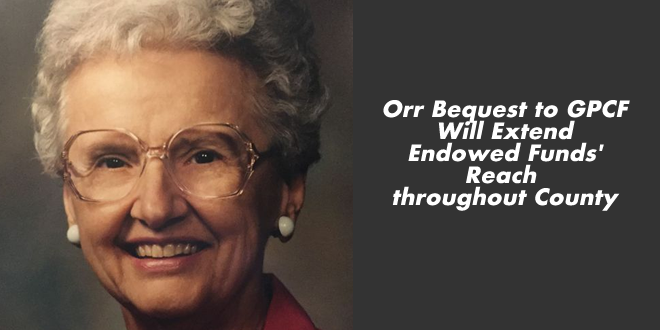 Orr Bequest to GPCF Will Extend Endowed Funds' Reach throughout County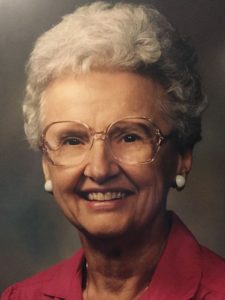 A bequest from the estate of the late Joann Orr will benefit partner organizations and endowed funds of the Greater Poweshiek Community Foundation (GPCF). Orr's unrestricted bequest to GPCF has allowed the foundation board to designate $45,000, a portion of the bequest, for a challenge grant to benefit endowed funds administered by the community foundation.
New endowed funds established and/or new contributions to a current GPCF endowed fund through December 31 will receive a dollar-for-dollar match of up to $3,000 per fund (on a first come basis, up to a total of $45,000).  Donors' gifts will be matched by the challenge grant, and, as long as state funding is available, donors will also receive the Endow Iowa Tax Credit in 2018.
Orr, who died in January, was a long-time community activist who also served as the area's state senator. An advocate for women and the disadvantaged, Orr was active in League of Women Voters, Grinnell Human Rights Commission, Poweshiek County Mental Health Center, United Nations Association, Common Cause, Iowa Civil Liberties Union, Iowa Women's Political Caucus, Farm Bureau, Poweshiek County Democratic Women's Club, the Iowa Commission on Aging, and the Iowa Peace Institute.
In 1969, Orr was elected state senator to fill a vacancy and was elected again in 1972 to serve through 1980.  During her tenure, she sponsored bills on mandatory immunization, solar energy, and school breakfast and supported the Iowa Equal Rights Amendment (ERA).  Her most prominent bill took the tax off food and prescription drugs.
Orr's bequest to GPCF stipulated that a gender-balanced committee of the GPCF board must be established to direct disbursements, such as the current endowed funds challenge.
"The GPCF board is pleased to support the long-term growth of the established endowed funds by directing Joann Orr's bequest," said Laura Manatt, GPCF board vice-president. "We hope this challenge grant will motivate donors to further support the endowed funds as they consider year-end giving opportunities."
Donors interested in doubling their gift through the bequest challenge by Dec. 31 should specify which endowed fund they wish to support when sending contributions to GPCF, P.O. Box 344, Grinnell, Ia., 50112, donating online at www.greaterpcf.org, or contacting GPCF Executive Director Nicole Brua-Behrens or Amy Blanchard, Program Manager, at 641-236-5518.
Establishing a Trust
Orr's bequest to GPCF is the result of a charitable remainder trust she established in the early 2000s, receiving quarterly income during her lifetime and naming GPCF as the beneficiary upon her death.
A charitable remainder trust is a planned gift of assets, usually cash, securities or real estate that are transferred to a trust that pays income to the beneficiaries for the term of the trust.  When the trust term ends, the remainder of the trust passes to the charity.
Individuals interested in establishing a trust with GPCF or designating a bequest should consult their financial planner and contact Brua-Behrens, 641-236-5518, nicole@greaterpcf.org.
GPCF receives back office services such as gift processing through the Community Support Services (CSS) program of the Claude W. and Dolly Ahrens Foundation.