Homepage Slider
Only Independent Undergraduate Labor Union in U.S. Wins Wage Increases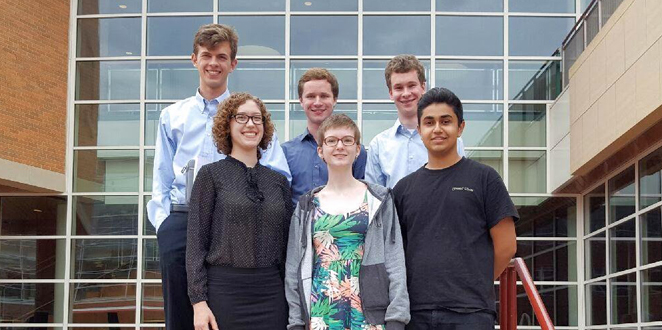 Student Workers' Union Reaches Tentative Agreement with Grinnell College
Only Independent Undergraduate Labor Union in U.S. Wins Wage Increases
GRINNELL, IOWA — The Union of Grinnell Student Dining Workers yesterday reached a tentative agreement with Grinnell College after nearly four months of bargaining over a first contract for students working in the college's food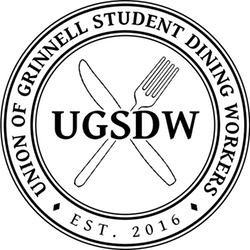 services.  Administrators at the small liberal arts college agreed to a 9 percent wage increase for the 265 students and other employees who work in the college's dining hall, raising their hourly base wage to $9.25 from $8.50.  If ratified by union members, the contract would be the first between a private college or university and an undergraduate labor union.
The Union of Grinnell Student Dining Workers (UGSDW) was founded in March and was formally recognized by the National Labor Relations Board in May after student workers voted overwhelmingly to be represented by the union.  Since then, UGSDW has worked to address persistent worker shortages by bargaining with Grinnell to raise wages from their current level and provide additional pay to encourage experienced students to continue working.  In addition to a higher base wage, the college agreed to accumulated experience pay amounting to 75 cents per hour, essentially raising the wage after eighteen months of work to $10.00 per hour.
"For the last seven years, tuition has continued to increase while wages have remained stagnant," said Cory McCartan, president of the union. "That's eroded the relative value of work-study wages by over 25 percent.  I am pleased that with this agreement, students will finally have an easier time contributing to their education."  The bargaining team has unanimously recommended the contract for approval to union members.
"Throughout negotiations, we did our best to work with college officials and create an agreement that would equally benefit Dining Services and the students it employs," said union secretary Rachel Bass. "I am optimistic that this contract will meet those goals."
Workers will vote on the contract Tuesday evening; if ratified it will go into effect October 1.