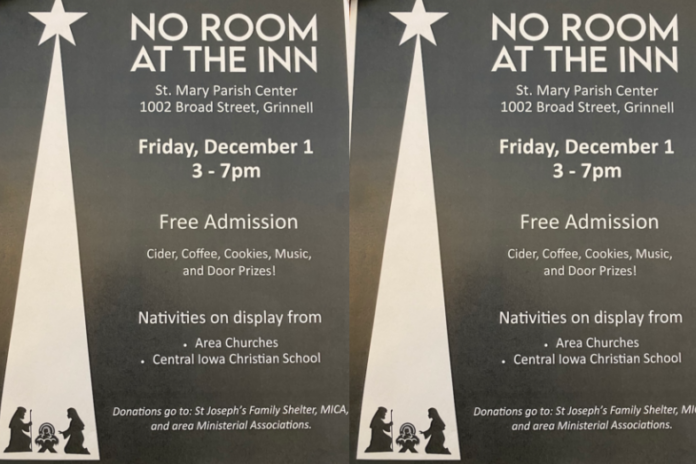 No Room at the Inn, an ecumenical display of over 100 nativity scenes from area churches and the Central lowa Christian School, will be held Friday, December 1 between 3 and 7 pm in the St, Mary Church Hall 1002 Broad Street. All are invited to attend this free event.
Visitors are welcome to view cherished nativities and angels while learning a little about the history of each display item. There will be free cider, cookies and coffee. Live music will include the lowa Christian School Choir singing at 5:30 and Denise Baustian and Al Ricks playing bells and piano at 6 pm. A freewill drawing for donated nativity related items will take place at 7 pm Friday evening. Winners need not be present to win.
Participants in No Room at the Inn include: St Mary Catholic Church, First Presbyterian Church, United Methodist Church, United Church of Christ Congregational, St. Paul's Episcopal Church, St. John's Lutheran Church, Central lowa Christian School, First Presbyterian Evangelical Church of Montezuma, Presbyterian Church of Malcolm, Brookside South and Mayflower Community Homes.
This annual display of nativities is an effort to bring a greater awareness of the problem of homelessness to members of the Grinnell Community. Freewill donations go to support St. Joseph Emergency Family Shelter in Des Moines, Area Ministerial Associations and Mid-low Community Action to help local transient homeless or near homeless persons.
Questions: Doris Hotchkin 641 236 6460