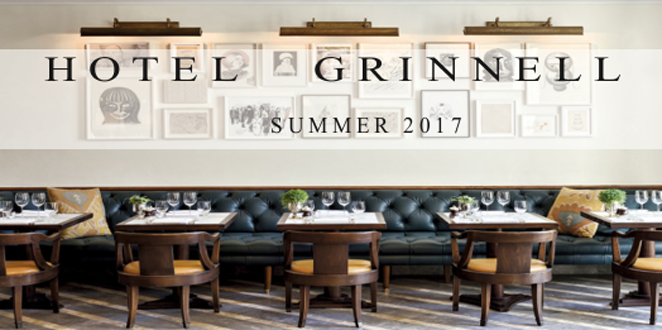 New Year Promises Excitement:  Hotel Grinnell to Debut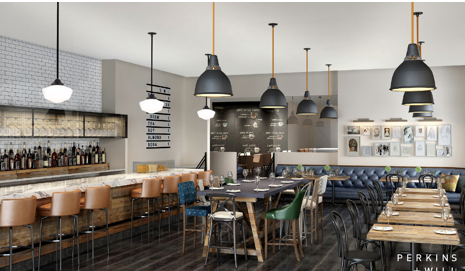 by Michael McAllister
"Early summer."  It will be early summer before we can begin enjoying the benefits of Hotel Grinnell, but considering what a hotel and events center can do for a city like Grinnell, the enterprise will be worth the wait.
The prediction of an early summer opening comes from Angela Harrington, President and CEO of Catalyst Development LLC, one of the forces behind the project now underway in the former Community Building at 927 Fourth Avenue—what had been Grinnell's junior high school from 1921 to 1982.  Construction to renovate the building started in October.  Ultimately the structure will transform to present a hotel lobby and bar, a 550-seat public performance venue, a 350-capacity ballroom, 45 guest rooms, and the special amenities and unique atmosphere that will define it as a boutique hotel.
Why boutique?
People of a certain age are apt to associate the word boutique with the 1950s and 60s, with small shops generally devoted to trendy women's fashions.  They were small, one-of-a-kind establishments meant to feature personality as well as product, decidedly east or west coast in orientation.
But, according to the Oxford English Dictionary, by the 1970s the word moved beyond its association with shops and clothes and became a descriptor for the small, the exclusive, the specialized, and often the sophisticated—an establishment, a product, or a service.  The first print reference to the word applied to a hotel that Oxford cites came in 2002 in New York Magazine—"This February, look for Toronto's first two trendy boutiques:  Hotel Le Germain,…and the 88-room Soho Metropolitan."
In recent years, boutique hotel has become an industry term that sends various but consistent signals:  a relatively small establishment (from approximately 10 to 100 rooms), distinctly non-corporate in nature, often located in an historic downtown area, priding itself on personalized service, reflecting innovative and revitalized design, and championing the culture of its community.  Covington Travel cites nine characteristics of the boutique hotel, with individuality, design, and culture being the three that seem to set boutiques most solidly apart from their corporate competitors.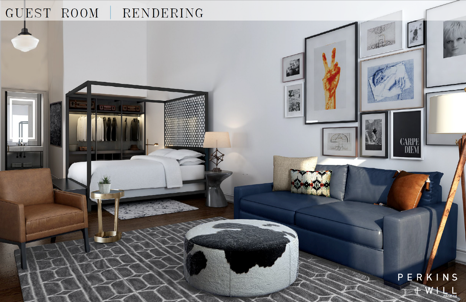 The Project   
In 1970, Grinnell's Hotel Monroe, no longer in use at 3rd Avenue and Park Street, came down.  Grinnell's next downtown hotel will open just north, one block up on Park, on the west side of the street.  While Angela Harrington is closely associated with the project since she has been its primary spokesperson, she is quick to step aside and extend credit to others, for the project could never have become a reality unless, like an intricate lock, a number of pieces had clicked precisely into place.
The story of the hotel is the story of needs, solutions, people, and a little bit of luck.
Harrington came to Grinnell to head the city's Chamber of Commerce and Convention and Visitors Bureau.  When she left those positions in December 2014, she cited one of the reasons as her intent of "taking the downtown boutique hotel and event center concept I've been working on to the next level."
Up to the point at which the first construction worker knocked away the first piece of drywall, the project can be separated into two phases.
Phase 1 – The Need  
In her role with the Chamber of Commerce, Harrington perceived a need for a level of hotel/motel accommodations above the existing level of budget.  City Manager Russ Behrens was important at this stage.  An opportunity with Hampton Inn and a possible downtown location showed promise, but after negotiation they "couldn't make it pencil out," Harrington reports.  The need for a downtown hotel continued to be a discussion point, however; Harrington credits Professor Doug Caulkins of Grinnell College as a primary force in these early days of recognizing possibilities.
During that same period, city officials saw events connected to Grinnell taking place outside of Grinnell.  An events center would be the answer, but one axiom of the hospitality industry instructs that events centers do not make money.  Hotels, on the other hand, can.
Entrepreneurs are people who see potential rather than problems.  They don't see the forest or the trees because their eyes are trained on the horizon.  If Grinnell needs an upscale hotel, if Grinnell needs an events center, if these improvements should be downtown, if there is an historic building not fully utilized—Ah-ha!
Phase 2 – The Reality
The reality phase kills a lot of ideas.  It did not kill Hotel Grinnell, however, because Harrington was fortunate to find two accomplished individuals who could see her horizon.  If enterprises are known by the company they keep, Hotel Grinnell comes well credentialed indeed.
Harrington states that she had "looked for investors for years," that there was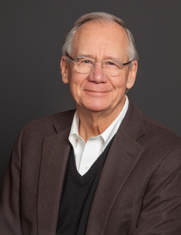 "not a long line," but eventually she reached out to Mr. Steve Holtze, pictured at right, a man with strong ties to Grinnell, having graduated from the college in 1968 and having served as a trustee since 2002.  Holtze holds a degree in physics from Grinnell College and a B.S. and M.S. from Columbia University.  In 1993, he founded a hotel development and management corporation named the Stevens Holtze Corporation, concentrating on the renovation of historic buildings.
The company's first project, reports its website, was "a vacant 85-year-old former bank building in the core of downtown Denver's business district" now known as the Magnolia Hotel Denver.
Other properties followed—in Dallas, in Houston, in Omaha (pictured below) and elsewhere—under the Magnolia brand.  In a March 20, 2011, press release, the company reported a name change to Stout Street Hospitality, a move intended to encompass the company's expanding approaches toward "franchise opportunities, construction, extended stay and its core product—historic, independent boutique hotels."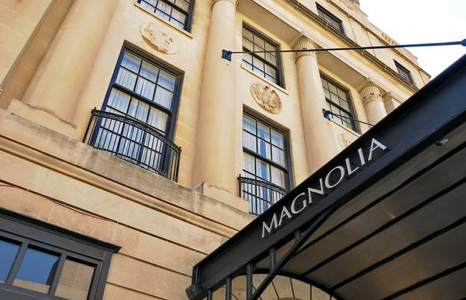 The latest award accorded the company, announced in a press release from January 2016, is the WeddingWire Couples' Choice Award for 2016, a designation determined solely by "reviews from real newlyweds and their experiences working with Magnolia Hotels."
Hotel Grinnell will not be a Magnolia or a Stout Street property, but the expertise behind financing and development that has propelled Stout Street to the top of its niche places the Grinnell enterprise in exceptional company.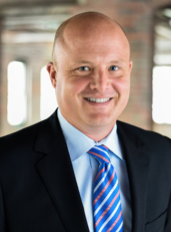 While financing is an integral component of any capital project, a second necessity in today's entrepreneurial world is expertise.  What is out there that can be called up to give a project its best chance at success?  Enter Jake Christensen, left, another of the personalities Harrington cites as essential to the project.
Almost anyone in central Iowa knows that the Des Moines area has undergone incredible revitalization in the last twenty years, and Jake Christensen is at the center of part of it.  His Christensen Development, begun in 2003, stresses "unique projects with big downtown impact."  Unraveling the complexities of historic tax credits, enterprise zone credits, new market tax credits—these are among the specialties that the company has parlayed into a successful development firm, and these were the skills that helped make Hotel Grinnell "pencil out."
Like Stout Street, Christensen's company seeks unique properties with historic significance that lend themselves to robust urban development on several levels.  A list of associated enterprises includes names as diverse as Raygun ("The greatest store in the universe"), the Des Moines Social Club, AP Transfer Lofts and Zombie Burger.  The Des Moines Social Club, below, is said to draw approximately 100,000 people to downtown Des Moines each year.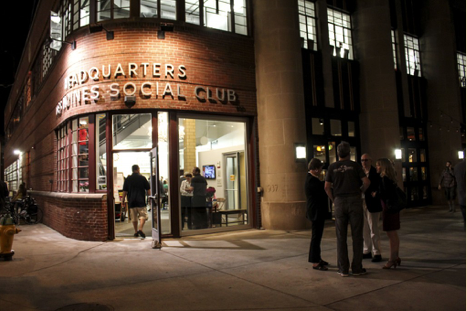 But what about Grinnell?
First, downtown hotels are "incredible economic engines," states Harrington.
But she also asks that we consider the opportunity an events center and a hotel—a hotel especially—possess to convey to the visitor the unique nature of the location.  Visitors eat.  They go places.  They have fun.  They spend.  And they also spend the night.  They sleep.  It is, when we stop and think about it, an intimate experience.
And if Grinnell, "this magical place,"—Harrington's words again—can send some if its magic home with everyone who comes, think of the potential for growth and for goodwill that can be sparked.
For a more quantifiable benefits assessment, Harrington states that Hotel Grinnell will add "20 full-time- equivalent jobs to the community" and that "the project's total economic impact [will total] approximately 27 million annually once stabilized."  One of the requirements that Harrington set for the project's business plan was that it "not be a burden to the taxpayers or to philanthropic efforts."
The hotel will work to project Grinnell's Midwestern but progressive image.  While a bar is a requirement, and while unique shared plates will be part of the character of the bar, fare will remain light to encourage visitors to go into the community and to experience Grinnell's dining opportunities.
Harrington hopes that local residents will be part of the operation.  "Hotel bars are only cool if the locals and the visitors combine."  Appetizers will be created with both Grinnellians and travelers in mind, so when early summer rolls around, when the day has been a tough one and some unwinding is required, Hotel Grinnell will be there to serve the patron who has trekked a few blocks or who has journeyed hundreds of miles.
The hotel's journey to completion can be followed on Facebook, text and phone 641-990-8222, and Angela Harrington is available at angelaharrington3@gmail.com.
So as we look ahead to the possibilities of a brand new year, Hotel Grinnell, called by Harrington "the most significant project in downtown Grinnell to happen in 100 years," is an exciting reality-in-progress, something sure to add considerable sparkle to the Jewel of the Prairie.