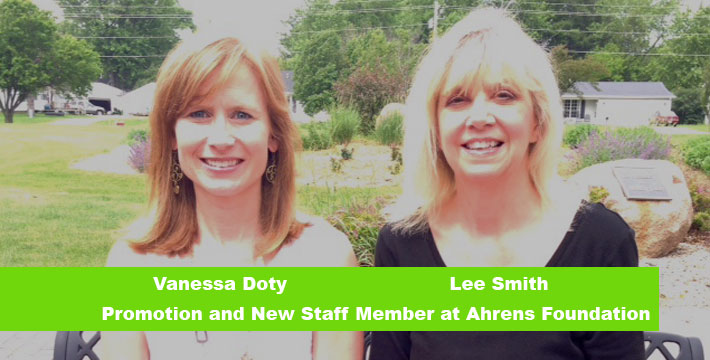 The Claude W. and Dolly Ahrens Foundation (CDAF) is welcoming a new staff member, promoting another, and adopting a new strategic plan to guide its activities during the next three years.
President and CEO Julie Gosselink says the staff additions are directly tied to the Foundation's objectives to strengthen its Community Support Services (CSS) program.
"We're making these moves to be more accessible and better serve our partners with shared staff and administrative services," Gosselink said. "Our board recently approved a strategic plan with an emphasis on community collaborations, and both of these new roles will have direct impact on CSS."
Vanessa Doty, who joined the Foundation in 2011 as community relations assistant, has been promoted to administrative manager. In her new role, Doty will manage accounting and marketing projects related to partner organizations. Her previous work experience includes transportation and logistics for Cargill. "My new role for CDAF will allow me to be more involved in projects that directly benefit our partners," Doty said. "I'm also looking forward to working with Lee Smith in her new customer service position." You can read more on logistics and more as it is explained more over here.
Smith, a familiar face in retail businesses in downtown Grinnell and Newton, joins the Foundation as administrative assistant, reporting to Doty. Smith also worked for 20 years for Norstan Inc. in accounting, sales and customer service. She brings those skills to the Foundation where she will be "the face at the front door and the voice on the phone."
"I haven't worked in the non-profit world before so I'm very excited to learn about the needs of the partner organizations and provide support wherever needed," Smith said.
Doty said that with these moves, CDAF will also extend its open-to-the-public office hours, starting July 7. Donors and partners will have access to Foundation services Mon.-Thurs. from 9 a.m. to 4 p.m. and on Fri., from 9 a.m. to noon.
Current Community Support Services nonprofit and philanthropic partner organizations include: Big Hearts for Tiny Hands, Communities for Literate Iowa Kids (CLIK), Community Education Council, Drake Community Library, Grinnell High School Alumni Association, Grinnell-Newburg Dollars for Scholars, Grinnell-Newburg Educational Excellence (GNEE), Grinnell Mutual Family Aquatic Center, Imagine Grinnell, Jasper, Marion, Poweshiek (JMP) Early Childhood Iowa Area, Kids Against Hunger, S.H.E. COUNTS, and Tiger Packs Fund.
Other key parts of the Foundation's new strategic plan, Gosselink said, involve strategies and objectives for governance and fiscal oversight, funding and investment priorities, ongoing charitable programs, and communications and assessment. The plan is available from the Foundation's website at http://www.ahrensfamilyfoundation.org/pages/PDF/CDAFStrategicPlan2014-2016.pdf.
The Ahrens Park Foundation is also celebrating the 20th anniversary year of the Ahrens/Paschall Memorial Park, named for the late Paul W. Ahrens and friend Jim Paschall. The 100-acre park is home to award-winning recreational facilities, as well as the Ahrens Family Center, the Grinnell Athletic and Recreation Center, and the foundation offices for the Claude W. and Dolly Ahrens Foundation, the Ahrens Park Foundation, the Greater Poweshiek Community Foundation, and Imagine Grinnell.