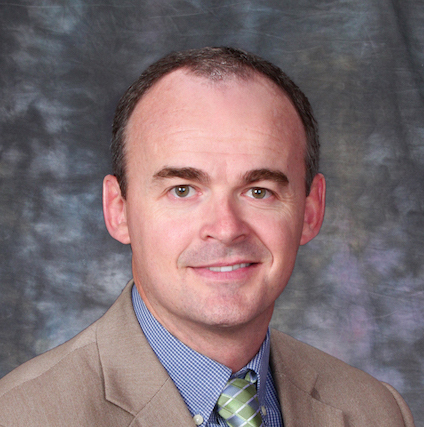 New Physician at Manatt Family Urgent Care
Luke R. Perrin, MD, family medicine physician, will begin practicing at Grinnell Regional Medical Center's Manatt Family Urgent Care and GRMC's occupational medicine department on Saturday, Oct. 15. Perrin joins Wendi Beck, PA-C, at Manatt Family Urgent Care.
"The community's use of our urgent care clinic continues to grow, which makes it supremely important that we provide the community access to a skilled and well-qualified team," says Todd Linden, GRMC president and CEO. "Dr. Perrin, with his lengthy experiences practicing family medicine in an urgent care setting, is an excellent fit for the GRMC community."
Perrin completed his residency at Mercy/Mayo Family Medicine in Des Moines. He earned his medical degree from Saba University School of Medicine, Saba, Netherlands Antilles. After residency, Perrin served in the United States Air Force.
"As a kid, I wanted to be a veterinarian, growing up on a farm in northwest Iowa" Perrin says. "When I got to college (at the University of Iowa), I worked as an EMT and phlebotomist.  My passion for human medicine was kindled."
Perrin has over 11 years of experience in family medicine and in an urgent care setting. He has been providing care in family medicine since 2005; his first three years of practice were at Ellsworth AFB in South Dakota, followed by a six year stint as the medical director at the Unity Point VA Clinic in Fort Dodge. His time at Unity Point overlapped with a weekend PRN position at Doctors Now, where he practiced the full-spectrum of family medicine in an urgent care setting, from 2008 to 2016, full time for the last two years.  Perrin finds the urgent care environment exciting due to the clinical challenges it presents.
"When a person walks into an urgent care clinic, they are looking for some answers and treatment today.  And I enjoy giving them that immediate relief.  And if they need longer term treatment and follow up, GRMC is loaded with top notch primary and specialty care," Perrin says.
Perrin, along with his wife, Kristie, moved to the countryside of Grinnell in May of 2015. Kristie now works at the Drake Community Library, and their children, daughter Alexis and son Teagan, are sophomores at the University of Iowa.
"I was a country kid; she was a country girl, so we said, 'Now that the kids are off to college, let's pick a country place.'" Perrin says.
When he's not at GRMC, Perrin, a self-proclaimed dog lover and outdoors enthusiast, likes to spend time hunting and fishing, and watching Hawkeye sports, particularly wrestling.
"We enjoy Iowa tremendously; Grinnell is great in both size and culture," Perrin says. "It is aptly named the 'Jewel of the Prairie.'"
Please call 641-236-2378 for more information.