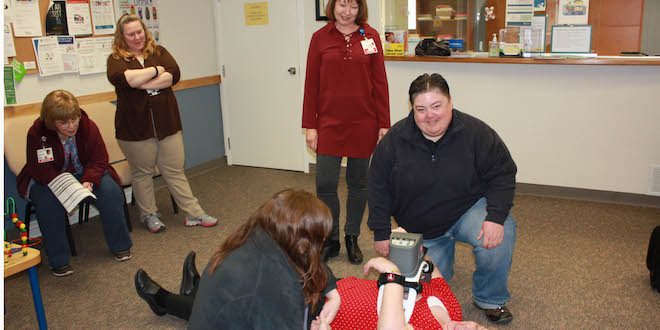 New Helping "Hands" in an Emergency
Montezuma and East Poweshiek Ambulance Services each obtained two new LUCAS®3 systems through the Poweshiek County Board of Health's Public Health Grant. The Physio-Control LUCAS®3 Chest Compression System is a mechanical chest compression system that provides compressions at a rate and depth consistent with current American Heart Association (AHA) guidelines for cardiopulmonary resuscitation (CPR).
These four units will be on board ambulances responding to our community's emergency calls. The LUCAS®3 systems are portable, quick to apply, and provide continuous high-quality chest compressions which are critical to maintaining blood flow to save a sudden cardiac arrest patient's brain, heart and vital organs. The LUCAS®3 will free up emergency personnel to focus on additional critical emergency patient care such as defibrillation, intubation, IV placement and transport to a hospital.
The LUCAS®units will also allow for quality compressions to be administered in situations where manual CPR may be dangerous or challenging for providers–such as in a moving ambulance or on hypothermic patients.
"We are excited to add the Lucas® 3 Chest Compression Systems to our emergency response operations. Both our patients and rescuers will benefit from the device's unique ability to provide lifesaving compressions for the best outcome for our patients," says Patty Hinrichs, director of Home Health, Hospice, and Public Health, UnityPoint Health®– Grinnell Regional Medical Center.