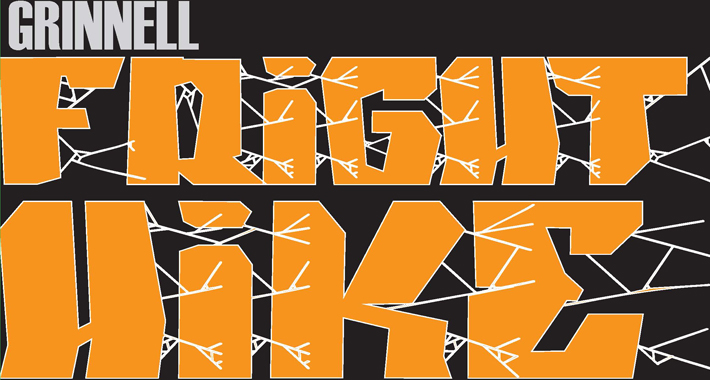 New Fright Hike event set for Oct. 24 and 31 in Grinnell
GRINNELL – Grinnell's newest event is guaranteeing its participants leave with spine-tingling chills. Teenagers and adults alike are invited to the Grinnell Fright Hike, a spooky one-mile walk around Arbor Lake in Grinnell.
"This event is similar to a haunted house, but it takes place outdoors," said Sam Charnetski, an event organizer. "We've been dreaming up all sorts of creepy scenes to stage on the trail and in the trees around Arbor Lake. This is going to be a fun, spookky Halloween event to do with friends."
The Grinnell Fright Hike will take place Friday, Oct. 24, and Friday, Oct. 31, at Arbor Lake. People may take the hike any time between 8 and 11 p.m. both nights. The hike will begin and end at the parking lot on the north side of Arbor Lake, which is located at the western-most end of Washington Ave. (west of Highway 146).
Admission to the hike is $10 per person. Tickets are available for purchase online at http://bit.ly/1oMXsQ6
Organizers are also recruiting volunteers to help spook people along the trail. Those interested in volunteering for one of the nights can view volunteer opportunities at http://bit.ly/1vMnsRA
Grinnell Connect, the area's young professional group, is organizing and hosting the event, which is sponsored by Grinnell College and the Grinnell Area Chamber of Commerce.
"One of Grinnell Connect's missions is to provide more activities for people to participate in without having to leave Grinnell," said Rachael Kinnick, an event organizer. "Members saw Halloween as a time when there could be more things happening here in Grinnell, so we began planning the Fright Hike. We invite everyone to check out the event, and to get involved by volunteering."
For more information about the event, visit getintogrinnell.com, email events@getintogrinnell.com or call the Grinnell Area Chamber of Commerce at 641-236-6555.